With 37 public gardens, arboreta, and historic landscapes all located within 30 miles of Philadelphia, the region has more gardens in close proximity than anywhere else on the continent.
Plan your visit with the new 'Passport'
There is no better time to get out and explore the beauty of the Philadelphia region. To help plan a garden adventure, pick up the new America's Garden Capital Passport, the ultimate guide organized by geographic region and offering need-to-know information and essential experiences at each garden.
5 must-visit gardens this spring and summer:
Longwood Gardens
From a humble Quaker farm to one of the great gardens of the world, Longwood Gardens' 1,100 acres of gardens, meadows, woodlands, and grand conservatory are a delight every day of the year. In summer, Longwood shines as the home to the most significant fountain collection in North America, with three fountain gardens performing daily through September. On Thursday through Saturday evenings, colorful illuminated fountain performances set to music create an unforgettable spectacle amid the gardens' summer beauty. Longwood Gardens is located at 1001 Longwood Rd, Kennett Square, Pennsylvania 19348.
Shofuso
Shofuso is a 17th century-style Japanese house and nationally-ranked garden in Philadelphia's West Fairmount Park that reflects the history of Japanese culture in Philadelphia, from the 1876 Centennial Exposition to present day.
Shofuso was built in Japan in 1953 using traditional techniques and materials and moved to Philadelphia on the site of several previous Japanese structures, continuously maintained since the 1876 Centennial Exposition. The traditional-style house with its hinoki roof, the only one of its kind outside of Japan, can be toured, along with the gardens, koi pond and island. Shofuso is located at Lansdowne and Horticultural drives, Philadelphia, Pennsylvania 19131.
Chanticleer
Chanticleer is a 35-acre contemporary, imaginative, and educational garden within a historic setting. Located 30 minutes west of Philadelphia, the garden is a study of textures and forms, with foliage, flowers, towering trees and sculptures. Since opening in 1993, it has been a place of pleasure and learning, relaxing yet filled with ideas to take home. Plantings range from native to exotic, hardy to tropical, and from shade to sun.
In May and June, Chanticleer boasts loads of plants in bloom. Drifts of Primula japonica and Camassia appear in early May followed by ornamental alliums (Allium 'Purple Sensation') and perennials such as Geranium and Phlox in the Pond Garden. Framed views are made interesting with Digitalis purpurea and the Bulb Meadow is full of sweeps of Hyacinthoides hispanica, commonly called Spanish bluebells, which have naturalized in the lawn. The garden is open Wednesdays through Sundays from 10 a.m. to 5 p.m. and until 8 p.m. on Friday evenings May through Labor Day. Tours of the Chanticleer House are available Fridays and Saturdays at 11 a.m. Chanticleer is located at 786 Church Rd, Wayne, Pennsylvania 19087.
Morris Arboretum
Morris Arboretum is a 92-acre garden that offers an ever-changing landscape of colorful gardens, champion trees, winding paths, and water features. An outdoor Garden Railway exhibit features a quarter-mile track with model trains, open in summer and during the holidays.
When visiting, look for Patrick Dougherty's newest Stickwork creation, Loop de Loop. The sculpture is reminiscent of a roller coaster maze with spirals and switchbacks. The top of the sculpture is bound together with sticks wound like pieces of twine, connecting nearly a dozen rooms below, which are all open to the sky and are a hide-and-seek paradise for kids. The sculpture was created in 2019 using hundreds of willow sticks and saplings including purple willow (Salix purpurea) and Miyabe willow (Salix miyabeana) from upstate New York. The piece will remain in place for as long as it lasts in the natural environment, anticipated to be two years. Morris Arboretum is located at 100 E. Northwestern Avenue Philadelphia, Pennsylvania 19118.
Andalusia Historic House, Gardens and Arboretum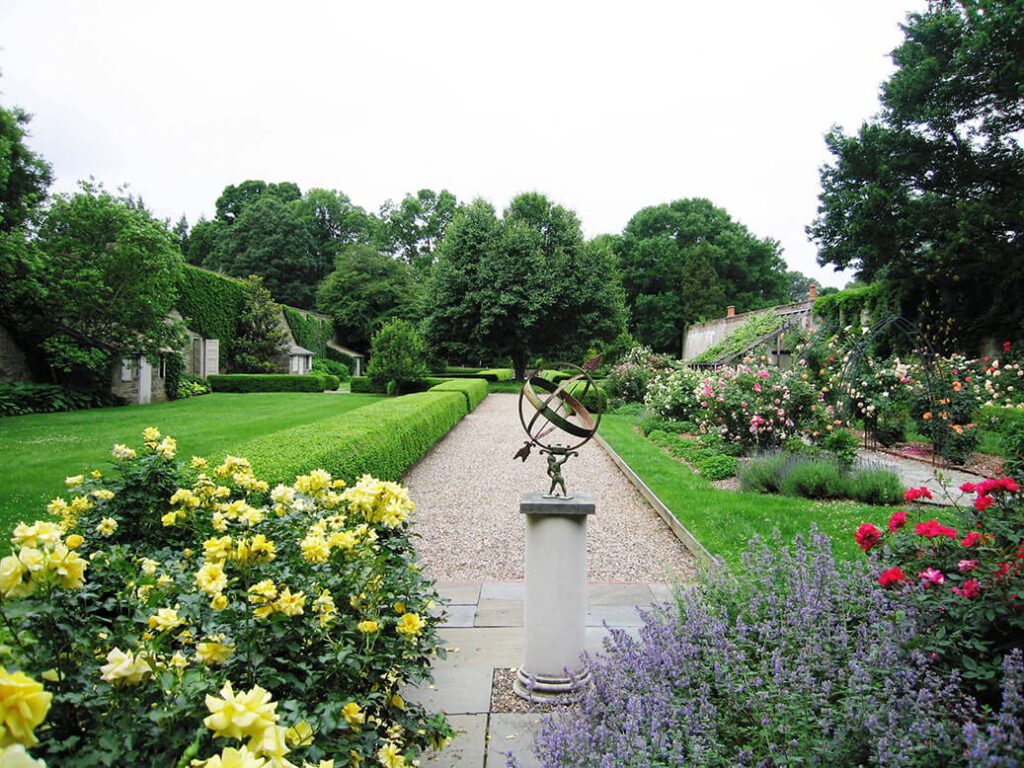 Reopening April 2, 2022, Andalusia Historic House, Gardens and Arboretum, a 50-acre riverside estate and National Historic Landmark located just north of Philadelphia, delights visitors with a Greek Revival mansion, formal gardens, and native woodlands. Known as both an architectural and horticultural gem, the ancestral home of the Biddle family offers access to pristine and fragrant formal gardens including the Walled Rose Garden and the Green Walk garden, which was renovated by noted British landscape designer Lady Arabella Lennox-Boyd. Individual and group tours are available by reservation. Andalusia is located at 1237 State Road, Andalusia, Pennsylvania 19020.
Savor a tradition of horticulture going back 300 years
Treasure your garden memories by collecting stamps, stickers, code words, and staff signatures, and there is even room to draw your own pictures. Passports are available at participating public gardens while supplies last and online.
Content courtesy of America's Garden Capital.
Cover photo: Rose Garden at Morris Aboretum. Photo by P. Meyer.