Safely explore Philadelphia's museums, historic sites and other attractions with convenience and confidence thanks to enhanced health and safety protocols and other new experiences.
Most museums and attractions in the Philadelphia region are open and welcoming visitors with health and safety guidelines in place, including timed ticketing and enhanced disinfecting protocols. Consult each attraction's website for their respective policies. Below are some things to consider while planning your Philadelphia itinerary.
Start at the Independence Visitor Center
The best way to start any Philadelphia trip is by visiting the Independence Visitor Center along Independence Mall. There, you'll find a plethora of resources to help guide your time in the city, such as an interactive digital welcome wall that highlights top picks for things to do nearby. The friendly staff at the Visitor Center will answer any questions you may have, from where to take the best photos, which cheesesteak to try, what museums are now open, and more. Don't miss the gift shop inside, which is the largest one in the city offering Philadelphia-themed souvenirs and other locally made items.
TIP: A new, stand-alone Visitor Center kiosk is now open in LOVE Park, serving as a resource for tickets to attractions, visitor information, and even more souvenirs.
Check for Specific Guidelines and Hours Prior to Visiting
Per the latest update from the City of Philadelphia, indoor attractions either require all patrons and staff to be fully vaccinated for entry or are enforcing indoor mask requirements, in addition to other safety measures such as encouraging social distancing, certain experiences being temporarily unavailable, or the need to purchase tickets online in advance. Several museums and attractions also continue to operate on reduced operating hours, so it is recommended to check each attraction's website prior to visiting for the latest information.
Purchase Tickets Online in Advance
Most local museums and attractions, such as The Franklin Institute and Philadelphia Museum of Art have adopted a touchless, online ticketing platform that also assists in capacity control by managing a staggered, timed entry for all visitors. Once you have your travel dates in mind, it is best to book your tickets several days or weeks in advance of your planned visit.
Visit Early to Beat the Crowds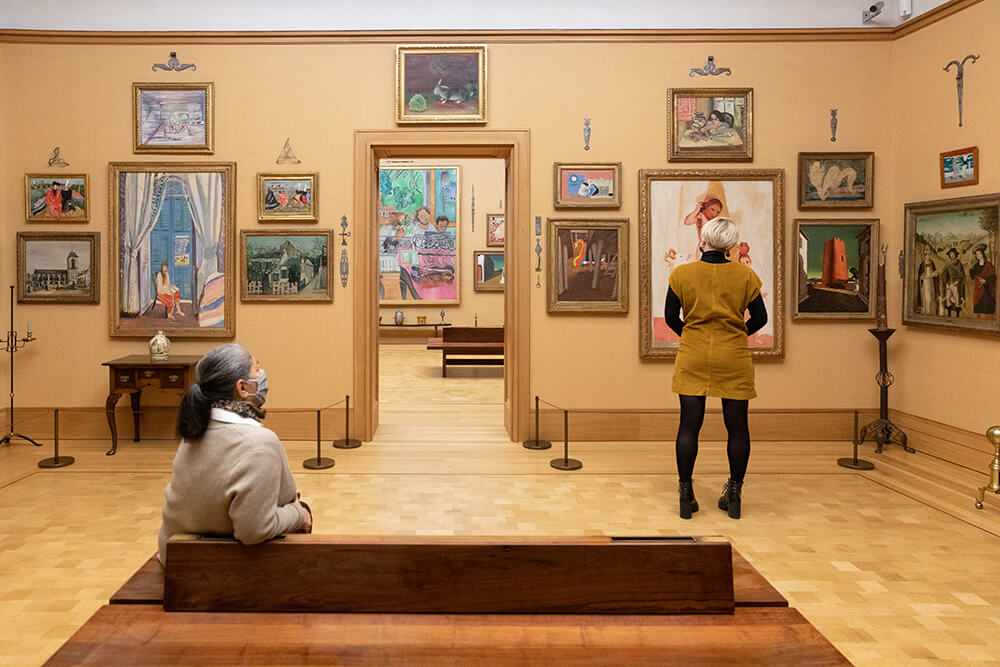 Those looking for a more intimate museum experience should consider booking tickets for earlier timeslots, shortly after opening each day. If you wish to have the galleries and exhibitions all to yourself, several museums even offer private tours before opening to the public. For example, the Barnes Foundation — home to one of the world's greatest collections of Impressionist, Post-Impressionist, and Early Modernist paintings — offers private tours of the collection in the mornings before opening to the public.
Have a Back-Up Plan
In the event tickets for your preferred museum or attraction are sold out, don't worry – there are plenty of alternative experiences likely just steps away. Interested in art but can't secure tickets to the Philadelphia Museum of Art? Consider the nearby Barnes Foundation or Pennsylvania Academy of Fine Arts. Want to learn more about animals and natural history but finding it hard to find tickets to the Philadelphia Zoo? Reserve tickets for the Academy of Natural Sciences along the Benjamin Franklin Parkway or the Adventure Aquarium in Camden, New Jersey.
Spend Time Outside
Philadelphia presents many ways to spend time outdoors and connect with nature thanks to the city's 10,000+ acres of park and recreation space. Fresh air awaits in Fairmount Park, a 2,000+ acre landscape of parkland, trails, historic landmarks, and more flanking the winding Schuylkill River – all within city limits and just a short walk (or bike ride) from Center City. There, you'll discover the iconic Boathouse Row, six historic homes (known locally as Park Charms), miles of trails, plenty of riverside picnic areas, and some of the best views Philadelphia has to offer. To aid in your exploration, you can rent a bike from Wheel Fun Rentals along Kelly Drive, who has implemented enhanced health and safety measures to keep riders safe, such as disinfecting all rental items after each use. On Philadelphia's other shore, you can stroll the Delaware River waterfront, stopping at public parks and piers such as Race Street Pier to rest and enjoy the cool river breeze.