Philadelphia's diverse restaurant scene includes a number of dining spots suitable for the younger set yet delicious enough to impress the grown-ups.
Please many palates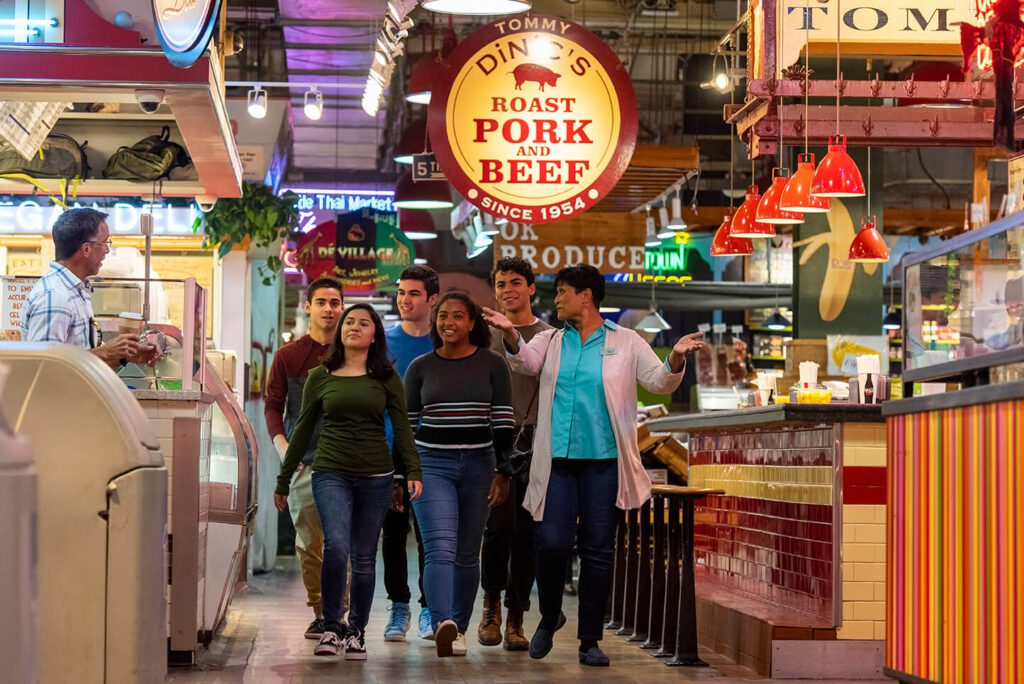 To satisfy diverse tastes, head to Reading Terminal Market. Opened in 1893, it's one of the nation's oldest continuously operating farmers' markets and named the best farmers' market in the U.S. With a maze of vendors and a bustling energy, the locale is an ideal option for families with wildly diverse appetites, offering everything from Asian and Middle Eastern fare to Pennsylvania Dutch and Philadelphia classics. The market is also home to DiNic's, whose famed roast pork sandwich was named the Travel Channel's "Best Sandwich in America." TIP: The market also offers numerous stands selling baked goods, chocolates, ice cream and other crave-worthy confections, so be sure to save room for dessert.
Another diverse array of family-friendly eateries can be found under one roof at the The Bourse Philly, just steps from Independence Hall. Formerly the nation's first commodities exchange, this historic building is now home to a modern food hall with over 20 vendors serving everything from traditional cheesesteaks and fried chicken sandwiches to dumplings and Korean-inspired tacos.
Get your cheesesteak fix
Visit the site of America's original cheesesteak rivalry: the corners of 9th and Passyunk in the Italian Market. Here you'll find two no-frills walk-up counter spots, Pat's King of Steaks and Geno's Steaks, both claiming to have perfected the cheesesteak. Equally famous is Jim's Steaks South Street, as evidenced by the line of fans waiting outside the Art Deco building for cafeteria style service.
NOTE: Jim's is temporarily closed for renovations and projected to reopen Labor Day weekend 2023.
TIP: To eat like a local, order "whiz wit," for a steak topped with Cheez Whiz and fried onions. Don't let dietary restrictions stop you from enjoying Philadelphia's signature sandwich; Campo's Philly Cheesesteaks prepares gluten-free and vegan variations of the cheesesteak (as well as hoagies).
Keep it all-American
Found just off of the Delaware River near Northern Liberties and Fishtown, Craft Hall was voted the Best Bar for Parents by Philadelphia Magazine thanks to their indoor, pirate-themed playground for kids and a tap list of craft beer brewed on-site for adults. Specializing in slow-roasted BBQ dishes, Craft Hall's menu also includes American staples such as burgers, pizza, wings, fries, and a classic kids menu.
For more burgers and sandwiches, stop by one of the city's many family-friendly burger joints. The seasonal restaurant Sunset Social in University City serves a menu of milkshakes, fries, burgers and more in the middle of Cira Green, a 1.5-acre rooftop park that offers unbeatable views of the Center City skyline and offers plenty of picnic-perfect lawns. If exploring Chinatown or Philadelphia's historic district, refuel with a "Big Ben Burger", "Betsy Ross Veggie Burger", "South Street Jumbo Hot Dog" or one of the other kid-approved snacks at Square Burger in Franklin Square. While there, don't miss out on the park's miniature golf course, carousel, and central fountain (which features dancing water performances through the spring, summer and fall).
Make it a little swanky
Just because kids are in tow doesn't mean you have to skip establishments from Philadelphia's acclaimed restaurateurs. The menu at Pizzeria Stella, from James Beard Award winner Stephen Starr, features classic pizza and pasta preparations for less-adventurous eaters alongside more sophisticated pies topped with herbed goat cheese, eggs, and black truffle. An added bonus, the restaurant is within walking distance of Independence Hall and the historic district.
Indulge in a local treat
Order a hometown favorite, crab fries, at Chickie's and Pete's, a boisterous sports bar voted Best Sports Bar in North America by ESPN and with an outpost in South Philadelphia. Seasoned with a proprietary blend of spices, the signature side is served with a creamy white cheese sauce and partners well with the bar's steamed crabs, mussels and lobster pie. You can also savor crabfries at one of Chickie's and Pete's pop-up locations at seasonal all-ages attractions like BlueCross River Rink and Spruce Street Harbor Park.
Head to Pop's Homemade Water Ice in South Philadelphia for a local dessert: water ice. A smoother style of Italian ice, the chilled treat can be traced back to Italian immigrants like Filippo "Pop" Italiano, who started scooping out water ice from his pushcart in 1932. Today, the walk-up storefront on Oregon Avenue features various flavors of water ice, gelato, soft pretzels and more.