Ben Franklin said, "A penny saved is two pence clear." Take a look at these options that can help you save some pennies.
Whether it is a visit to our free historical sites, a picnic in one of our beautiful parks, or a closer look at the landmark Mural Arts program, Philadelphia has plenty of free things to do. Check out the top ways to see Philadelphia on a budget.
TIP: To help you reach Philadelphia's top attractions on a budget, consider a Philly PHLASH one-day pass. For only $5, you can utilize the shuttle as much as you like during the day, with stops including Independence Mall and the Delaware River Waterfront. Single ride and two-day passes are also available.
Free Things to Do for History Lovers
1. Independence National Historical Park
Start off at Independence Visitor Center, 6th and Market streets, in the heart of Philadelphia's historic mile, at the official welcome center of the region and gateway to Independence National Historical Park. Multilingual visitor services representatives are available to assist with any trip-planning needs, including on-site ticketing for more than 100 tours and attractions. Stop in for other FREE amenities, including regional maps and brochures, historical films, cell phone charging stations and WiFi access. Open 9 a.m. to 5 p.m. daily (open until 6 p.m. on Fridays and Saturdays, Memorial Day through Labor Day).
Must-sees include Independence Hall, the building where the Declaration of Independence and U.S. Constitution were debated and adopted. Visitors can also tour Congress Hall, where George Washington was inaugurated as the first President of the United States.
NOTE: To obtain free timed tickets to tour Independence Hall, guests must reserve their tickets in advance online at Recreation.gov or by phone at 1-877-444-6777. Tickets are free, but there is a non-refundable processing fee of $1 per ticket.
2. The Liberty Bell
The Liberty Bell is the symbol of our historic past, on display in the Liberty Bell Center. Tickets are not required, and access is granted 9 a.m. to 5 p.m. every day on a first-come, first-served basis. A walk through the museum provides background and history around the famous bell and visitors can get a close look at the famous icon with a beautiful backdrop of Independence Hall across the street.
3. The President's House
Philadelphia was once the capital of the United States. Head to the President's House, site of the nation's first White House from 1790 to 1800 to see the "Freedom and Slavery in the Making of a New Nation" exhibit.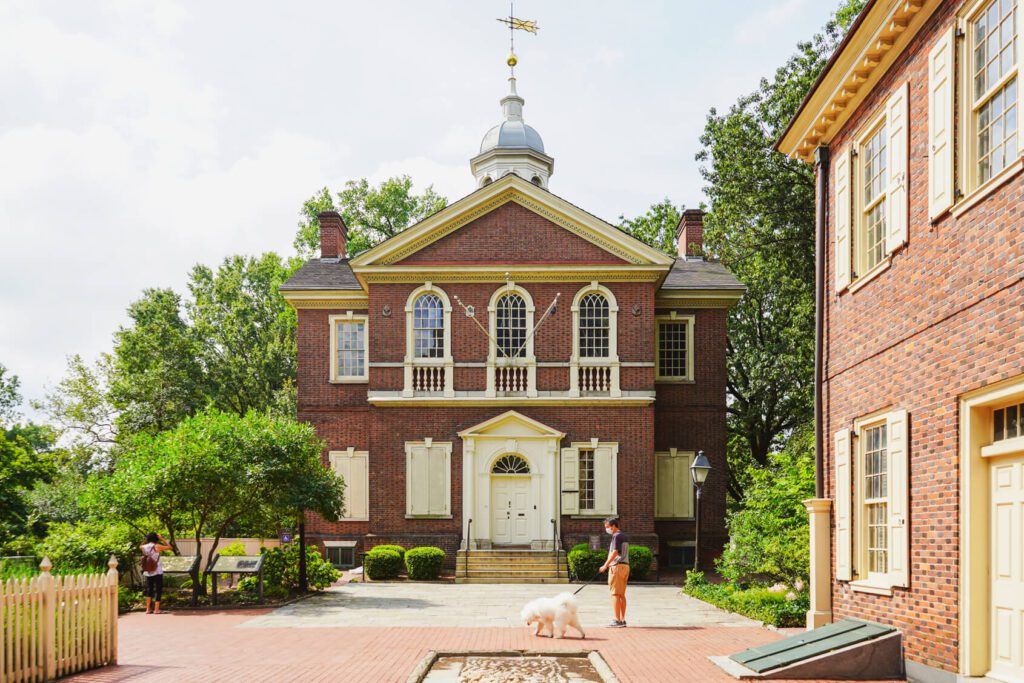 4. Carpenters' Hall
Carpenters' Hall was the site of the First Continental Congress in 1774, a temporary field hospital during the Revolutionary War, and so much more. Step back into the past with a tour of this building.
NOTE: Carpenters' Hall is closed for a preservation project.
5. Once Upon a Nation Storytelling Benches
Storytellers at 13 teak benches found within the grounds of Independence National Historical Park and at other sites in Philadelphia's historic district share quick tales filled with interesting historical insights into the surrounding area for free while visitors sit and relax.
6. Elfreth's Alley
Tucked away from the hustle and bustle of Old City's vibrant streets is America's oldest continuously inhabited residential street, Elfreth's Alley. Enjoy the beautifully preserved homes and walk the cobblestone streets to see what life was like for early American settlers.
7. Christ Church
You can stand in the same church where the founding fathers worshipped, in the heart of Philadelphia's Old City. Christ Church's Burial Grounds are located nearby at 5th and Arch streets and is the final resting place of Benjamin Franklin. Admission to the Burial Grounds is $5 for adults and $2 for children, however you can catch a glimpse of Benjamin Franklin's gravesite through a steel fence along Arch Street.
8. Fireman's Hall
Philadelphia is the birthplace of the first volunteer fire company, created in 1736 by Benjamin Franklin. Fireman's Hall is a unique museum of firefighting and fire-safety tips, and more, located just steps from Elfreth's Alley.
9. Weitzman National Museum of American Jewish History
The first floor of the Weitzman National Museum of American Jewish History features the "Only in America" gallery — an exhibit that illustrates the choices, challenges and opportunities Jewish Americans encountered on their path to remarkable achievement. 
10. The American Philosophical Society
The American Philosophical Society Museum is the oldest learned society in the United States, founded in 1743 by Benjamin Franklin for the purpose of "promoting useful knowledge." Visitors can see the collection of manuscripts, rare books, photographs, and more.
11. The United States Mint
Visit the United States Mint for a free, self-guided tour including a view of coining operations from 40 feet above the factory floor. Reservations are not required for this 45-minute tour, available to the public Monday through Friday.
12. Mother Bethel A.M.E. Church
Founded by Richard Allen in 1792, this site is the oldest piece of property continuously owned by African Americans. A small museum is located on the lower level, where the tomb of Richard Allen and 19th-century artifacts also can be found. The archives contain original copies of The Christian Recorder, a newspaper that began publishing before the Civil War.
13. Edgar Allan Poe House
Located in the Northern Liberties neighborhood and managed by the National Park Service, the Edgar Allan Poe Historic Site is the only remaining Philadelphia home of the influential author and is where he is believed to have penned some of his most iconic works, including The Black Cat. You can tour the house for free Fridays through Sundays, from 9 a.m. to 12 p.m. and 1-5 p.m. TIP: Don't miss a mural of Edgar Allan Poe just across the street from the house.
Free Things to Do Outdoors
1. Philadelphia's Five Original "Squares"
Philadelphia's original city plan included five public squares. Today you can visit Philadelphia's picturesque squares including Rittenhouse Square, Washington Square, Franklin Square and Logan Square. The fifth square is home to City Hall, in the center of the city. Walk to the center courtyard of City Hall to see a map of all five squares and then enjoy refreshments and seasonal activities in adjacent Dilworth Park.
2. The LOVE Statue & LOVE Park
Selfie alert! Head to LOVE Park for one of Philadelphia's favorite photo ops with the LOVE statue. The park features a clear view right down the Benjamin Franklin Parkway toward the Philadelphia Museum of Art. Recently redesigned, LOVE Park also offers plenty of seating and frequent food trucks.
TIP: Be sure to visit the new LOVE Park Visitor Center kiosk on the park's southwest corner to shop for souvenirs, acquire visitor information, and purchase tickets for attractions.
3. Fairmount Park
Bike or hike in Fairmount Park on more than 270 miles of recreational trails. The expansive park system provides endless outdoor opportunities to escape in nature. The park connects with the greenways of the Schuylkill Banks and Boardwalk – named one of the best riverwalks in the nation – which features a 2,000-foot-long pathway for walking, running or bicycling that hovers over the Schuylkill River.
4. Bartram's Garden
Bartram's Garden, America's first botanical garden, spans over 45 acres along the Schuylkill River. This off-the-beaten-path gem includes trails, historical buildings, educational programming, and a boat launch.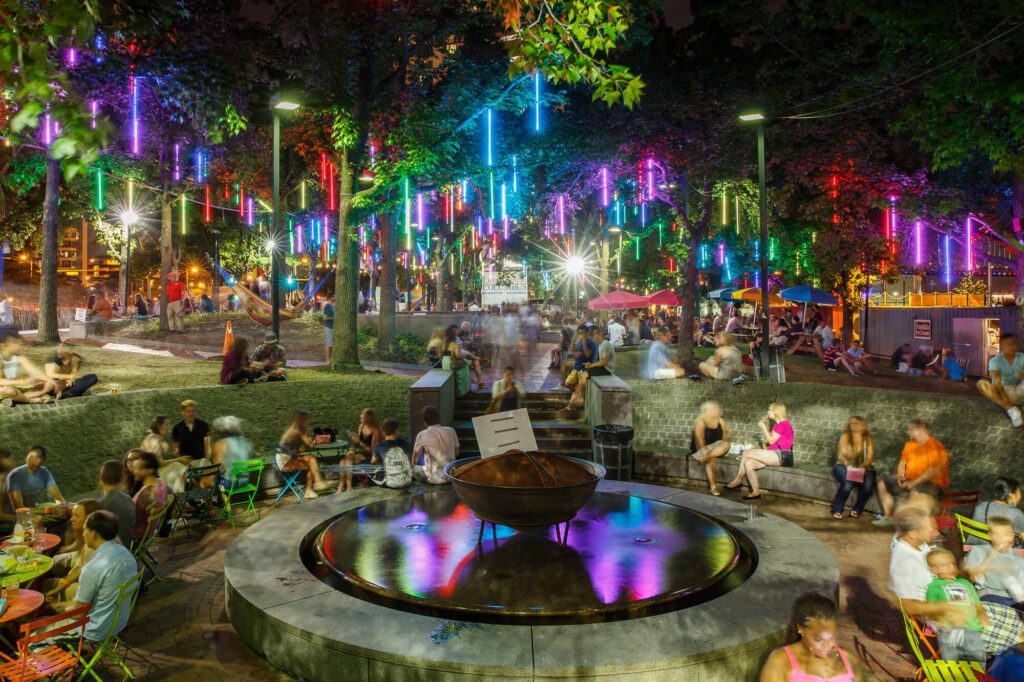 5. Spruce Street Harbor Park
Relax in a hammock or enjoy the breeze off the river at Spruce Street Harbor Park. Situated atop several floating barges, this park features plenty of seating and spaces to lounge in, food vendors, and more. At night, the LED light installations glow beautifully along the Delaware River Waterfront.
6. Cherry Street Pier
Cherry Street Pier is a redeveloped, century-old municipal pier that offers performances, pop-up shops, food vendors and more, year-round. The pier's open-air section on the eastern end is home to the Garden pop-up dining experience. Tables can be reserved online to enjoy food and drink while admiring breathtaking views of the Delaware River.
7. Race Street Pier
Just north of Cherry Street Pier, Race Street Pier is a multi-level recreational pier popular among runners and features lawns perfect for riverside picnics. Enjoy stunning views beneath the Benjamin Franklin Bridge as ships sail by along the Delaware River.
8. The Rail Park
Visit one of Philadelphia's newest green spaces in the Callowhill neighborhood. Swing on a bench and walk the paths of The Rail Park, on unused rail lines that have been transformed into a beautiful public space. Head to nearby Chinatown for a bite to eat or a sweet treat afterwards.
Free & Budget Friendly Arts and Culture Activities
1. Self-Guided Public Art Tours
Enjoy self-guided tours of Philadelphia's exceptional collection of public art with digital maps offered by Mural Arts Philadelphia and the Association for Public Art. With over 4,000 murals and treasured pieces of public art in every neighborhood throughout the city, these self-guided experiences are a great way to get to know Philadelphia's walkable communities.
2. Free at the Kimmel
The Kimmel Cultural Campus is expanding its Free at the Kimmel programming with its Free Plaza Series, including Family Fundays, Lunchtime Unplugged, Happy Hour Sessions, and Nightlife at the Kimmel. The performances will showcase Philadelphia artists. Family Fundays are designed to engage families through playful arts presentations and interactive activities. Lunchtime Unplugged is the perfect opportunity to pack a lunch and picnic in the Plaza. Kick back and enjoy live entertainment during Happy Hour Sessions then enjoy a free concert and a party during Nightlife at the Kimmel. The Kimmel Center for the Performing Arts – an iconic facility with a glass domed rooftop – is located right in the heart of Center City Philadelphia.
3. Curtis Institute of Music
The renowned Curtis Institute of Music offers free admission to their student recital series. Enjoy concerts by some of the most talented young musicians in the world in a historical, and inspiring setting.
4. The Philadelphia Museum of Art & The Rocky Steps
Follow in the steps of Rocky Balboa with a morning jog up the Rocky Steps to the Philadelphia Museum of Art – and don't forget to take your photo with Rocky's statue once you've cooled down. The museum has a "pay what you wish" offer on the first Sunday of every month and each Friday from 5 p.m. to 8:45 p.m. The Barnes Foundation, a short walk from the Philadelphia Museum of Art, also offers free admission on the first Sunday of the month.
5. More Free Galleries and Museums
Visit the Fabric Workshop & Museum, a free, contemporary art museum across from the Pennsylvania Convention Center featuring work in fabrics and other materials. A short walk from The Fabric Workshop & Museum, the Galleries at Moore College of Art and Design feature the work of significant regional, national and international artists with distinctive exhibitions and educational programs, open to the public, free of charge. You may also enjoy free admission to the University of Pennsylvania's Institute of Contemporary Art (ICA), which has developed an international reputation as a preeminent venue for contemporary art and culture.
Free Science Attractions in Philadelphia
1. Science History Institute
The Science History Institute offers free admission and holds an outstanding collection of chemistry-related objects, artwork, photographs, and books, illustrating the impact chemistry and chemistry engineering have had on the modern world.
2. Wagner Free Institute of Science
Founded in 1855, the Wagner Free Institute of Science is dedicated to providing free public education in science. The National Historic Landmark building houses more than 100,000 natural history specimens including fossils, shells, minerals and mounted animal skeletons and skins displayed in original wood and glass cabinets.
3. Community Nights at The Franklin Institute
The Franklin Institute is one of the leading science centers in the country and a prominent educational and cultural resource for Philadelphia. The special exhibitions here add to 11 hands-on exhibits, such as the highly interactive Your Brain and the newly reimagined SportsZone, and is home to the Fels Planetarium; the Tuttleman IMAX® Theater; and the Holt & Miller Observatory. The Giant Heart, a walk-through human corpuscle that would belong to someone 220 feet tall, was one of its first attractions and remains one of the most popular. On community nights, families can enjoy free admission from 5 p.m. to 8 p.m.
4. Pennsylvania Hospital
Pennsylvania Hospital, the nation's first hospital, founded in 1751 by Benjamin Franklin and Dr. Thomas Bond, offers free tours of the historic Pine Building with stops at a 13,000 volume library (home to a preserved seven-pound tumor!) and the oldest surgical amphitheater in the country. Guests can also stroll through the beautiful herb gardens and grounds outside. Pennsylvania Hospital is part of the University of Pennsylvania, whose medical school was the first in the U.S.