While the city is known worldwide for hometown favorites like cheesesteaks, it is also celebrated for its diverse dining destinations, bringing world flavors to the heart of Philadelphia.
LATIN FLAVORS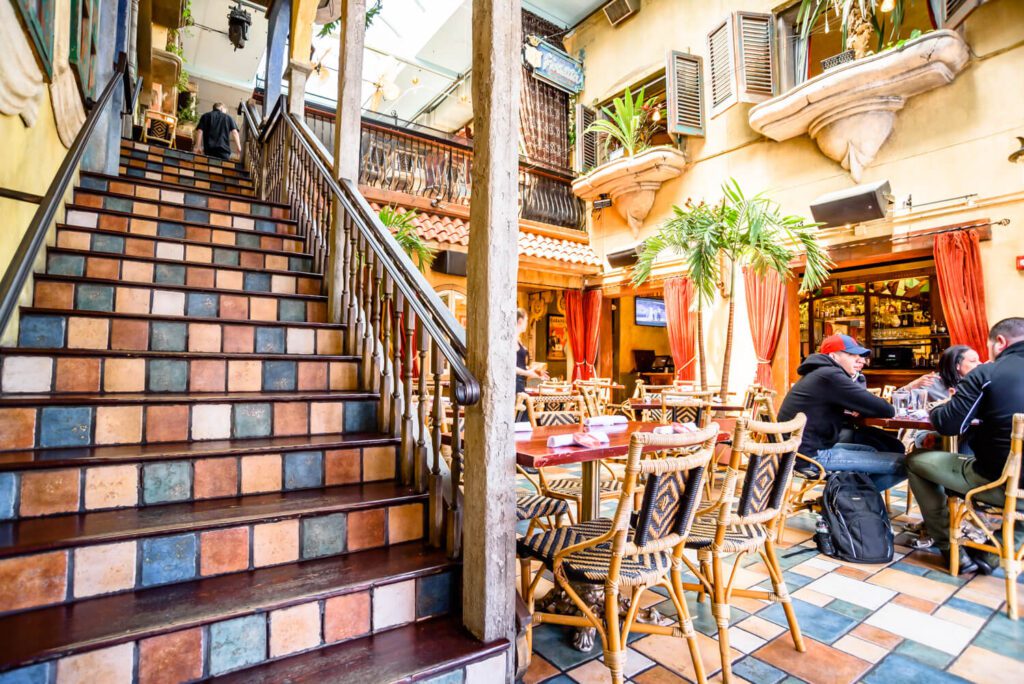 You'll feel like you've landed in the islands without leaving the city at CUBA LIBRE, whose decor is modeled after a Havana streetscape, with Mission-style, bright-colored house facades, palm trees and full-size street lamps. The menu reinforces the transportive experience with home-style Cuban cuisine, like the frita burgers, made with beef and pork chorizo, and the classic lechon asado, a pulled pork dish with sour orange mojo sauce. After, head over to the bar for a specialty Cuba Libre cocktail.
For Mexican fare with a sophisticated twist, stop by MISSION TAQUERIA, a second-floor cantina that serves reinvigorated Latin staples on indoor picnic tables. The main focus: tacos with house-made tortillas and gourmet fillings, like chicken in mole negro sauce and short-rib asado. Or, sidle up to the poured-concrete bar for a full menu of margaritas with a michelada option.
EUROPEAN VACATION
Start your European culinary tour of Philadelphia in England-inspired THE DANDELION, a cozy gastropub with a charming fireplace, comfy seating and quaint across-the-pond vibe. Expect the classic fish and chips and bangers and mash, but also less-often-found dishes like kedgeree cakes (a centuries-old Indian import of flaked fish and rice) and a family-style roast accompanied by made-from-scratch Yorkshire pudding (available each Sunday). Afternoon tea, complete with petite sandwiches, is served daily.
Francophiles will want to sample les plats at LOUIE LOUIE, a colorful bistro in University City. Start with a traditional dish like escargot or onion soup gratinée, before sampling an entrée such as Hudson Valley duck breast or trout amandine.
The menu at AMADA, designed by Iron Chef José Garces himself, captures the spirit of Spain. Dine on a classic tapas-style plates like garlic shrimp, ham croquettes and crab-stuffed peppers with toasted almonds, or indulge in the restaurant's signature main dishes: authentic paella or cochinillo asado (roasted suckling pig). PSST: The suckling pig must be ordered 72 hours in advance.
With a strong Italian heritage, Philadelphia also boasts numerous Italian eateries—both modern and traditional. The first floor of GIUSEPPE & SONS fits right in with Philadelphia's deli culture, with superb hoagies and pastries. Step downstairs and you'll find yourself in an elegant, warmly lit Italian restaurant with intimate booths and a large wraparound bar. With gravy provided by South Philadelphia mainstay Termini Bros., the menu features rustic classics ranging from bone-in chicken Parmigiana to wild boar Bolognese and lobster agnolotti.
CROSSING THE PACIFIC
Korean-fusion gastropub SOUTHGATE makes the country's spicy-sweet cuisine accessible to everyone in a simple, easygoing setting. Enjoy homestyle small plates like octopus dduk kochi skewers and airy steamed buns stuffed with short rib called ho-ppang. Or savor the popular bulgogi burger, featuring spicy ssamjang mayo and homemade pickles, paired with one of the many soju- or sake-based cocktails.
If you're looking for refined Japanese food, MORIMOTO — from the original Iron Chef Masaharu Morimoto—fits the bill. The dramatic interior—a single large dining room with changing colors projected on curved white walls—sets the stage for creative and delightful twists on Japanese staples, like tofu created fresh at your table, and seafood tobanyaki cooked and served in its own hot plate and red miso broth. If you really want a masterful performance, the pricey but-worth-it omakase chef's tasting menu offers some of the best sushi in the city, with Morimoto's signature ingredient: white rice, hand-polished daily.
For authentic Chinese food, Chinatown is a must. Try the thousand-year-egg congee or the Peking duck dinner for two at SANG KEE PEKING DUCK HOUSE, a neighborhood staple. For an eclectic mix, head to Chinatown Square, a two-story food hall that features some of the best authentic street- and home-style cuisines from across the globe. Selections there run the gamut. Feast on a poke bowl or a pork pastor taco, and at night, head upstairs to sing the night away at the on-site karaoke bar.
INTERNATIONAL CLASSIC
Opened in 1892, READING TERMINAL MARKET is the nation's oldest continuously operating farmers' market and stands as a one of the best known foodie attractions in the city. With a mix of vendors, the market offers everything from Middle Eastern, Thai and Mexican fare to Pennsylvania Dutch and Philly classics—plus plenty of options for dessert, including homemade whoopie pies and ice cream.