The Maker Mingle is designed to bring artists and storytellers together to highlight why Philadelphia is a premier city for arts and culture to international media who will be in Philadelphia for a global media familiarization (FAM) tour. Here is the information about the evening's performers and maker attendees.
Art Partners
The Clay Studio inspires curiosity and discovery around the art and craft of clay, drawing together students, artists, and an engaged public into a welcoming community. Every day, in the classrooms, studios, galleries, and neighborhoods, the studio deepens the connection between people and clay with the highest quality programs and exhibitions. Founded in 1974, The Clay Studio continues in the belief that shared creativity, so fundamental to humanity, is a critical force for good.
BalletX is Philadelphia's contemporary ballet, home for creation, innovation, and inclusion. They expand the vocabulary of ballet to welcome audiences to experience the joy and wonder of dance both on stage and in our community. The company has 100+ world premiere performances, 60+ choreographers, 150K+ audiences and 2,500+ public school students served.
Mural Arts is the nation's largest public art program, dedicated to the belief that art ignites change. For over 35 years, Mural Arts has united artists and communities through a collaborative process, rooted in the traditions of mural-making, to create art that transforms public spaces and individual lives. Mural Arts engages communities in 50–100 public art projects each year and maintains its growing collection through a restoration initiative. The core program areas—Art Education, Environmental Justice, Porch Light, and Restorative Justice—yield unique, project-based learning opportunities for thousands of youth and adults.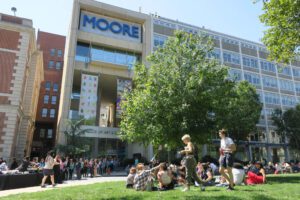 Founded in 1848 as the first and only women's visual arts college in the nation, the Moore College of Art and Design was established to prepare women to work in the new industries created during the Industrial Revolution. The Galleries at Moore introduce the work of significant regional, national and international artists to the community through distinctive exhibitions and educational programs and is open to the public, free of charge.
Makers
Title: Producing Artistic Director Type: Comedic Theater Contact: jen@1812productions.org
"The world needs more comedy. 1812 Productions is a theater company dedicated to the creation and production of comedic works of theater."
Title:
Director
Type:
Media Arts
Contact:
lmassiah@scribe.org
"Philadelphia… is an ideal location to develop digital media, one of the primary art forms of the 21st century, in a neighborhood setting."
Title:
Founder and Executive Director
Type:
Theater Community
Contact:
jill.directorsgathering@gmail.com
"We have been able to now offer directors from all over the country an extended community because of the directors in Philly."
Title:
Director of Development and Strategic Partnerships
Type:
Architecture and Design
Contact:
rebecca@aiaphila.org
"Our organization engages and educates the public about the value and impact of architecture and design on all of our lives."
Title:
Co-Executive Director
Type:
Art Community
Contact:
samantha@davinciartalliance.org
"Philadelphia's art community is interconnected and collaborative. The artists and organizations here truly want to work together to create opportunities to create something larger and more powerful together while uplifting individual stories."
Title:
Artistic Director
Type:
Dance
Contact:
threeaksha@hotmail.com
"First ever story telling art form with most exotic silk clothing and beautiful hand made jewels, representing 2000 year old art form of India almost 13,000 miles away from India in its most authentic style.
Title:
President
Type:
Writing
Contact:
phillygent1320@gmail.com
"By 1770 we were the largest, most important and most cultured city in America, thanks to Penn and Ben (William Penn and Ben Franklin.)"
Rachel Zimmerman, InLiquid
Title:
Executive Director
Type:
Visual Arts
Contact:
rachel@inliquid.org
"At the heart of its mission, InLiquid seeks to make vital career services accessible to local artists."
Title:
Founding President & Strategic Project Director
Type:
Cultural Community
Contact:
chokey29@gmail.com
"Our Caribbean culture is underrepresented in the city of Philadelphia. We are conducting Art Education and a series of trainings and curation of artistic presentations."
Title:
Managing Director
Type:
Music
Contact:
oscarpayne@clefclubofjazz.org
"The PCC facilitates the preservation, appreciation, education and further exploration of jazz reaching multitudes through the years of which many have become renown jazz artists."
Title:
Founder and Artistic Director
Type:
Dance
Contact:
elba@pasionyarteflamenco.org
"PyA is a feminist contemporary flamenco dance company exploring women's voices within the dance form. We have been here for over 20 years and are deeply ingrained in the cultural and artistic make up of the city."
Title:
Community Engagement Coordinator
Type:
Cultural Community
Contact:
yousef@saada.org
"SAADA uses the power of stories to create belonging for 5.4+ million South Asian Americans. We are ensuring that South Asian Americans are included in the American story: past, present, and future."
Title:
Executive Director
Type:
Cultural/Educational
Contact:
jtgarlodey@gmail.com
"DATI is an African centered cultural and educational organization that seeks to promote African culture and history, create bonds of understanding and connection between Blacks on the continent of Africa."
Title:
Founder
Type:
Media Production
Contact:
info@5shorts.org
"The artistic community here is vibrant. We are supportive of one another and we forge collaborations to amplify out initiatives."
Title:
Artist
Type:
Horror Writing
Contact:
wimotonyoka@gmail.com
"I write horror to face my fears and invite folks to face the monsters with me…Philadelphia is a great place to create genre work as it has been home to many black writers in Speculative Fiction, making it uniquely positioned for the work that I do."
Title:
Artist and Curator
Type:
Multi-media Art
Contact:
mcquillan.angela@gmail.com
"I curate multi-media art exhibitions that are focused on new advances in science and technology and speculative futures."
Title:
Theatre Artist
Type:
Theater
Contact:
linneajbond@gmail.com
"If you want to create new work, Philadelphia is the premiere US city. Our Fringe festival is full of homegrown companies."
Title:
Director
Type:
Multidisciplinary
Contact:
info@twelvegatesarts.org
"Through a unique and thought-provoking atmosphere, Twelve Gates Arts aims to showcase international, multidisciplinary arts bound by the sensibilities of a diasporic identity."
Title:
Program Coordinator
Type:
Arts Education
Contact:
skattler-gold@paep.net
"Our mission is to promote life-long learning in and through the arts for Pre-K to grade 12 students, seniors, and special populations in schools and community sites throughout southeastern Pennsylvania. We encourage excellence in arts education practice, grounded in the belief that the arts are integral to the comprehensive education of all learners."
Megan Lafferty, Philadelphia Arts in Education Partnership
Title:
Director of Administration
Type:
Art Education
Contact:
mlafferty@paep.net
"Our organization delivers residency work, after school programming, and lifelong learning opportunities in the arts and through arts integration."
Genevieve Coutroubis, CFEVA
Title:
Executive Artistic Director
Type:
Artist Resources
Contact:
Genevieve.Coutroubis@gmail.com
"Through our artist-driven, behind-the-scenes creative experience, we hope too that you can find human connection and community in your local arts scene."
Title:
Director
Type:
Music
Contact:
pam@philajazztap.org
"I grew up learning about Philadelphia history of tap dance, its street origins and the sound of Philadelphia hoofing, and then moved my work into jazz music and improvisation, which was fortuitous for me, since this city is steeped in the deepest and richest legacy of jazz."
Title:
Artist
Type:
Painting
Contact:
darahaskins59@gmail.com
"Philly has a personality that I believe create great artists circles. It has artist networks that continue to open unique opportunity that appeal to people all over the world."
Title:
Executive Director
Type:
Craft Community
Contact:
leila.cartier@craftnowphila.org
"CraftNOW Philadelphia unites the leading institutions, artists and patrons of Philadelphia's craft community to celebrate the city's rich legacy, its internationally-recognized contemporary scene, and its important role as an incubator for arts based in wood, clay, fiber, metal and glass."
Title:
Executive Director
Type:
Art Education
Contact:
ayares@buildabridge.org
"Most teaching artists who work with BuildaBridge also work professionally as performing artists and/or expressive arts therapists. Working as a teaching artists commands a great respect across the city and BuildaBridge is proud to supporting its community on the ground and on the stage."
Betsaleel (Bets) Charmelus, ArtistYear
Title:
National Program Director
Type:
Service
Contact:
bets.charmelus@artistyear.org
"I walk in the footsteps of a long line of Black artists that came before me and called Philly home – that pedigree makes the creative soil here incredibly rich and vibrant. It also creates space for pushing the envelope and raising the standard."
Title:
Assistant Dean, Strategic Marketing and Communications
Type:
Art and Architecture
Contact:
wanda.odom@temple.edu
"The Tyler School of Art and Architecture educates and inspires students to be active participants in society with the highest aspirations for creative and social achievement, individual expression, scholarly discovery and innovation."
Title:
Executive Artistic Director
Type:
Jazz & Contemporary Music
Contact:
mark@arsnovaworkshop.org
"Ars Nova Workshop is Philadelphia's premier presenter of jazz and contemporary music. We are invested in all things "improvisation," and along with presenting a full roster of the most brilliant and adventurous musicians alive today."
Title:
Artistic Director
Type:
Writing/Poetry
Contact:
armandoelduende@casadeduende.com
"We are a world class city with amazing cultural art institutions and a large, active, creative sector of artists and artistic communities engaged throughout the many diverse neighborhoods in our city bringing cutting edge art in all artistic disciplines."
Title:
Director of Development
Type:
Community Space, Arts Programming
Contact:
danielles@smithplayground.org
"Smith is an indoor and outdoor children's venue in Fairmount Park offering family-friendly arts programming such as free independent film screenings, crafting days, dance performances, educational exhibits, and concerts."
Title:
Executive Director
Type:
A Cappella Music
Contact:
sara@philharmoniasings.com
"PhilHarmonia is a 40-person community choir whose mission it is to perform great choral music for everyone, including audiences who might not otherwise be exposed to it."
Mitos Andaya Hart, PhilHarmonia
Title:
Artistic Director
Type:
A Cappella Music
Contact:
andaya_m@hotmail.com
"Bringing people together and making connections through music and other creative ways, including multimedia, venues, and collaborations, continue to give me great joy."
Title:
President & CEO
Type:
Music Education
Contact:
molly@primaverafund.org
"We provide both funding and guidance for young musicians and their families, so that they can successfully navigate their early music education with the goal of preparing students for a successful college or conservatory audition."
Title:
Company Member
Type:
Performing Arts
Contact:
appmechsinfo@gmail.com
"Our work creates lush, layered spaces that envelop the audience. Multiple histories unfold there, and each weaves a different perspective."
Title:
Artistic Director
Type:
Dance
Contact:
shaily@usiloquydance.org
"Usiloquy's work while firmly rooted in the techniques of Indian classical dance Bharatanatyam, uncovers the lesser known intersection points between music and folkloric cultures of the world."
Title:
Bain
Type:
Contact:
bain.fineart@gmail.com
"Philly is a catalyst for a muralist."
Title:
Associate Artist at The Clay Studio
Type:
Contact:
barnhousepotsbyjo@gmail.com
"I am a potter who makes one of a kind wheel thrown and altered functional pottery."
Christian A. Rodriguez, TAMEARTZ
Title:
Owner
Type:
Hip Hop
Contact:
info@tameartz.com
"My work is inspired by my family, Hip Hop and the communities I serve."
Title:
Development & Communications Manager
Type:
Photography and Printmaking
Contact:
mhawk@printcenter.org
"The Print Center encourages the growth and understanding of photography and printmaking as vital contemporary arts through exhibitions, publications and educational programs."
Deon Robinson, Pennsylvania Academy of Fine Art
Title:
Professor of Illustration
Type:
Contact:
Drobinson@pobox.pafa.edu
"As an Illustrator, I see myself as providing an art service to the community, increasing accessibility of visual art, and developing best practices which inform my role as an instructor to better serve the community."
Title:
Artist
Type:
Drawings, Paintings, Portraits
Contact:
scottat@pobox.pafa.edu
"With my work, I hope to bring the viewer along on that journey and possibly create a bit of reflection within them as well."
Title:
Brand Storyteller
Type:
Music Education
Contact:
caitlyn@musicopia.net
"Musicopia's mission is to provide equitable access to music education and enrichment, encouraging self-confidence, global awareness, dedication and joy in Pre-K to 12th grade students and their communities."
Title:
Artist
Type:
Ceramics
Contact:
mail@josephinemette.com
"The support of a subsidized studio space and a like-minded community at my fingertips is important to me as I get back into my life as a full-time artist."
Title:
Celia Feldberg
Type:
Ceramics
Contact:
ccfeldberg@gmail.com
"I draw on my pots to tell stories. It's my favorite way to process and share my experience in the world and the thoughts and feelings that come along."
Kristina Bivona, Soapbox
Title:
Studio Board Chair
Type:
Printmaking
Contact:
kd2681@tc.columbia.edu
"The Soapbox is a nonprofit community print shop, book and zine making center, and library of 3,500 rare handmade publications."
Title:
Founding Executive Director
Type:
Music & Arts Community
Contact:
valgay@fortressarts.org
"We believe the arts intersect with all facets of life and serve to holistically enhance the lives of individuals and create better communities."
Title:
Artist
Type:
Ceramics
Contact:
jeannebr@hotmail.co.uk
"My works visualize incongruous relationships between organic forms and symbols/graphics that exemplify human design. Continuing this theme, I use a mixture of ceramic processes such as slip-casting, slab-building, hand-building, salt-glazing, and painting with matt underglazes, to juxtapose aesthetic styles."
Title:
President
Type:
Art Education
Contact:
dpilosi@signature57.com
"Moore has a history of excellence; it focuses on preparing women and nonbinary students for successful careers built around their creativity and artistry."
Title:
Artist in Residence
Type:
Sculpture and Painting
Contact:
nelson.liisa@gmail.com
"I make artwork that is explorational and inquisitive about the nature of being."
Title:
Resident Artist and Instructor
Type:
Multidisciplinary
Contact:
minah91.k@gmail.com
"Philadelphia has a profound history that itself provides lot of architectural and historical resources aspiring to artists."