Once an industrial hub home to beer brewers, factories, and weaving mills, Philadelphia's Northern Liberties neighborhood is now home to a thriving arts scene, popular dining options and trendy shopping destinations. The increasingly popular neighborhood is one of Philadelphia's River Wards (see also: Fishtown, Kensington, and Port Richmond) and is bordered by the Delaware River to the east and N. 6th Street to the west, Girard Avenue to the north and Callowhill Street to the south.
DO
Explore Northern Liberties' rich collection of public art, which includes officially sanctioned projects by Mural Arts Philadelphia and less formal street art from local artists. Among the neighborhood's murals is Bell's Pond on the Bell Floor Covering Company (1050 N. 2nd St.) shows koi in a pond and Through Cracks in Pavement (717 N. 5th St.), which features medicinal plants and flowers and healing bark, leaves and roots. Not to be missed is the rotating series of murals at 2nd and Poplar Streets, which have depicted a large bison, soaring eagle, portrait of Benjamin Franklin, and other funky designs in its many iterations.
A mural of famed author Edgar Allan Poe stands opposite to the only remaining one of his Philadelphia homes at 7th and Spring Garden streets. Explore the historic site managed by National Park Service and discover the basement similar to the one described in Poe's "The Black Cat", which was penned while he was living in the home.
Shop from the locally owned businesses that line N. 2nd Street, such as Art Star Gallery and Boutique, which offers unique items by local and national artists. A few blocks away, Trunc sells handcrafted goods including art, clothing, jewelry, and apothecary items. Freedom Apothecary is a Black- and Brown-owned wellness boutique for women with a wide variety of skin and body care products. Pick up quirky gifts, candles, and uniquely-Philadelphia souvenirs at Swag Boutique. Tea connoisseurs will be delighted with the collection of loose leaf teas, herbal infusions and accessories at the Random Tea Room on N. 4th Street. NOTE: Due to the COVID-19 pandemic, many local shops are operating online only with curbside pick-up. Be sure to check the store's website for more information and to place an order.
Relax in the spacious Liberty Lands park before bowling a few frames with friends at hip bowling alley North Bowl while enjoying their popular menu of tater tot-centric dishes. Catch live music at Ortlieb's, The Fire, or Italian-inspired restaurant, Heritage.
EAT & DRINK
Northern Liberties offers many dining choices for any meal of the day. Start with a coffee or artfully-crafted latte from a cozy local café such as One Shot Coffee & Café or Higher Grounds. For breakfast or brunch, consider Honey's Sit 'n Eat, a self-proclaimed "Southern Jewish" diner, or neighboring Café La Maude, a French-Lebanese café that was named one of Yelp's Top 100 Places to Eat in 2021. Breakfast sandwiches are served alongside a menu of baked goods including biscuits, cakes, cookies, and more at Darnel's Cakes.
Lunch options include North Third, which offers new American cuisine, and Love and Honey Fried Chicken, a soul food joint. Grab dinner and a pint of local craft beer at Standard Tap, one of the city's first gastropubs, or The Abbaye – both of which offer ample vegan and vegetarian dishes. If you're craving Mexican cuisine, reserve a table at El Camino Real, Cantina Dos Segundos, or Añejo.
Several breweries call Northern Liberties home, including Philadelphia's first craft brewery, Yards, which relocated to a larger brewery and tap room at 5th and Spring Garden in 2018. Occupying Yards' old space along Delaware Avenue is Craft Hall – Philadelphia's largest restaurant space – which hosts Mainstay Independent Brewing Company and Lost Bread Co. In the heart of Northern Liberties, Urban Village Brewing Company offers craft beer brewed on-site that pairs perfectly with the restaurant's brick oven fired pizzas.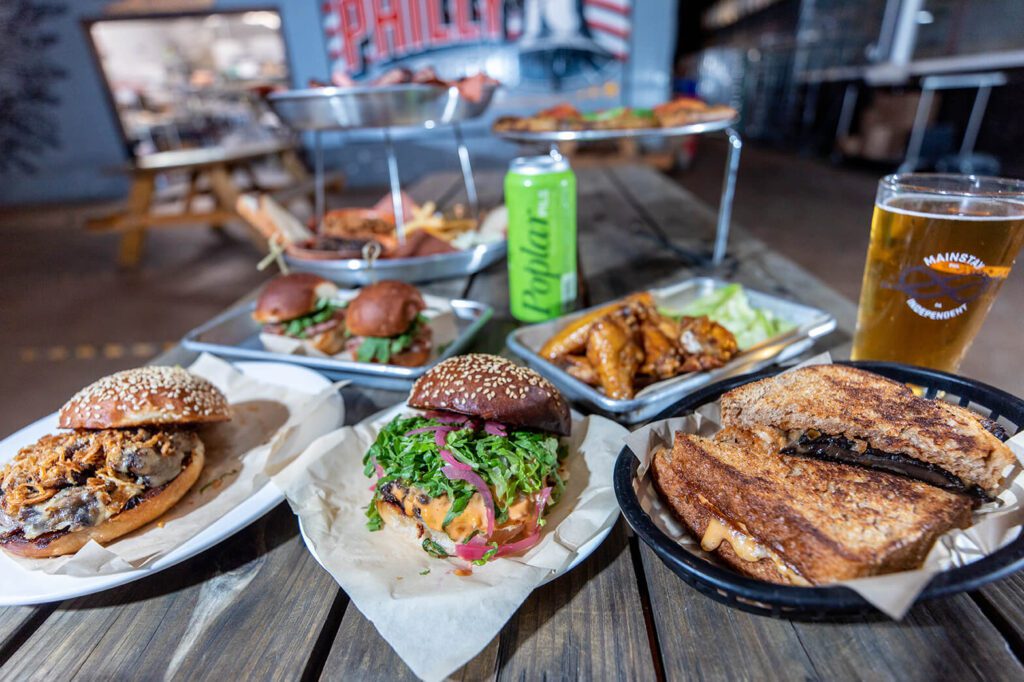 Cover photo by J. Smith for VISIT PHILADELPHIA®