Philadelphia offers many dramatic options for your group's memorable performance
Independence Mall, 5th and Arch streets, Philadelphia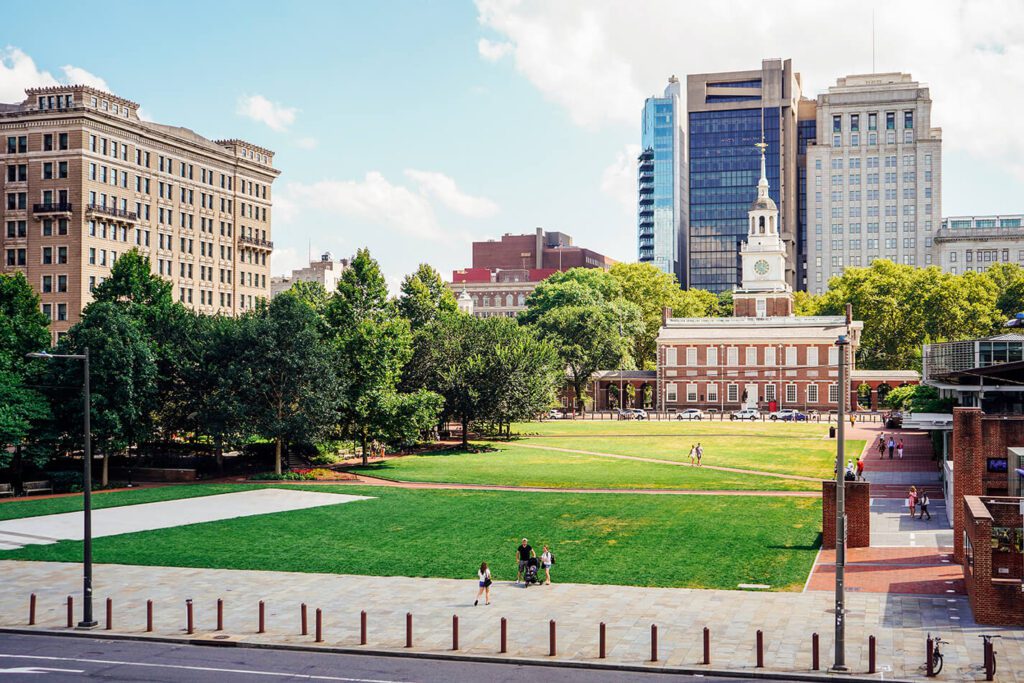 Perform with one of the most important historical sites in America as the backdrop.
School bands, orchestras, choruses, and many other groups who would like to perform for park visitors at Independence National Historical Park must obtain a Special Event Permit directly from the park. The permit holder can be either the commercial tour company or a band leader/music teacher.
The ideal spot is People's Plaza, located adjacent to the President's House on Independence Mall. This location is easy to load in and out of (buses can pull over on 5th to unload) and electricity is available there.
More information, along with a special event permit application, can be found at the National Park Service website. The Special Events Office can be reached at 215-597-9205.
222 North 20th Street, Philadelphia, PA 19103
The Franklin Institute welcomes requests from bands and choirs to perform. Performances can be scheduled for most weekdays with space for up to 75 performers in the Benjamin Franklin National Memorial Hall. Chairs and electricity are available.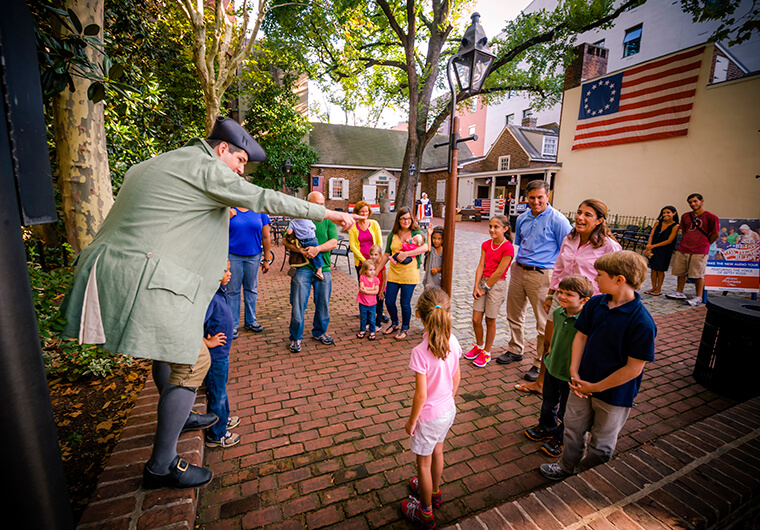 The Betsy Ross House is the home of Philadelphia's famous flag-maker and is located in the heart of historic Old City. Adjacent to the historic house is a beautiful brick and stone courtyard perfect for intimate performances. Groups can perform in the shaded north side of the courtyard to an audience of Betsy Ross House visitors. Performance fee $75, 50 person maximum. Equipment available: stage, 35 chairs, sound system and microphone and screen. Equipment rental fees may apply. To schedule a performance, contact Group Sales at 215-629-5801 ext. 209 or groupsales@historicphiladelphia.org
Designated as one of William Penn's original squares, Franklin Square is now a family-friendly play place located in the heart of historic Philadelphia just steps away from the Liberty Bell and the National Constitution Center. The park's open lawn space and enclosed pavilion are ideal for group performances and feature picturesque backdrop views of the vintage marble fountain, Parx Liberty Carousel and Philly Mini Golf. Performance fee $75, 125 person maximum. Equipment available: 80 chairs, sound system and microphone, projector and screen. Equipment rentals fees may apply. To schedule a performance, contact Group Sales at 215-629-5801 ext. 209 or groupsales@historicphiladelphia.org.
Groups interested in performing at the National Constitution Center for civic holidays may email our museum programs department at education@constitutioncenter.org for consideration.
118-128 North Broad Street, Philadelphia, PA 19102
The John and Richanda Rhoden Arts Center is a 15,000 square foot multidisciplinary facility located on the lower level of PAFA's Samuel M.V. Hamilton Building. The Arts Center comprises a 265-seat auditorium, a new gallery for student art, and collection storage vaults for 20th- and 21st-century works of art. The state-of-the-art Auditorium is equipped with professional-grade technology for lighting, sound, and projection and can accommodate music and dance performances, lectures, film screenings, and other events. A professional theater manager is on site to manage the experience. Request more info here.
1625 Chestnut Street, Philadelphia, PA 19103
The grand Rotunda at the Shops at Liberty Place is available for rentals and public performances. For groups are interested in performing in the Rotunda, an application form is available on the Shops at Liberty Place website.
2025 Benjamin Franklin Parkway, Philadelphia, PA 19130
A breathtaking combination of legendary art and modern architecture makes the Barnes Foundation a distinctive setting for any occasion. In the heart of Philadelphia's Parkway Museums District, the Barnes is renowned for its collection of impressionist, post-impressionist, and early modernist art. Lush gardens surround the sleek limestone edifice—designed by award-winning architects Tod Williams and Billie Tsien—which features a stunning entry flanked by reflecting pools, an intimate lobby suite, and a grand court and terrace. The convenient and fully accessible location provides a dramatic backdrop for all events. Inquire about availability and pricing with an online form or contact Colleen Delaney, events@barnesfoundation.org.
101 South Third Street, Philadelphia, PA 19106
The Museum of the American Revolution welcomes student choral groups and small bands/instrumental ensembles to perform on-site. To request a performance venue, contact the group sales department at groups@amrevmuseum.org.
3260 South Street, Philadelphia, PA 19104
The world-renowned museum that invites visitors to uncover the mysteries of ancient Egypt, Rome, Greece, Asia and the Middle East offers several options for group gatherings.
Rainey Auditorium – An A/V equipped classroom-style auditorium offers seating for up to 182 guests and is a perfect venue for small to mid-sized meetings and lectures. Note: food and drinks are not permitted inside the auditorium. Widener Lecture Hall – With beautiful hardwood floors, balcony seating, and a stage, this venue provides an ideal setting for meetings, dinners, and live performances. The Widener Lecture Hall is fully A/V equipped with built-in stage lighting and seats 150 guests with theatre-style seating; 200 guests including balcony seating. For a standing reception, it can accommodate 100 guests. For a seated reception, Widener can comfortably seat 90 guests. The Harrison Auditorium – Opening November 16, 2019 – One of the largest and most-used spaces on the University of Pennsylvania's campus, Harrison Auditorium is a 614-seat historic performance venue that debuted in 1915 as a state-of-the-art facility. Carefully restored to its original glory, this domed architectural masterpiece now has added features for visitor accessibility and boasts enhanced A/V systems.
Pop-up performances are also welcome. To book, contact the Penn Museum's Facility Rentals Department at 215-898-3024 or rentals@pennmuseum.org.
Host an unforgettable event at Independence Seaport Museum on the Penn's Landing waterfront. With rental spaces available in the expansive fourth-floor ballroom and terraces, theater/concert hall, galleries or even aboard Cruiser Olympia – the oldest steel warship afloat in the world.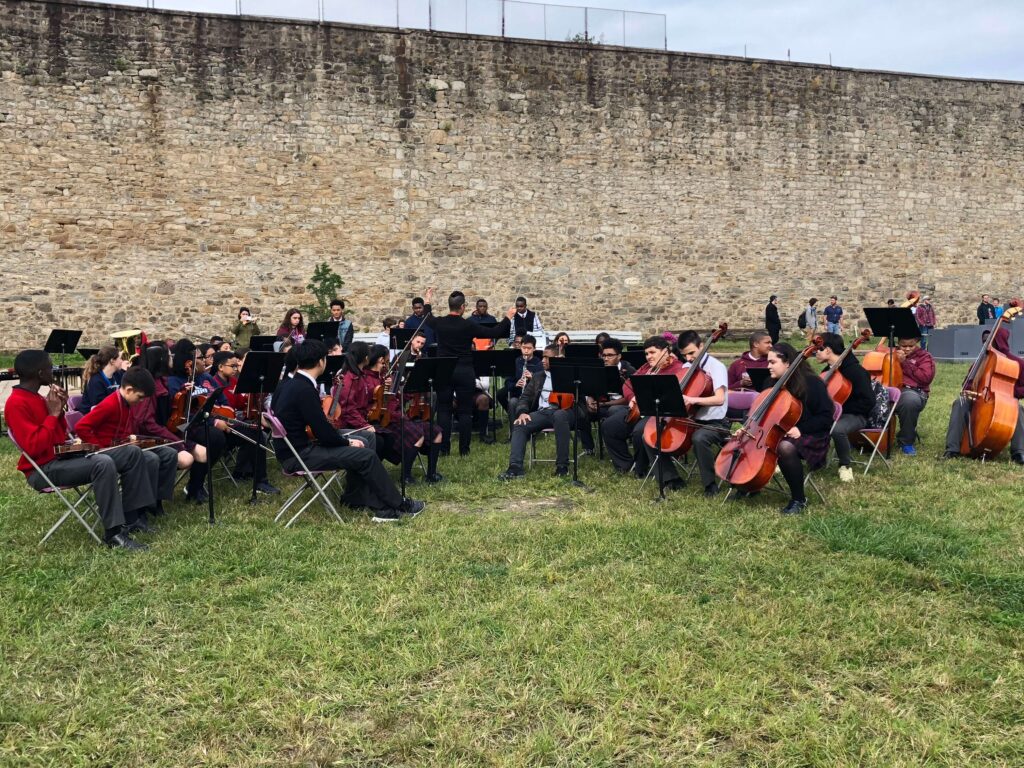 Student performances are booked at the discretion of Eastern State Penitentiary and based on availability. The opportunity to perform is available only to groups that are scheduled to visit for group tours. While at the historic site, take the music tour that explores how music plays a role in prisons past and present. Highlights include original songs written by people incarcerated at Eastern State Penitentiary, historic images of musicians who performed behind its walls, and discussion of music programming in prisons today.
If you have a performance venue option suggestion, email communications@discoverphl.com.