Reserving a private tour with a knowledgeable guide will help you and your group gain a better understanding — and perhaps uncover little known details — during your visit to Philadelphia's many museums and attractions. Below are just a few of the museums, attractions, and historic sites offering private tour experiences.
A true gem along the Benjamin Franklin Parkway, the Barnes Foundation is home to one of the world's greatest collections of Impressionist, Post Impressionist, and early Modernist paintings, curated by founder Dr. Albert C. Barnes. In addition to its celebrated permanent collection, the museum displays rotating special exhibitions that feature the work of a variety of artists and art forms, all continuing Dr. Barnes' mission of promoting art education and understanding.
Private, docent-led tours for up to seven guests are available on Thursdays at 2:30 p.m. and Friday through Monday at 10 a.m., 11 a.m., and 2:30 p.m. During the one-hour tour, a specially trained docent will navigate the collection with you, examining highlights while also sharing the history of the Barnes. Reservations are required and must be requested at least four days in advance. The cost of the private tour also includes post-tour access to the collection. For more details such as pricing, click here. To reserve a tour, dial 215-278-7200.
TIP: Be sure to utilize the Barnes' mobile museum guide, Barnes Focus, as you navigate the museum. The free digital guide can be accessed on smartphones and offers interesting real time insights into items in the collection, with text in English, Spanish, French, German, Italian, Russian, Chinese, Japanese, and Korean. Private virtual tours of the museum are also available and can be scheduled by emailing groups@barnesfoundation.org.
Immerse yourself in the heart of Philadelphia's historic district at one of Historic Philadelphia's most popular attractions: the Betsy Ross House. The former home of the seamstress believed to have sewn the first American flag, the historic site transports visitors back to the 18th century for a first hand look of what early American life was like in Philadelphia. The house can accommodate private tours for groups ranging from 20 to 50 people, with a special group rate for admission.
To plan a private experience at the Betsy Ross House, email groups@historicphiladelphia.org or dial 215-629-5801, ext. 209.
Home to the largest sphinx in the Western Hemisphere and thousands of other ancient artifacts from around the world, the Penn Museum on the University of Pennsylvania campus offers private in-person group tours for up to five people per tour guide for a flat fee. Groups can choose between one-hour tours of either the Egypt Gallery or Asia Gallery. The tours, led by Penn Museum Graduate Guides, Penn Ph. D. candidates or graduate students at Penn, offer unique insights into the collection that draw from their archaeological studies. Tours can be scheduled anytime during normal museum hours, which are 10 a.m. – 5 p.m., Tuesday through Sunday.
After the tour, visitors are free to explore the rest of the museum's collection, including the Mexico and Central America, African, and Sphinx Galleries. An audio tour is also available for visitors to access on their mobile devices, featuring content found on the museum's Digital Daily Dig series and paired with objects on view. To learn more about Penn Museum's private tour options and to schedule your experience, click here.
Located just steps from Independence National Historical Park and the many historic landmarks that are central to the founding of the nation including Independence Hall and Carpenters' Hall, the Museum of the American Revolution shares the story of the American Revolution by gracefully combining technology, artifacts, and lifelike tableaus for an immersive and interactive museum experience.
Those looking to gain a private look through the museum's core exhibition can schedule a 60-minute Early Access Guided Tour, available at 9 a.m. every Friday and Saturday for groups of up to 15 people (special rates are available for groups and tour operators). A 60-minute Highlights Tour is offered on Saturdays and Sundays at 11 a.m. and 3 p.m. To learn more and plan your private tour, click here.
The world's first true penitentiary, Eastern State Penitentiary is one of Philadelphia's most popular attractions — sought after for its rich history, iconic and influential design, and eerie, once-abandoned cells (including the one-time home of notorious gangster Al Capone). Private tours of America's most historic prison are available to book daily from 9 a.m. to 3:30 p.m. The 60-minute, guide-led experience will take visitors through the grounds and cell blocks of the historic building, revealing stories from the penitentiary's past and uncovering its continuing relevance today. Curious about a specific part of Eastern State's past? The guide can customize the tour to highlight topics of interest.
For more information on these private tours and to schedule your visit, email fs@easternstate.org or dial 215-236-5111, ext. 240.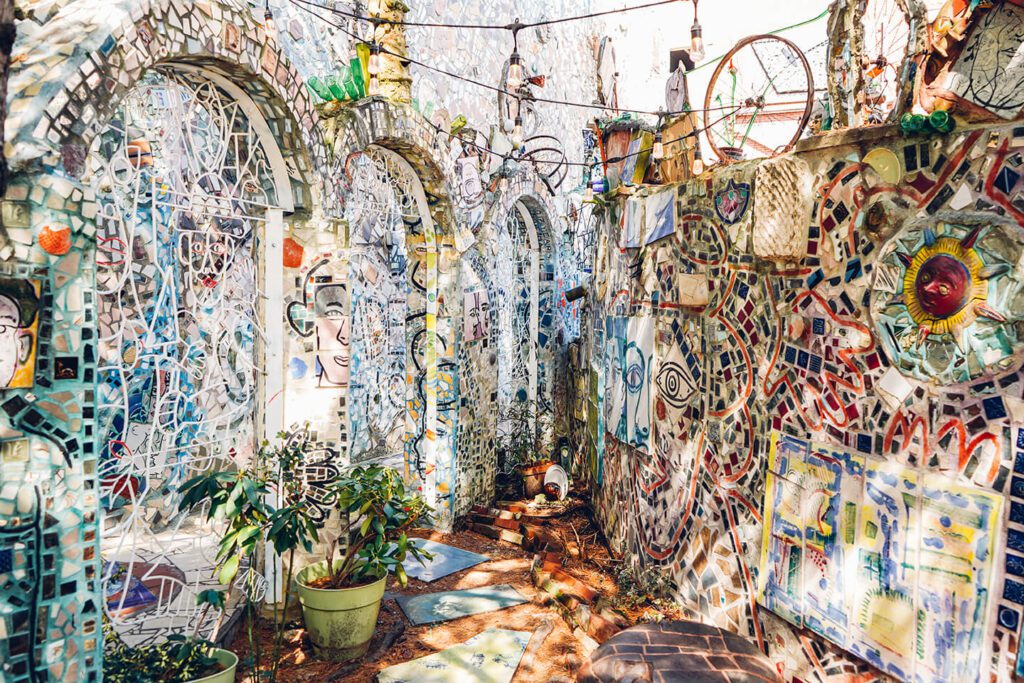 The largest work to date by South Philadelphia mosaic artist Isaiah Zagar, Philadelphia's Magic Gardens occupies three full city lots with indoor galleries and an outdoor labyrinth to explore. On Wednesdays, Fridays, Saturdays, and Sundays at 10 a.m., a 60-minute private experience can be booked for groups, featuring a 40-minute tour of the space led by a knowledgeable educator, followed by 20 minutes of free time to explore the property prior to it opening to the public. You'll learn about the history of the artist and his artwork, as well as the surrounding neighborhood, without having to worry about navigating around crowds.
For more information such as pricing and to book at private tour, click here.
Over 4,000 colorful murals are on view on walls throughout Philadelphia, establishing the city as the "Mural Capital of the World." To gain a deeper understanding as to the story and artist behind each piece, Mural Arts offers private tours that explore certain concentrations of murals, such as those along 13th Street in Center City, affectionately dubbed "The Mural Mile." For more information and to book a private tour, email tours@muralarts.org.
Tour company Intrepid Urban Adventures has a number of private experiences available that offer guests a unique opportunity to visit many of the city's most popular attractions and cultural or historic sites while learning more about each from a knowledgeable tour guide. One such experience is the private Philadelphia History in HD walking tour (centered around America's most historic square mile), which takes guests to many of the city's must-see spots, including Independence Hall and The Liberty Bell Center. Another option is the South Philadelphia-based Philadelphia Markets, Mosaics & Magic Discovery walking tour. To view all tour options and book your experience, click here.
Cover photo Philadelphia Magic Gardens. Photo by M. Zugale for PHLCVB.