Philadelphia Attractions Welcoming Group Tours
May 6, 2022
Philadelphia's museums have reopened and many are once again offering special experiences for groups.
Barnes Foundation
Groups with an interest in the arts can plan a visit to the Barnes Foundation along the Benjamin Franklin Parkway. Home to one of the world's greatest collections of impressionist, post-impressionist, and early-modernist paintings, the Barnes Foundation is once again welcoming groups, with onsite group dining options available as well. The museum supports contactless payment and ticketing. For more information on the Barnes Foundation's group offerings, click here. Groups of 10 or more interested in visiting the Barnes Foundation can email groups@barnesfoundation.org to book their visit.
TIP: Private, virtual group tours of the collection are also available and utilize a "Deep Zoom" technology to offer an in-depth look at specific pieces and entire ensembles.
Eastern State Penitentiary
Eastern State Penitentiary allows visitors to explore what was once the most famous and most expensive prison in the world either by a self-guided audio tour or on a guide-led group tour. Discounted rates are available for groups of 15 or more. Those unable to visit Eastern State in person can partake in new Virtual Group Tour offerings available for up to 50 attendees. Led by an expert educator, groups can partake in themed excursions and discussions digitally, such as an hour-long exploration of architecture in prisons then and now, as well as a deep dive into organized crime in the prohibition era and an interactive workshop focusing on criminal justice reform, among other options.
The nation's most historic prison also offers Night Tours: Summer Twilight (Thursdays through Sundays, May 6 – September 4, 2022), an experience which allows visitors to explore the once-abandoned cell blocks and admire the stunning architecture by moonlight while also learning about hardships in prisons via special activities and exhibitions. Night Tour visitors can also enjoy the Fair Chance Beer Garden, featuring beer from Triple Bottom Brewing as well as snacks and treats from local restaurants.
To learn more about Eastern State's expanded group offerings, click here, and to book a visit, email the Group Sales Manager or complete this form online.
Faith and Liberty Discovery Center
The Faith and Liberty Discovery Center, is located along Independence Mall and is dedicated to exploring the relationship between faith and liberty in America from its founding to today. Once inside the museum, visitors will enjoy a personalized journey by using a handheld lamp to interact with exhibits and collect inspirational content through six immersive galleries. The Center can accommodate groups and is offering discounted pricing for groups of 15 or more. The Faith and Liberty Discovery Center is also conveniently located just steps from the Independence Transportation Center (Race Street between 5th & 6th streets), where groups can easily load and unload. To learn more and inquire about a group visit, click here.
The Franklin Institute
One of the top science museums in the nation, Philadelphia's family-friendly The Franklin Institute is once again welcoming groups to explore their interactive galleries and special exhibits. Groups of 15 or more can enjoy discounted rates on box office prices, with customizable ticket options that build upon general museum admission to include access to special exhibits and the planetarium. Inside, guests of all ages can navigate each of The Franklin Institute's core galleries, which are based on key science concepts and include a giant walk-through heart, dynamic Your Brain exhibit, interactive SportsZone and more. Group visits are currently limited. Contact the museum for more information and to plan your visit.
Independence Seaport Museum
The Independence Seaport Museum, found along the Delaware River Waterfront and nearby popular public spaces such as Spruce Street Harbor Park, allows groups to discover Philadelphia's river of history and world of connections through the browsing of galleries and award-winning exhibits inside the museum, plus onboard the historic Cruiser Olympia, the oldest floating steel warship in the world, moored nearby. With customizable group options, including guided tours of both Cruiser Olympia and Submarine Becuna, ISM can accommodate a wide range of group sizes to ensure the most enjoyable experience possible. For more information and to inquire about group tours, email groupsales@phillyseaport.org.
Museum of the American Revolution
The Museum of the American Revolution is prepared to accommodate groups up to 60 people. The museum — which documents the American Revolution via immersive, interactive galleries — is offering free downloadable audio tours and audio devices are available for preorder at a reduced rate for groups. On view through September 5, 2022, the museum's Liberty: Don Troiani's Paintings of the Revolutionary War exhibition showcases over 45 paintings by the renowned historical painter, pairing each work with artifacts that either inspired or are featured in Troiani's paintings, including weapons, textiles, and more. For more information, contact the museum's group sales team at 267-579-3623.
National Constitution Center
Having recently unveiled a new exhibit highlighting the women's suffrage movement in honor of the centennial of the ratification of the 19th Amendment, the National Constitution Center is fully prepared to welcome groups back to the museum. Groups will be required to contact the museum's Director of Group Sales to make a reservation and coordinate their visit logistics. Visitors who are not fully vaccinated are still strongly recommended to wear masks. Full payment and final count will need to be received one week prior to visiting. For more information, including the great discounts offered to groups, click here.
Penn Museum
The Penn Museum, which recently renovated its main entrance as well as its Middle East, Mexico and Central America, and Africa galleries, now allows groups to book their visit with no restrictions. Adult group tours are also available in a virtual format, including online gallery tours and a digital version of the museum's popular Ancient Alcohol experience. For more information on Penn Museum's group tour experience, click here, and to inquire about scheduling a group visit, email the museum's Group Sales Manager. To book a virtual group tour program, click here.
TIP: Groups shouldn't miss Penn Museum's new exhibition The Stories We Wear, which explores 2,500 years of style from civilizations from around the globe and examines the role clothing and accessories play as expressions of identity in different societies.
Philadelphia Museum of Art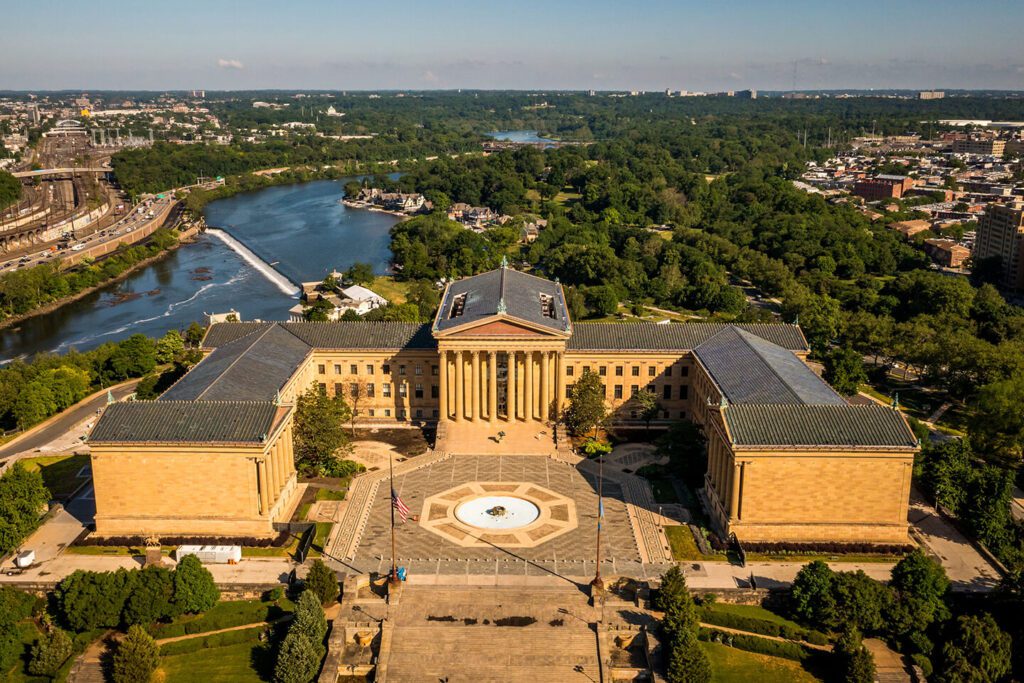 The iconic Philadelphia Museum of Art, whose treasured collection of American, Asian, and European art spans more than 2,000 years, is once again welcoming groups to explore the landmark building that caps Philadelphia's Museum Mile. Groups of 15 or more can visit the museum for self-guided tours, where they can explore 200 galleries and discover all-new, Frank Gehry-designed public spaces, including new homes for Early American Art and Modern & Contemporary Art. Self-guided visits also include admission to the nearby Rodin Museum, home to the largest collection of sculptor Auguste Rodin's work outside of Paris. Special themed, exhibitor- or curator-led tours are available for groups of up to 5 guests, with support for larger groups returning soon. To learn more and plan your group visit, click here.
Shofuso Japanese House and Garden
A terrific example of 17th-century Japanese architecture and culture, as well as one of the most picturesque settings in Philadelphia's 2,000+ acre Fairmount Park, Shofuso Japanese House and Garden is welcoming groups of 8-25 people for in-person tours on Wednesdays, Thursdays, and Fridays, from March through October. The tour will take guests through each of Shofuso's rooms while also highlighting the purpose and significance of the main areas of the site. As per Japanese tradition, shoes must be removed prior to entering the house and certain closed-in sections of the site are currently available to view, but not enter, such as the tea house and bath house. To learn more about Shofuso's in-person group offerings, click here. To inquire about group availability, email cschank@japanphilly.org. Corporate virtual tours of Shofuso is also available.
Cover image: Ancient Alcohol: A Taste of Bygone Booze tour, photo courtesy of Penn Museum.