The only U.S. city on National Geographic's 2020 'Best Trips' list, Philadelphia is a sought-after destination for international travelers and global meetings alike. Here are some at-home, do-it-yourself experiences that will help you enjoy Philadelphia wherever you are and prepare you for your eventual visit. To help keep track of the remote activities you've already completed, use this game of BINGO.
Jump to a section: EXPLORE | LISTEN | WATCH | EAT & DRINK | MEET
EXPLORE
The collections and artifacts that fill Philadelphia's museums are certainly worth seeing in person, however many local institutions offer online tours and tools to spotlight key parts of the experience. For example, Eastern State Penitentiary – once the world's most famous and most expensive prison – offers an online tour that highlights several cell blocks, the baseball field, and other locations throughout the historic site. The team at Eastern State Penitentiary also regularly shares interesting details about the landmark's history on their Facebook and Twitter accounts, while also engaging in discussions around today's prison system. You can also stream video tours on Facebook or book a private virtual tour with one of Eastern State Penitentiary's expert educators.
The Barnes Foundation allows virtual visitors to navigate one of the greatest collections of impressionist, post-impressionist, and early modernist paintings based on visual relationships, such as lines, light, space, and more. The museum also offers videos as part of their Barnes Takeout series, where representatives from the museum offer insights into pieces from the collection. Docent-led video tours of the Barnes' highlights are also available on YouTube and private virtual tours can be scheduled by emailing groups@barnesfoundation.org. Those with an interest in maritime history browse the Independence Seaport Museum's expansive collection of artifacts and historic ships online or enjoy a Virtual Field Trip, instructional video, or virtual tour of the historic submarine Becuna. The museum also offers a series of virtual events, including scavenger hunts and holiday specials. Found just across the Delaware River from the Independence Seaport Museum, the nation's most decorated battleship, Battleship New Jersey, offers an online video tour on YouTube.
The Museum of the American Revolution in Old City has a robust online tour, which navigates throughout the museum's immersive galleries and incredible replicas via 360-degree, high-resolution images, clickable elements, an audio tour, and more. The museum also offers a Virtual Field Trip, at-home activities for families, and many other digital resources and virtual events. A virtual tour of Philadelphia's Magic Gardens — one of the city's must-see attractions and the largest work to date by mosaic artist Isaiah Zagar — is available online as well. The Betsy Ross House also offers a 360-degree virtual tour that encompasses the courtyard, parlor, Betsy's bedroom, and her upholstery shop. Throughout the tour, viewers will learn more about historic house via interactive stars.
The National Constitution Center offers a collection of interactive virtual tours for a number of its exhibits including Civil War and Reconstruction, American Treasures, Hamilton, and Signers' Hall. The museum also features an Interactive Constitution complete with insights on the document's history and impact from multiple scholars with varying backgrounds. The Franklin Institute invites you to challenge your mind, tour their Giant Heart, connect with experts at the museum, examine the night sky alongside their Chief Astronomer, and more with their Franklin @ Home digital science offerings. The celebrated science museum also regularly shares new videos on YouTube as part of their #SparkOfScience series that highlights various science experiments, including several which can be done from home.
Home to one of the world's greatest collections of sports racing cars, the Simeone Foundation Automotive Museum in Southwest Philadelphia allows those who download its free mobile app to virtually tour the museum while enjoying over four hours of audio explaining the history and significance of each car. The National Museum of American Jewish History offers virtual tours of past exhibitions including Leonard Bernstein – The Power of Music and Chasing Dreams, while also allowing visitors to digitally browse highlights from its impressive collection of over 30,000 artifacts.
The Penn Museum's collections — featuring artifacts from ancient Egypt, Greece and Italy, Mesopotamia, Asia, Africa, and the Americas — can be viewed via virtual tours online. Additionally, the museum offers other at-home experiences that are designed to bring their galleries and artifacts into living rooms around the world such as their 3-minute Digital Daily Dig segments, family-friendly activities and crafts, lectures, and a series of virtual events. TIP: Don't miss Penn Museum's Ancient Alcohol After Hours virtual events, which invite you to enjoy beer or wine at home while you learn more about alcohol in ancient civilizations from around the world.
Local tour company Philly Tour Hub has partnered with Amazon to deliver a series of one-hour virtual tours that can be enjoyed online. Three options from their Urban Adventures line of tours are currently available to book digitally, including Historic Highlights of Old City Philadelphia, The Birthplace of America: Virtually Explore Philadelphia's Independence National Park, and Murals and Mosaics of South Philadelphia. The first two highlight historic sites in and around Old City and Independence National Historical Park, while the third transports viewers to the mural and mosaic-lined streets of South Philadelphia. Each tour features a live guide that leads the tour, offering commentary and insights as videos, photos, and other content is shared along the way.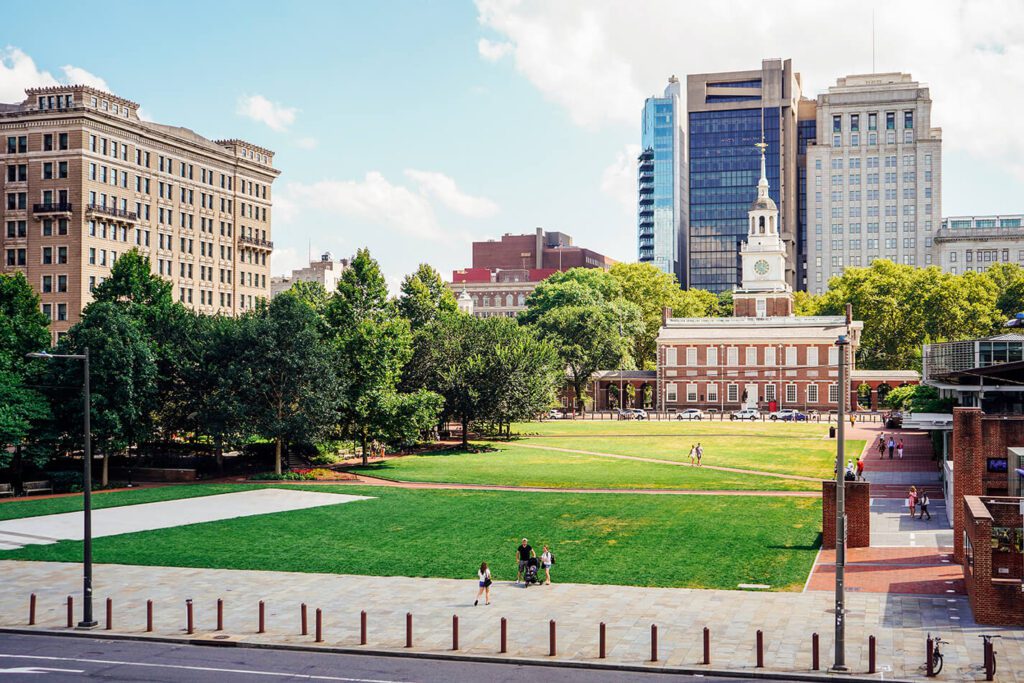 Learn more about the many animal species that inhabit the nation's first zoo including lions, tigers, giraffes, red pandas, and more with behind-the-scenes videos shared to the Philadelphia Zoo's Facebook page. The Adventure Aquarium offers at-home kids activities such as coloring pages, word searches, and mazes with marine animal themes. The aquarium also regularly shares video updates of their adorable animal residents on their website and social media.
To remotely view and learn more about Philadelphia's impressive collection of public art, the Association of Public Art offers an interactive map with photos, historical backgrounds, and even audio guides for hundreds of pieces of outdoor art. The association has also published a roundup of virtual art experiences, which includes those offered by the University of Pennsylvania and other organizations. Mural Arts Philadelphia's new 'Murals on the Fly' video series sheds additional light on some of the city's most eye-catching murals and the artists behind them. Mural Arts also offers virtual tours that are periodically made available to the public or can be purchased for private groups. Consult PhillyFunGuide's Arts + Culture To Go resource for more remote cultural experiences from around the region. The Institute of Contemporary Art presents views of current exhibitions online. The Fabric Workshop Museum's 'FWM @ Home' includes resources for students and educators, artist interviews, access to their online shop, and more.
The Pennsylvania Academy of Fine Arts' PAFA from Home: Inspiration Everywhere, Anywhere resource allows online visitors to browse the museum's renowned permanent collection, take 360-degree virtual tours of the Historic Landmark Building and Samuel M.V. Hamilton Building, and more. Through an online tool, the Pennsylvania Convention Center allows you to learn more about the art and artists featured in its West Wing. The Philadelphia Museum of Art's treasured collection can be browsed online and the museum offers 360-degree photos of its Contemporary Art, Modern Art, and American Art galleries. Don't miss the comprehensive online overview (complete with video) of the museum's Temple Hall.
The Academy of Natural Sciences — the first natural sciences institution in the Americas — has created a Science From Home resource which offers a number of at-home museum experiences, including coloring sheets made of images from the Academy's library and archives, do-it-yourself science experiments, a backyard bird-watching guide, and more. The Wagner Free Institute of Science's mineral collection can be viewed online, while they share images and insights on their taxidermy collection and other specimens on social media.
Those looking to be "disturbingly informed" can turn to the Mütter Museum's online resource, which offers 360-degree photos and additional insight on a few of the over 25,000 medical curiosities and instruments in the museum's expansive collection, such as the giant megacolon, conjoined twins Chang and Eng Bunker, and more. A curator-led video walkthrough of the Mütter Museum's collection is also available on YouTube. The National Liberty Museum's NLM @ Home features a collection of resources inspired by the museum's focus on the quest for liberty throughout history, including learning activities, a virtual Heroes Gallery, hero training, and more.
Longwood Gardens in Kennett Square offers live looks at its lush conservatory and beautiful fields online, alongside other resources including digital gardening lessons, streams of past performances, video tours, and more. The Center for Art in Wood in Old City is publishing new experimental online content to a sister site, The Wood Shed, including artist podcasts and studio tours, home crafts, and more. Set to open in late 2020 along Independence Mall, the Faith and Liberty Discovery Center invites visitors to its interactive website to explore the diverse Visions of America from historical Americans such as William Penn and Martin Luther King, Jr.
Shofuso Japanese House and Garden hosts virtual tours of the charming space in Fairmount Park bi-weekly on Tuesdays via Zoom. The Philadelphia International Airport's suite of virtual experiences include highlights of their PHL Art Exhibit Program, podcasts, a guide to Philadelphia-based films, and activities for kids that showcase how the airport works. For more remote Philadelphia experiences, follow the #PhillyFromHome hashtag on Twitter.
LISTEN
Whether it's for a workout routine or just lounging around the house, be sure to round out your playlist with music by some of the most iconic performers from the Philadelphia region. Will Smith, The Roots, and Boyz II Men are some of the city's essential hip-hop artists, as well as Meek Mill, Lil Uzi Vert, and Freeway. Jazz fans can find solace in John Coltrane albums, while rock and roll fans can jam out to music by Hall & Oates, The War on Drugs, or Kurt Vile. There are also punk and alt-rock artists such as The Wonder Years, Modern Baseball, and The Menzingers.
Other iconic Philadelphia artists include female vocalists Patti LaBelle and Marian Anderson. Of course, no Philadelphia playlist is complete without the timeless anthem to Rocky, "Bill Conti's "Gonna Fly Now."
You can listen to these artists and more via our custom "Philadelphia From Home" Spotify playlist.
Those with a more classical taste can stream several albums by The Philadelphia Orchestra on Spotify, view a performance of Beethoven Symphonies Nos. 5 and 6 at Verizon Hall online, enjoy other performances with the new Listen On Demand feature, and take advantage of an array of other virtual Orchestra experiences now online, including their all-digital 2020 season.
Each week, the Curtis Institute of Music presents a free, on-demand concert recorded by Curtis students, available to enjoy online from home. For a full list of upcoming performances and to register to view, click here.
Opera Philadelphia has launched the innovative Opera Philadelphia Channel for its 2020-21 season, which delivers all-digital performances via a Netflix-like streaming service available on major streaming devices including Amazon Fire TV, Android TV, Apple TV, or Roku. The opera company also provides an on-demand performances via their Opera on the Couch playlist on YouTube. For additional online offerings from Philadelphia's performing arts community — including The Philly POPS and The Chamber Orchestra of Philadelphia — visit The Kimmel Center's The Show Must Go On resource.
For more information on Philadelphia's impact on music, and where to watch live musical performances in the city, click here.
WATCH
You can get your bearings for the City of Brotherly Love by watching one of the many films or television shows in which the city has played a supporting role in over the years. The Rocky and Creed series is an absolute must-watch, as Sylvester Stallone plays the titular boxer who perfectly personifies the underdog, never-give-up spirit of Philadelphia, all while training his way through Philadelphia's Italian Market and eventually up the 72 eastern steps of the Philadelphia Museum of Art.
Director M. Night Shyamalan has a tendency for basing his films in Philadelphia, including Unbreakable, Split, and Glass, as well as the 1999 thriller, The Sixth Sense. Several scenes in the action adventure film National Treasure feature some of Philadelphia's most iconic attractions — such as Independence Hall, the Liberty Bell, and Reading Terminal Market — and the comedic Trading Places shines the Hollywood light on Rittenhouse Square. More recent movies include the dramatic Silver Linings Playbook and the DC comic superhero film, Shazam!
While Philadelphia only has a brief appearance at the beginning of Will Smith's Fresh Prince of Bel Air, the city has more extended television roles in AMC's Dispatches from Elsewhere, Apple TV's The Servant, and the fifth season of Queer Eye on Netflix (the Fab Five share their favorite Philadelphia experiences with Condé Nast Traveler).
The city's food scene shines on the small screen, too, appearing in a number of culinary shows such as Chef's Table on Netflix and No Passport Required on PBS.
EAT & DRINK
From grabbing a meal from one of the 80+ vendors at the historic Reading Terminal Market to enjoying dinner at the acclaimed Zahav, Philadelphia's food scene alone is worthy of a trip to the city. However, some of the city's essential eats can be enjoyed from afar.
Pretzels, Tastykakes, Peanut Chews, and Bassett's Ice Cream are a few of the most preferred snacks in the city. Thankfully, these delicious items are available to be shipped nationwide thanks to Pennsylvania General Store, who operates a stand inside the 127-year-old Reading Terminal Market.
If you're craving a classic Philadelphia cheesesteak, Campo's Deli in Old City (214 Market Street) ships their delicious sandwiches nationwide, as does the iconic Pat's King of Steaks in South Philadelphia. But if you're looking to try your hand at cooking the perfect cheesesteak at home, Campo's has provided a recipe to help guide you in the kitchen (Campo's even ships a "Cheesesteak Kit" locally in Philadelphia via Postmates):
Ingredients
1/2 cup yellow onion, chopped
1/3 lb shaved rib-eye steak, sliced to approx. 1/8th inch thickness
2 slices American cheese
2 tbsp olive oil
9-inch Italian roll
Salt and pepper to taste
Cooking Instructions
In a large saute pan or on a griddle, add oil and heat to medium-high.
Add onions followed by a pinch of salt and pepper. Cook onions until soft (5 minutes), stirring occasionally.
Add rib-eye and a pinch of salt and pepper. Let each slice cook for roughly 45 seconds, then flip and cook for another 30 seconds.
Add slices of cheese on top of steak and cover to melt cheese (10 seconds).
Transfer steak, onions and cheese onto sliced Italian roll. Enjoy!
If you'd like to try your hand at other menu items from Philadelphia restaurants, you can bake foccacia from Via Locusta or "the world's greatest grilled cheese" from High Street on Market. For dessert, you can treat yourself to a babka with help of a recipe from Camille Cogswell, formerly the pastry chef at Zahav and one of Food & Wine's Best New Chefs for 2020. Additional recipes are available via several cookbooks published by marquee Philadelphia chefs including Marc Vetri (Vetri Cucina, Fiorella) and Michael Solomonov (Zahav). Additional cookbooks are available that feature recipes from Frog Commissary, Pizzeria Beddia, Vedge, Vernick Food & Drink, and other local favorites. For those that need additional guidance in the kitchen, City Kitchen at Reading Terminal Market will begin offering online cooking classes beginning on June 2, 2020. To learn more about the essential Philadelphia eating experiences that await, click here.
Those craving a cocktail can reference these at-home recipes from local bartenders and mixologists, such as the refreshing Kinsey Bourbon Lemonade from Art in the Age.
MEET
The Philadelphia Convention & Visitors Bureau has assembled a collection of Philadelphia-themed Zoom backgrounds so that you can hold your next project briefing, virtual happy hour, or other online meeting at a number of popular city sites. Options include the historic Elfreth's Alley or Liberty Bell, the iconic LOVE Park, or even Al Capone's cell inside of Eastern State Penitentiary, among others.
For additional destination inspiration, be sure to follow the Philadelphia Convention & Visitors Bureau on Instagram, Facebook, and Twitter. For a roundup of at-home Philadelphia activities for kids, click here.
Cover photo by Elevated Angles.