As preparations are made for the return of in-person meetings, Philadelphia venues and hotels offer the ability to host safe and efficient meetings in a hybrid format, where groups physically gather and others participate virtually.
Philadelphia is an excellent choice for hybrid events because the city is conveniently located in the Northeast, between New York City and Washington, D.C. In addition to being accessible, Philadelphia – consistently ranked one of the most walkable cities in the U.S. – is easy to navigate. And, a wide array of venues and hotels are situated in close proximity to each other to help facilitate multi-location meetings with packages for designing and executing full-scale hybrid, creative events. Whatever you need, we can make it happen.
Plan a hybrid meeting at a Philadelphia Venue
Bring Philadelphia into your hybrid meeting at event spaces ranging from waterfront vistas to iconic settings on Independence Mall to attractions on the gorgeous Benjamin Franklin Parkway and beyond.
National Constitution Center
Featuring spectacular views of Independence Hall, the museum dedicated to the U.S. Constitution is located in Independence National Historical Park – a one-of-a-kind setting – with special access to immersive exhibits and historic artifacts.
The National Constitution Center hosts large-scale events such as Liberty Medal Ceremonies and national town halls, utilizing the Grand Hall Main Lobby and overlook with over 16,000 square feet of space and 60-ft high ceiling and sweeping glass windows. The state-of-the-art video wall displays all formats and can be used to connect events in various locations and to stream programs via various platforms. The Rooftop Terrace, with 5,820 square feet, is an outdoor space available with the Grand Hall Overlook. Access to Signers' Hall is also available.
For a theater-style soundstage setting, the Kirby Auditorium offers 1,642 square feet with a permanent stage, off-stage green room and wide-screen display for presentations. For more intimate gatherings, the John C. Bogle Chairman's Room with 1,785 square feet offers breathtaking views of Independence Mall. The Kimmel Theater offers 8,723 overall square feet of space.
The center's exclusive partnership with Advanced Staging Productions supports any customer needs with state-of-the-art live programming on-site as well as virtual programming into any event. The full AV team in-house assists with live streaming/video recording of meetings. Plasma monitors in all major meeting room spaces to allow for hybrid communication and the ability to incorporate virtual tours of exhibits for remote/virtual guests.
Loews Philadelphia Hotel
The 580-room property is located in the heart of downtown, across from the Pennsylvania Convention Center and key attractions like Reading Terminal Market, Philadelphia's historic City Hall and Love Park. The historic building, formerly home to the Philadelphia Savings Fund Society, is America's first skyscraper. Architectural details include original Cartier clocks on every floor paired with marble and granite sourced from 32 different countries – giving the hotel a timeless and historic feel.
The Loews Philadelphia Hotel completed a $23 million dollar enhancement project in 2019 and features 47,000 square feet of flexible meeting space, including 3 ballrooms (each offering over 9,000 square feet of meeting and function space and approximately 3,000 square feet of pre-function space). Three meeting spaces on the top floor offer panoramic views of the city and include an outdoor terrace along with a National Historic Landmark designated board room. The property also features 24 meeting rooms ranging from 483 to 6,100 square feet. And, the hotel – known for its bourbon collection – offers an intimate tasting room accessed through a hidden bookcase door in the ground-floor restaurant.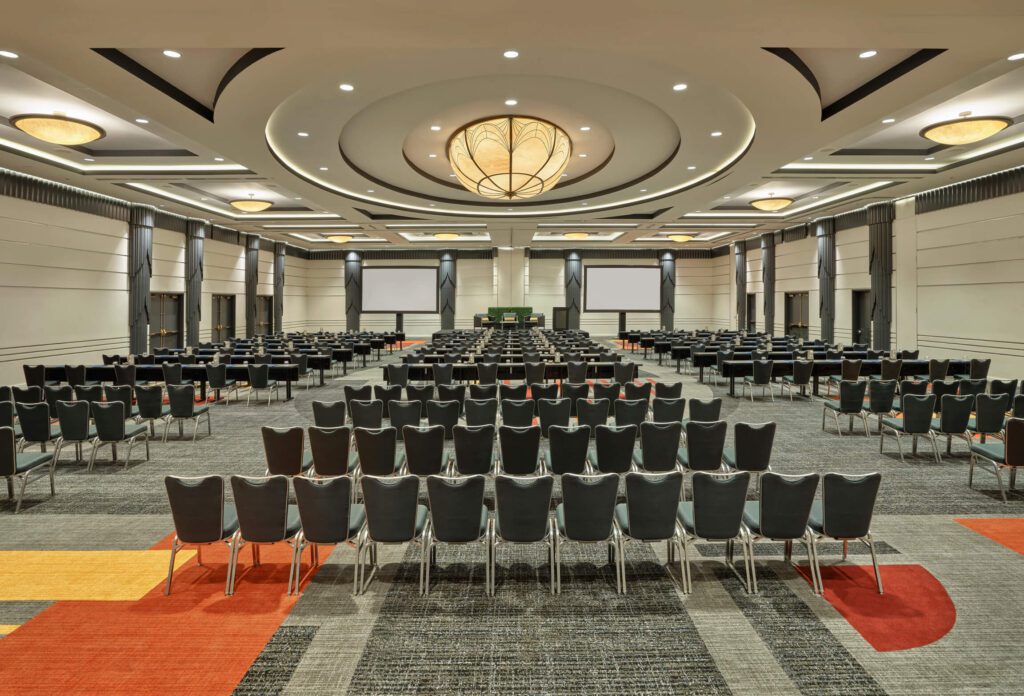 For meetings with virtual needs, the hotel offers StreamLine by Loews. This program features turnkey state of the art technology studio spaces and a number of discounts including no cost for outside production companies and a flat rental fee of $1 per square foot, presenter and production guest rooms 15% off bar, 10% food and beverage discount across the hotel, and meeting space rental $1 per square foot.
The Franklin Institute
Founded in 1824, the popular museum is dedicated to inspiring a passion for science and technology through hands on experiences and interactive exhibits. Located on the beautiful Benjamin Franklin Parkway, The Franklin Institute is noticeable for its Neoclassical architecture with grand halls and lobbies, atrium, three fully equipped theaters (including IMAX) and numerous exhibit halls that can be customized for your event.
The 300,000 square foot building features many varied options for meetings of all sizes from small, intimate exhibit spaces to large halls, including the Benjamin Franklin National Memorial, the museum's centerpiece. Gather in an airplane hangar or other adaptable gallery spaces, stunning architectural settings and the Fels Planetarium, the second oldest in the U.S., opened in 1933. Guests can choose the color and star/galaxy image that appears on the dome and the night sky can be featured from any date or time. The Franklin Theater features cinema-style seating, a surround sound system, and a high-definition digital 3D projection system perfect for larger presentations, theatrical and musical performances, movie premieres or festivals. The rooftop deck offers amazing views of the Benjamin Franklin Parkway and the city skyline.
The Franklin Institute provides state-of-the-art audio visual capabilities and new lighting and audio features that can be customized to illuminate and enhance your event. Conference centers have built-in screen and projector capabilities and microphones and Wi-Fi available in all event spaces.
The Franklin Institute starred in the film "National Treasure" featuring Nicholas Cage and has been the choice for many memorable social and political events including the NFL Draft, the 2016 Philadelphia Democratic National Convention (DNC), a fundraiser for President Obama and many premieres for HBO, the Food Network and more.
Hilton Philadelphia at Penn's Landing
Philadelphia's only waterfront hotel is located on the Delaware River, steps from the seaport, parks, pop-up parks and piers that provide numerous outdoor activities.
The Hilton Philadelphia at Penn's Landing has five separate meeting spaces totaling 24,000 square feet of flexible function space on two floors. The Grand Ballroom, with over 7,400 square feet and 17-foot high ceilings, overlooks the river and can be divided into three sections. The Columbus Ballroom offers 3,840 square feet with views of Spruce Street Harbor Park and the Executive Meeting Center on Three is a 4,800 square foot Conference Center featuring waterfront views. In addition, the Executive Boardroom includes an extended private lounge area. Meeting rooms offer integrated technology to host in-person and hybrid meetings.
As capacity limitations are eased, these venues and many more can accommodate large groups at varied and unique spaces with hybrid capabilities.
Cover photo courtesy of the National Constitution Center