Home to over 10,000 acres of urban parks, including the 2,000+ acre Fairmount Park, Philadelphia presents a variety of ways to connect with the outdoors without ever journeying too far from the hotels and attractions of Center City. To help connect your attendees with Philadelphia's abundance of green space, consider one of these event venues with open-air options.
Located in West Fairmount Park, this popular summer concert venue is also a unique option for offsite events, accommodating everything from intimate cocktail receptions to large-scale presentations or parties. The Mann offers a variety of spaces to choose from, including the hilltop Crescendo Tent and the grand TD Pavilion, all of which will offer your attendees sweeping skyline views while they enjoy the natural breeze of Fairmount Park. To learn more, click here.
Constructed between 1812 and 1872, the Fairmount Water Works along the Schuylkill River was the first water supply in the nation to use paddle wheels to pump water. Now, the National Historic Landmark serves as a stunning event venue that offers breathtaking views of the Philadelphia Museum of Art and Boathouse Row. The venue features two elegant outdoor spaces — the Grand Pavilion and Mill House — in addition to the indoor Engine House. To learn more, click here.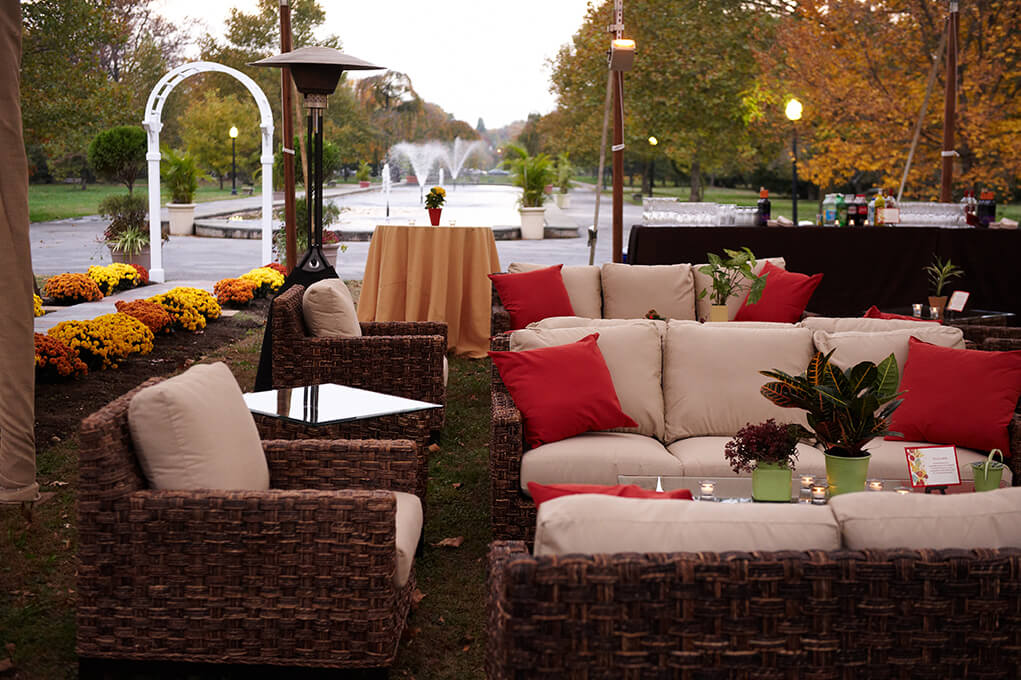 Operated by Constellation Culinary Group, the Horticulture Center provides lush indoor and outdoor spaces in West Fairmount Park. A spacious greenhouse rests adjacent to an outdoor lawn complete with a long, tree-lined reflecting pool, providing your attendees with a direct connection to Philadelphia's largest park. To learn more, click here.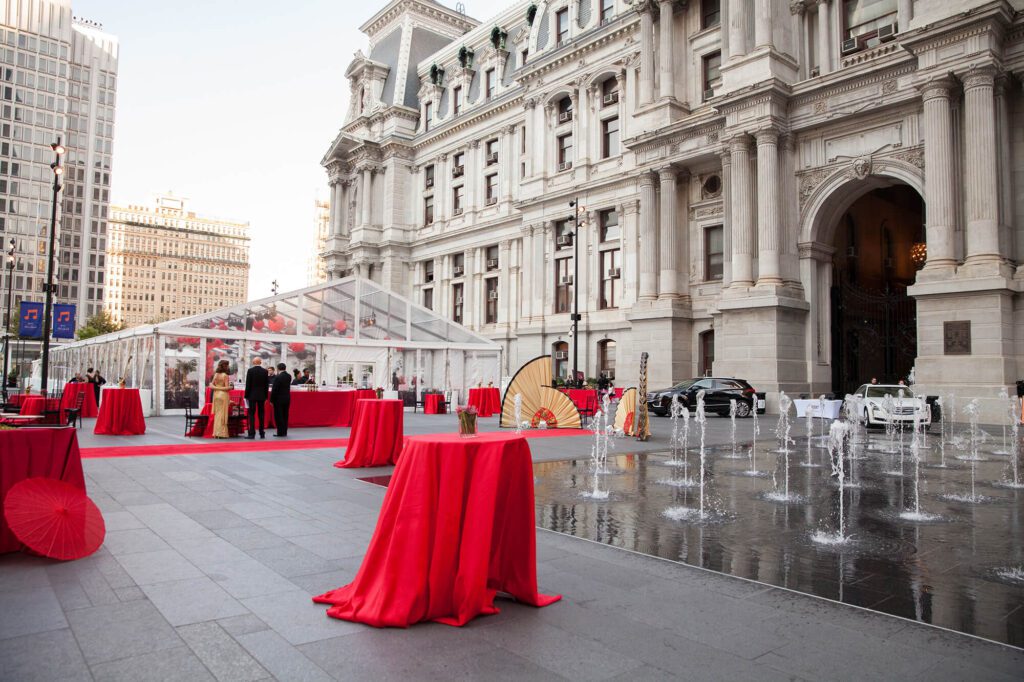 Managed by Center City District, this multi-use park at the base of historic City Hall can be converted into a variety of different layouts for outdoor events, with over 120,000 square feet of space to work with. Featuring a lawn, fountains, and a café, your guests will enjoy al fresco entertainment in the heart of the city, conveniently just a short walk to and from hotels and the Pennsylvania Convention Center. Click here to learn more and to plan your next event at Dilworth Park.
Located in the heart of Philadelphia's Historic District, and just a short walk from Center City and the Pennsylvania Convention Center, The Liberty View features an outdoor terrace that wraps around the second floor of the Independence Visitor Center, presenting breathtaking, panoramic views of Independence Mall, including the National Constitution Center, Independence Hall and Liberty Bell Center. The 25,000-square-foot event space also includes a connected indoor ballroom with an open design that can be customized for any event. To learn more about The Liberty View's event capabilities, click here. For more venues with impressive views, click here.
One of Philadelphia's five original squares, Franklin Square is a family-friendly destination near the foot of the Benjamin Franklin Bridge. Known for its iconic fountain, Parx Liberty carousel and historically themed mini golf, the park can serve as a lovely outdoor setting for special events. The lawn accommodates tented affairs for larger groups, with an all-season pavilion standing by for smaller gatherings. Local event and catering company Cescaphe has opened Franklin's View, a contemporary outdoor venue on the eastern edge of Franklin Square with massive tents featuring translucent ceilings, chic décor, chandeliers, and more. To learn more about events in Franklin Square, click here.
One of the city's most breathtaking views comes courtesy of one of its most unique outdoor venues. Your attendees will marvel in the Center City skyline to the east from atop Cira Green in University City — a 1.5-acre park stationed on the 12th floor of a parking garage – featuring a seasonal rooftop eatery called Sunset Social. The elevated park features several lawns, a concrete space that accommodates a tent, and a large screen (which can display custom imagery for your event). The garage below provides ample parking, however the space is within walking distance of the 30th Street Station transportation hub, as well as several of the city's universities and hotels. To learn more, click here.
Docked along the Delaware River waterfront, Moshulu offers amazing views of the river, Benjamin Franklin Bridge, and Philadelphia skyline. Your guests will enjoy award-winning cuisine while they mingle and network on the deck of the world's oldest and tallest square rigged sailing vessel still afloat. To learn more, click here.
Tucked behind ornate walls along the Benjamin Franklin Parkway and with an entrance marked by Auguste Rodin's iconic 'The Thinker' sculpture, the Rodin Museum's outdoor Dorrance H. Hamilton Garden is an ideal spot for intimate outdoor receptions set within a short walk from Center City hotels and meeting venues. For more information and floor plans, click here.
Philadelphia's pop-up parks and beer gardens are popular destinations year-round, and one of the city's largest is available to rent for private events. Uptown Beer Garden fills 18,000+ square feet space in their new, permanent location across from LOVE Park and just a short walk from the Pennsylvania Convention Center and many downtown hotels. The beer garden features seven different seating areas decorated with 20-foot tall trees, twinkling lights, fountains, local street art and more, and is able to accommodate up to 700 guests for private events. To learn more, click here.
Downingtown-based Victory Brewing Company opened their first location within Philadelphia city limits with the debut of a new brewery and taproom along the Benjamin Franklin Parkway. The 14,000 square-foot taproom boasts two indoor bars, an on-site brewing system, and a full scratch kitchen. It also features an outdoor bar and outdoor seating along the street and on a rooftop patio. The space is also just steps from Logan Square, downtown hotels, and popular museums, including The Franklin Institute, Barnes Foundation, and Philadelphia Museum of Art. To learn more, click here.
Liberty Point made its debut as Philadelphia's largest restaurant in modern history on the Delaware River waterfront on May 3, 2022. The 28,000 square foot restaurant (25,000 square feet of space outside and 3,000 square feet of space inside) is adjacent to and wrapped around the waterfront side of the Independence Seaport Museum. The giant indoor-outdoor space is able to host up to 1,400 people at a time. The design includes three main levels for food, drinks, and live entertainment, along with smaller sub-levels, a stage for live music, five bars and breathtaking views of the water. Liberty Point is the latest endeavor of FCM Hospitality, who also owns Craft Hall on Columbus Boulevard. To learn more, click here.
To inquire about any of the options listed above, or to learn more about Philadelphia's other outdoor and indoor event venues — from the historic to the unique — contact a member of the PHLCVB Convention Services team.
Cover photo: Mann Center for the Performing Arts. Photo by Jordan August Photography.