Textile art, stickers, mosaics, tiles and wheatpasting are some of the "unofficial" art genres garnering international attention.
Philadelphia has been called the world's largest outdoor art gallery thanks to its robust city arts programs including Mural Arts Philadelphia, the Association for Public Art, and a more than 60-year-old local law that requires all developers to use about one percent of every project to commission a new public work. Philadelphia's unofficial public arts scene is similarly rich. The community of so-called "yarn bombers" is ever growing and have moved beyond simple tree or street sign coverings to include large installations ranging from the whimsical injections of color to bold political statements. Mosaic artist Isaiah Zagar's work – featuring cut mirrors, broken tile and found objects held in place by multi-colored grout – has become synonymous with the city. The "Toynbee tiles," found embedded in certain stretches of sidewalk, have long been local favorites and the mystery that surrounds them is now an international obsession.
Mosaic Art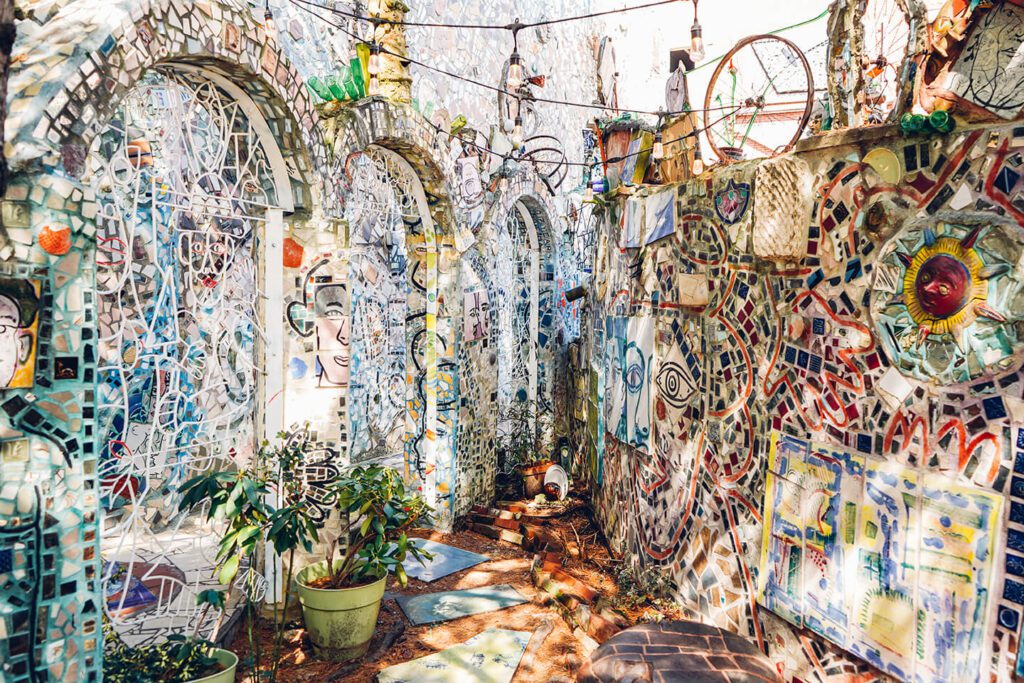 Isaiah Zagar has been creating mosaics in Philadelphia since the 1960s. The epicenter of his art today is what he calls his "labyrinthine mosaic museum," Philadelphia's Magic Gardens, spanning three city blocks at 1020 South Street. Begun as a way to revitalize his neighborhood with public art installations, his work – and similar works by admirers – can now be found on hundreds of surfaces in the city, mainly walls but also benches and doors. Zagar's work usually includes cut mirror, tiles and "found objects" including dishes, bicycle wheels and bottles. The mirror often outlines painted images, usually people or words. The mosaic pieces are held in place by a rainbow of brightly colored grout. He is also known for putting self-portraits in his work.
Toynbee Tiles
These linoleum sidewalk plaques with oft-cryptic messages have been found on the streets of about two dozen U.S. cities, but first noticed in Philadelphia in the 1980s. There is also a tile in Santiago, Chile, that gives a specific home address in South Philadelphia. Those who live there say they have no idea how or why their house number and street name is on a South American sidewalk tile. The original creator of the tiles is unknown. They are named for historian Arnold Toynbee as one of the earliest tiles reads, "TOYNBEE IDEA IN Kubrick's 2001 RESURRECT DEAD ON PLANET JUPITER." Toynbee, who died in 1975, wrote a 12-volume "A Study of History" that included the idea of regeneration. In author Arthur C. Clarke's short story "Jupiter Five," the spaceship is named the "Arnold Toynbee." "Kubrick's 2001" is a reference to Stanley Kubrick's film "2001," which features a man reborn on a mission to Jupiter. It seems the original creator of the tiles stopped creating new ones around 2003, but similar tiles by different artists have appeared since then. Photographer Steve Weinik's website maps out the original tiles.
Yarn/Textile Art
Yarn bombing, also known as yarn storming, graffiti knitting, yarn graffiti and knitting graffiti – is textile art that is put on display in a public place, sometimes meant to send a political message and other times to simply brighten or entertain with whimsical subjects. While some consider them vandalism, others think of them as art. Philadelphia has an active artist community that continually adds to its yarn art collection. Residents began to notice trees and sign poles wrapped in knit or crochet around 2005. Today's works are more elaborate. Popular "bombing" targets include Starr Garden Park, 600 Lombard Street, the Callowhill neighborhood, particularly around N. 11th Street and Spring Garden Street, and the Reading Viaduct.
Wheatpasting and Sticker Art
Wheatpasting is the practice of creating posters and affixing them to public spots including mailboxes, trash cans, construction site walls and light poles. While a popular genre, it is considered vandalism and practitioners do face fines. Many artists say they are careful not to put posters on private property. Amberella (@amberellaxo) is a nationally recognized wheatpaste artist best known for "power hearts" meant to uplift and inspire. Sticker art is also a phenomenon and Philadelphia has a hand-drawn sticker tradition. Conrad Benner, who documents Philadelphia's street art culture on his website, StreetsDept, hosts a show each year that attractions thousands of submissions from all over the world.
Street art can be found in all of Philadelphia's neighborhoods with a concentration in the Northern Liberties, Spring Arts and Fishtown sections. In nearby Port Richmond, Graffiti Pier, a popular artist enclave and Instagram spot shut down in 2018, is set to open again. The state of Pennsylvania has announced a one-million-dollar grant to be used create a public park on the six-acre stretch along the Delaware River.