Philadelphia's museums and attractions are eager to welcome student groups. Here's a roundup of some engaging experiences to add to your school group's itinerary.
<! --- ADVENTURE AQUARIUM --->
Adventure Aquarium is inviting school groups to experience the wonder of one-of-a-kind exhibits throughout two million gallons of water. Upgrades include add-on classroom and auditorium programs, reserved lunch space and a double feature in the aquarium's 3D theater. To learn more about the aquarium's field trip options and packages, click here. For more detailed information on school group pricing, upgrades, and how to book a field trip, click here. Adventure Aquarium also takes pride in providing an exciting and fun opportunity for scout troops while also giving them a whole new perspective on the wonders of the ocean. The aquarium also hosts Scout Weekends, offering scouts and scout groups discounted scout group admission, while also encouraging scouts to come in uniform to receive a free fun patch. For more information on scout group options, click here. For more information and upcoming dates for Scout Weekends, click here. Adventure Aquarium also invites homeschool parents and students to visit and explore for a discounted group rate (without needing to come with a group of 20 or more) during Homeschool Week. To learn more about educational programs at Adventure Aquarium, click here.
The Faith and Liberty Discovery Center is an interactive experience where students can discover the inspiration behind key individuals throughout American history who shaped our country. With a hand-held device students can collect learning points and discoveries along the way to revisit later online or in the classroom, activate informational animations, and virtually walk the cobblestone streets of colonial Philadelphia as they help build the city. For more information and to download student activities and resource guides, click here. For student group pricing and to book your visit, click here.
Student groups at the Independence Seaport Museum can customize their visit to include guided tours of our two historic ships, Cruiser Olympia*, the oldest floating steel warship in the world, and Submarine Becuna, a World War II-era submarine. These guided tours allow students (as well as their chaperones) to understand in greater detail the history that they are walking in once they climb aboard. Roughly 30 – 45 minutes in length, tours are based upon availability, but can mostly be accommodated every day. To learn more, click here.
*Self-guided exploration of Cruiser Olympia is included with your ticket.
Museum of Illusions is a one-of-a-kind 'edutainment' destination that provides a unique experience for students giving them the opportunity to learn about vision, perception and science all while having loads of fun. All field trips at the museum are self-guided, but staff is readily available to answer questions, explain illusions, and help take photos. For more information about booking a group visit, click here.
For groups looking to fill their evening itinerary, the Penn Museum is a great option. The museum offers a museum visit plus dinner for just $45 per student. This itinerary is also completely customizable. The most popular with student groups is the After Hours Visit: Night At The Museum itinerary. It includes an hour-long interactive presentation with an archaeologist, an hour for a catered dinner, and an hour-long scavenger hunt. The $45 per student covers three hours in the museum, dinner, and after-hours security. Penn Museum also offers student groups the option of a STEM Workshop called The Carbon Clock: Radioactivity and Archaeological Dating. Museums, textbooks, and documentaries are filled with important dates, but where do these come from? Dating artifacts by measuring radioactive carbon-14 plays an important part in our understanding of the past. Students discover the links between science and history while using their critical thinking and Algebra/Trigonometry skills to interpret an ancient site. Penn Museum also offers one-hour guided tours that can accommodate 30 people. If a group has more than 30 people, the museum can arrange for more than one guide. For all available guided tours, click here.
The Philadelphia Zoo has a 42-acre living classroom to bring lessons to life. Spark students' curiosity and help them connect with the wonders of wildlife, including giraffes, lemurs, frogs, and so much more. A field trip to the Zoo is like no other – learning, tons of fun, and the chance to get a little wild. For more information on group tickets, click here.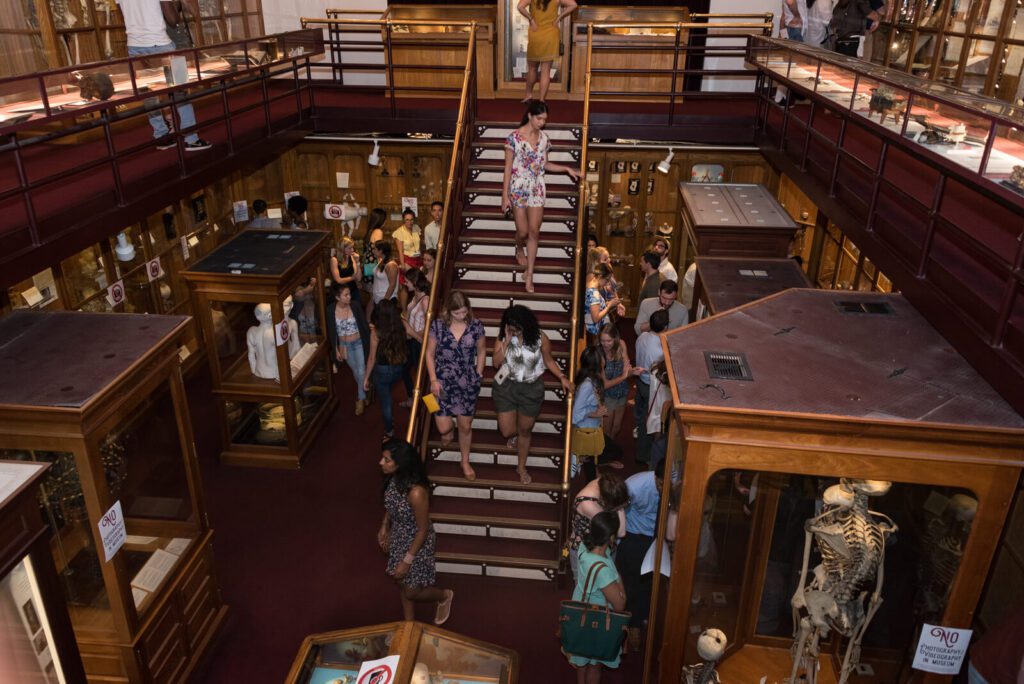 The Mütter Museum is eager to invite groups to explore America's finest Museum of Medical History. Groups may opt for a self-guided experience (up to 50 attendees) or can request to have a guided tour or lesson (up to 25 attendees) added to their visit for an additional fee. The museum can host one guided tour/lesson per hour. All groups are encouraged to allow two hours for their visit. Groups of 10 or more are asked to complete a reservation request prior to arriving at the museum. Group rates are available Monday, Wednesday and Thursday from 10 a.m. to 5 p.m. For more information on group visits at the Mütter Museum, click here.
Cover photo courtesy of Independence Seaport Museum.