South Philadelphia feels familiar to even first-time visitors, thanks to features in hit films such as Philadelphia, The Sixth Sense and the Rocky franchise, and for being home to Philadelphia's major sporting arenas — including Lincoln Financial Field, home of the Super Bowl LII champion Eagles. The area is also a hit thanks to multicultural and foodie attractions, with a constant influx of new residents that bring new businesses and a global energy. If you're in South Philadelphia, you can't miss these places.
South Street
Walk along the eclectic South Street, which stretches river to river, to explore an ever-changing line-up of restaurants and shops with the exception of a few old stand-bys. These include Theatre of Living Arts, a live concert which opened more than a century ago as a nickelodeon; Eyes Gallery, a store specializing in folk art and fashion since 1968; and Jim's Steaks and Lorenzo & Sons Pizza, two casual restaurants likely to have lines out their doors. You'll also discover a range of other shops selling tax-free clothes and shoes, vinyl records, vintage finds, and local art, such as the items available at South Street Art Mart.
NOTE: Jim's is temporarily closed for renovations and projected to reopen Labor Day weekend 2023.
Magic Gardens
Philadelphia's Magic Gardens is the fantastical work by mosaic artist Isaiah Zagar that fills three city lots with indoor galleries and a multi-level, outdoor labyrinth. The glittering garden is also one of Philadelphia's most popular and most photo-worthy attractions.
Murals and Art
Other nearby outdoor art includes a mural of Larry Fine of Three Stooges fame at 300 South St. – the site where he was born; the city's first interactive mural, The Atlas of Tomorrow: A Device for Philosophical Reflection mural (1300 block of South St.) and Legendary (1400 block of South St.), a salute to Grammy Award-winners The Roots. The Mapping Courage mural at the corner of 6th and South streets honors sociologist, activist, and publisher of the groundbreaking study The Philadelphia Negro, W.E.B. Du Bois, and Engine Co. 11 – Philadelphia's first all-Black firefighting company.
There are multiple opportunities to take in free outdoor art – Mural Arts Philadelphia has an interactive map online and the city's Office of Arts, Culture and the Creative Economy Public Arts has a comprehensive list of sculptures, fountains, mosaics and memorials. Also of note is the Fleisher Art Memorial, a gallery and art school offering Violet Oakley murals, Samuel Yellin ironworks and a collection of statuary as well as exhibitions by students and faculty. TIP: Join one of Mural Arts Philadelphia's New Bella Vistas walking tours to learn more about some of South Philadelphia's most stunning murals and the artists behind them.
Fleisher Art Museum
Fleisher Art Memorial in South Philadelphia, one of the oldest nonprofit community art schools in the U.S., has been offering free and low-cost art classes for all ages in the spirit of Samuel S. Fleisher (1871–1944), an advocate for public art education. Fleisher provided free art lessons to residents of the neighborhood at his Graphic Sketch Club. To accommodate his growing school, he bought up adjacent buildings, including the Romanesque Episcopal Church of the Evangelists, built in 1884–86, whose interior is Italianate of the thirteenth and fourteenth centuries.
Impressed by Violet Oakley's murals for the Pennsylvania Supreme Court at the Sesquicentennial Celebration in Philadelphia in 1926, Fleisher commissioned her to design an altarpiece with a similar theme for the church sanctuary. The structure, made of gilded wood with inset panels painted in oil on canvas, represents scenes from Moses' life from the book of Exodus with Pharoah's daughter holding the infant Moses in the center.
Fabric Row
Consider walking just south of South Street, along S. 4th Street. This area – called "Fabric Row" because it was the one-time hub of the Jewish mercantile industry – includes Famous 4th Street Delicatessen, where Denzel Washington's character got sandwiches in the movie Philadelphia, as well as antique shops, clothing stores and even a cat café. Browse handmade jewelry, home goods and more at Moon + Arrow, or stop into Paradigm Gallery to view rotating exhibitions from local artists.
Italian Market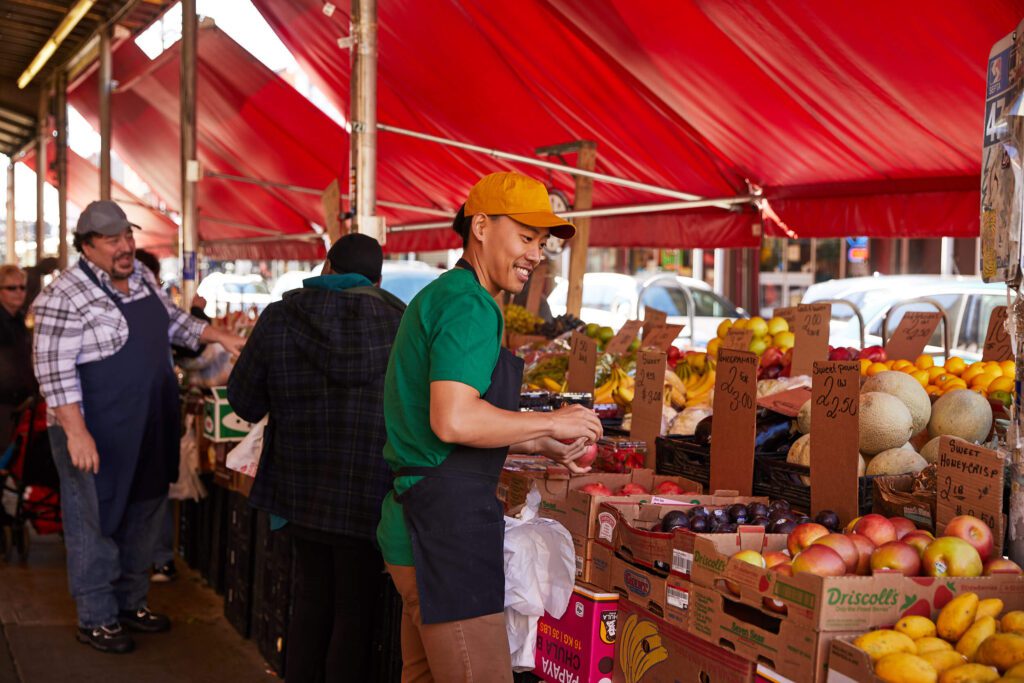 Retrace Rocky's running path as you explore the Italian Market. Started by Italian immigrants in the late 1880s, the Italian Market on 9th Street has a mix of vendors selling fresh fish, meat, fruit, cheese, baked goods and vegetables from morning to night, as well as Mexican, Middle Eastern, and Vietnamese flavors. A family owned-and-operated business in the market, Fante's Kitchen Shop is a treasure trove for cooks, with hard to-find kitchen utensils, cookware and appliances.
TIP: Book a behind the-scenes tour of the market with Chef Jacquie's Taste 4 Travel, when you'll get to sample a wide range of gourmet cheeses at Di Bruno Bros.
Mummers Museum
If you're in town for New Year's, you're bound to see the Mummers. With origins in the medieval times, the Mummers are a festive community group that puts on a parade every New Year's Day. Visitors can learn more about Mummers by visiting the Mummers Museum. The unique organization consists of generations of families belong to clubs that march together in the city's annual New Year's Day celebration, believed to be the country's oldest continuous folk parade.
Delaware River Walk
Take a short walk to the Delaware River waterfront, where you can walk, run, bike, fish and relax on a series of recently updated piers, such as Pier 68 or the Washington Avenue Pier, the latter of which features a 55-foot-tall Land Buoy with a spiral staircase that provides sweeping river views. Don't miss the nearby Gloria Dei (Old Swedes') Church and grounds. This National Historic Landmark is the oldest surviving brick building in Philadelphia, the oldest church in Pennsylvania, and the second oldest Swedish church in the nation.
Passyunk Avenue
Walk along East Passyunk Avenue to find a seemingly endless assortment of local boutiques and shops selling a mix of apparel, jewelry, art, home goods and plants. Shop at Occasionette for quirky Philadelphia-themed gifts and home goods or stop into Nice Things Handmade to pick up a card or other craft made by a local artist. Metro Men's Clothing is a landmark clothing store selling the latest in smart-casual clothes and sportswear for men. South Fellini features a collection of Philadelphia-themed clothing and accessories, including "jawn" t-shirts and pins featuring pretzels, hoagies, and water ice.
You'll also find some of the city's best restaurants along this stretch – offering Indonesian, Italian, Filipino, French cuisine as well as a Jewish bakery (Essen Bakery) and a British savory pie shop (Storegazy). Feeling musical? Eat at Victor Café where the servers double as opera singers, performing every 20 minutes.
The "Singing Fountain" on East Passyunk Avenue is a popular pocket park with hidden speakers around the square that allows the fountain to "sing."
Bok
Visit Bok, a former technical high school that has since been transformed into a mixed-use space, with designers, artists, candle-makers, beauty salons, and other small businesses now filling former classrooms, gymnasiums, and study spaces. The roof of the building is home to two of Philadelphia's most unique dining and drinking destinations, Bok Bar and Irwin's, each offering an unrivaled view of the cityscape from atop one of the tallest buildings in South Philadelphia.
Stadium District
Immerse yourself in Philadelphia's famed sports culture by attending a live sporting event in the Stadium District. Here, you'll find Lincoln Financial Field, Citizens Bank Park, and the Wells Fargo Center, all within walking distance from one another and easily accessed via the Broad Street Line. If you can't grab tickets to game, cheer alongside fans at Xfinity Live!, conveniently located in the center sports complex, or at nearby Chickie's & Pete's. While in the Stadium District, try your luck at Live! Casino and Hotel, which features 2,100 state-of-the-art slot machines, 121 live action Table Games, a FanDuel Sportsbook and Lounge, and more.
FDR Park
Explore the 348-acre Franklin Delano Roosevelt Park (FDR Park), home to winding trails, historic structures, playing fields, and a large central lake. On the park's northern end, enter a building modeled after a 17th-century Swedish manor house to surround yourself in all things Swedish — art, history, culture and science — at the American Swedish Historical Museum, the oldest Swedish museum in the United States.
Reach Philadelphia's southern-most point and you'll find yourself in the Navy Yard. This 1,200-acre complex was once a military shipyard that is now home to corporate offices, including life sciences companies and the headquarters for URBN (Urban Outfitters, Anthropologie). Walk through this one-of-a-kind waterfront neighborhood to find parks and plenty of green space, a rotating assortment of public art installations, and docked naval warships – dubbed the "mothball fleet" – that offer visitors unique, up-close glimpses at cruisers, frigates, and aircraft carriers.
Simeone Foundation Automotive Museum
Take a short ride to the southeast to find one of Philadelphia's hidden gems. The Simeone Foundation Automotive Museum is home to one of the world's greatest collections of racing sports cars, featuring a collection of over 75 historically significant cars from makers such as Ferrari, Porsche, Bugatti, Aston Martin, and more. Visit on Saturdays for "demo days," where you can hear the roar of historic engines and watch these incredible vehicles do laps around the museum's parking lot.