Philadelphia is one of only three U.S. destinations – and one of only eight destinations around the globe – to make Condé Nast Traveler's 2021 Gold List, thanks in part to the city's 2,000+ acre Fairmount Park system, a bustling Chinatown, and the shimmering mosaics that fill Philadelphia's Magic Gardens. The accolade comes on the heels of National Geographic's praise for Philadelphia, labeling it as one of its Best Trips for 2020.
Read on to discover some of the top reasons Philadelphia should be on your must-visit list. For a roundup of the can't-miss experiences to seek out during your next visit, click here.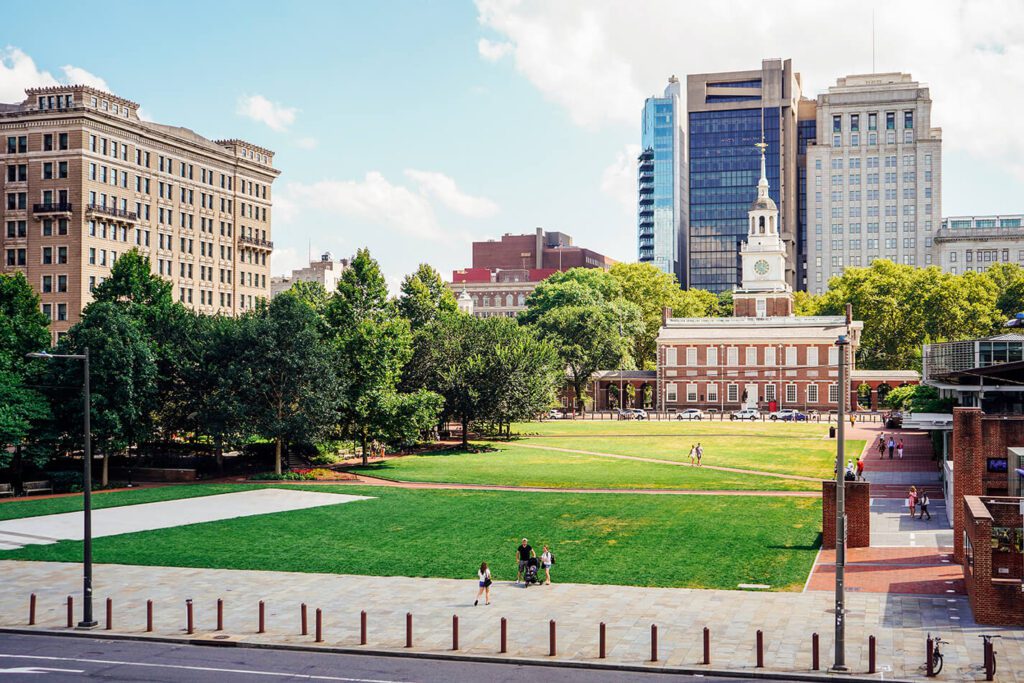 Home to history
Philadelphia is rich in attractions that tell America's story, all within walking distance of each other in "America's most historic square mile." Tour Independence Hall — a UNESCO World Heritage Site and one of Frommer's top places to visit in 2021 — and then explore the National Constitution Center's new permanent exhibits examining Civil War and Reconstruction and the 19th Amendment. Gain a deeper understanding of the American Revolution – and Philadelphia's pivotal role in it – via the immersive, interactive exhibits at the Museum of the American Revolution, and visit the site of the First Continental Congress at Carpenters' Hall. For more, consult our Historic District itinerary.
Murals, mosaics, museums, and more
Visit the Benjamin Franklin Parkway, Philadelphia's Museum District, to explore the Philadelphia Museum of Art, home to a collection of 225,000 items that span over 2,000 years, and the Barnes Foundation, with the world's finest private collection of early French-Modern and Post-Impressionist paintings. Discover treasured American art within the walls of the Pennsylvania Academy of the Fine Arts – the nation's oldest art museum and art school – and lose yourself in a maze of mosaics at Philadelphia's Magic Gardens along South Street. The city's affection and appreciation for art extends beyond the walls of museums and pours into the streets, where a wealth of public art and over 4,000 murals await your discovery. To learn more about art in Philadelphia, click here.
An acclaimed culinary scene
Philadelphia's dining scene is exceptional thanks to our roster of renowned chefs and restaurateurs including a whole host of James Beard Award winners (Michael Solomonov, Greg Vernick, and Marc Vetri, to name a few), a wide range of ethnic and global cuisines (including Kalaya Thai Kitchen, which received Philadelphia Style Magazine's Best of Style Readers' Choice Award for Best Inspired Flavors in 2022) and an abundance of only-in-Philadelphia flavors. Treat yourself to an unforgettable gourmet meal, enjoy the city's trademark cheesesteak (and then debate which shop is the best) or try something new at the historic Reading Terminal Market, called the Best Farmers Market in the U.S. by the Online Farmers Market and home to nearly 80 local vendors. For more on Philadelphia's must-taste menus, click here.
The great outdoors
Philadelphia's park system spans over 10,000 acres and has more than 270 miles of recreation trails, offering numerous outdoor adventures. Hike through Fairmount Park or Wissahickon Valley Park, stroll Race Street Pier along the Delaware River, explore the elevated Rail Park, admire spectacular waterfront views of the city's skyline along the Schuylkill River Trail, or settle in for a picnic at one of Philadelphia's five original squares. For more tips on things to see and do outdoors in Philadelphia, click here.
Tax-free shopping
Clothing and shoe purchases are tax-free in Philadelphia, so get ready to shop your way through international brands and locally owned boutiques in Rittenhouse, Old City, Chestnut Hill, Manayunk, and the new Fashion District Philadelphia, or make your way out to the countryside for the 400+ retailers that await at the King of Prussia Mall. For more tips on how to shop like a local, including a few can't-miss independent stores, click here.
One-of-a-kind communities
Philadelphia is a city of neighborhoods, each with its own unique set of restaurants, murals, shops, customs and experiences inspired by cultures from around the globe. Fodor's Travel even considers Philadelphia as a worthy substitute to London for those U.S. travelers seeking a global experience in 2021 without traveling overseas.
In South Philadelphia, you'll seamlessly transition from the restaurants, hip cafés, and locally-owned boutiques that line East Passyunk Avenue to the street food corridor that is the 9th Street Italian Market, which features many more global cuisines than its name implies (including the renowned Mexican flavors at South Philly Barbacoa). Bounce between chic restaurants, bars, and artisan storefronts as you admire the colorful street art that fills trendy, once-industrial River Wards neighborhoods such as Fishtown and Northern Liberties, or settle-in for pierogis and other Polish cuisine in nearby Port Richmond. In West Philadelphia, the campuses of prestigious universities quickly give way to a close-knit community tucked among tree-lined streets, where Caribbean and soul food flavors, parks, and murals are never far away. Or you can navigate the Center City neighborhoods that were part of William Penn's original plan for Philadelphia, such as picturesque Rittenhouse Square or Washington Square West — home to many of the city's LGBTQ+ restaurants, bars, and clubs.