Spring is making its presence felt around the Philadelphia region, with trees and flowers in full bloom and warmer weather on the horizon. Here are a few ways you can make the most of the season in Philadelphia, including new exhibits, virtual events, new hotels, and plenty of outdoor activities.
NOTE: Health and safety guidelines are still in place throughout Philadelphia. Before enjoying spring activities, remember to mask up, maintain proper physical distance, and stay home if you're sick. For the latest updates on local guidelines, click here.
Outdoor Experiences
Admire spring blooms throughout the city
Cherry blossoms are expected to reach peak bloom during the first two weeks of April, joining beautiful magnolia blooms and other spring flowers throughout the city. Some of the best locations to admire the beauty of these seasonal blossoms include the Fairmount Park Horticulture Center and neighboring Shofuso Japanese House and Garden, in addition to the Delaware River Waterfront and cozy side streets spread throughout Fitler Square and Washington Square West. A new map — hand-painted by Japanese artist Hiro Sakaguchi — is available from the Japan America Society of Greater Philadelphia and marks where to find cherry blossoms in Fairmount Park and Center City. For a full list of locations to find spring blooms in Philadelphia, click here.
TIP: Don't miss Parks on Tap's spring pop-up beer garden at the Fairmount Park Horticultural Center from April 3-25 (Wednesdays through Sundays, weather permitting), allowing you to sip craft beer and eat snacks and sandwiches while admiring the beautiful blooms around you.
Get some fresh air at Philadelphia's many parks and green spaces
Embrace the warmer weather and traverse Philadelphia's expansive park system and other outdoor areas. Run, bike, or walk the trails in the 2,000+ acre Fairmount Park and admire the historic homes and other landmarks along the way. Navigate Forbidden Drive – Pennsylvania's 2018 Trail of the Year – in the 1,800+ acre Wissahickon Valley Park, tucked in the northwestern corner of the city. Enjoy waterfront recreation on the Schuylkill River Trail, one of the nation's best riverwalks, winding its way through Philadelphia's downtown, Fairmount Park and out to Valley Forge, where even more outdoor experiences await. For more outdoor experiences in Philadelphia, click here. For more tips on biking, click here, and for a guide to running in Philadelphia, click here.
Head to the Countryside for flowers and fountains at Longwood Gardens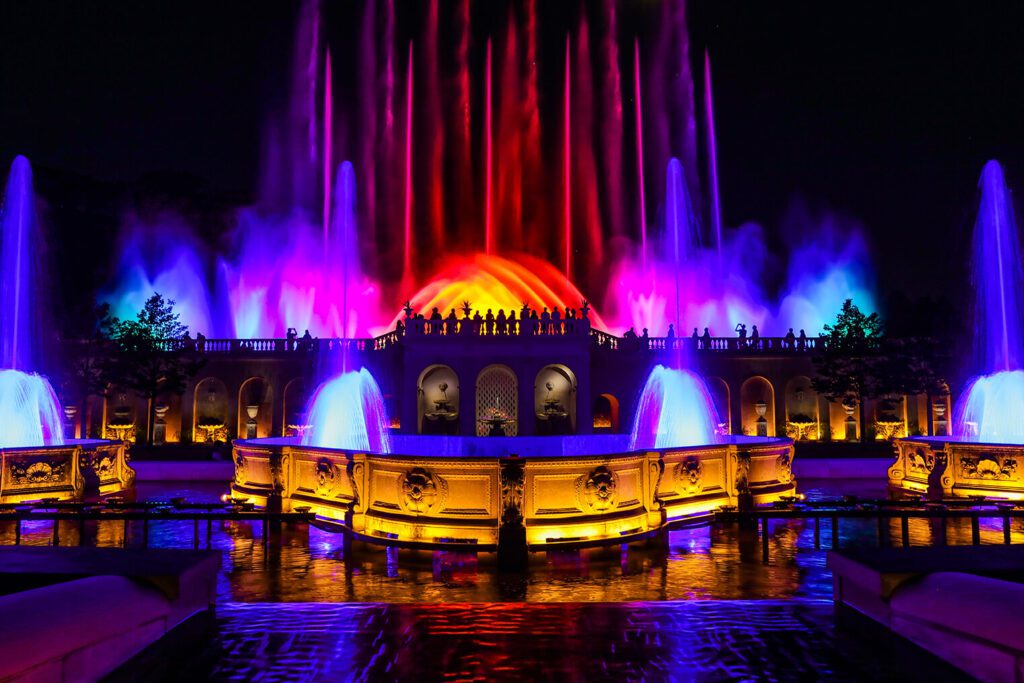 Considered America's Garden Capital, it's to no surprise that spring blooms and outdoor experiences extend beyond Philadelphia's city limits and into the neighboring counties and gardens of the Countryside. In Kennett Square, find ample spring hues covering the grounds of Longwood Gardens, welcoming the season with a garden-wide Spring Blooms displays on March 27, featuring flowering trees, blooming bulbs, and other charming scenes throughout the over 1,000-acre property. Beginning May 6, Longwood's hundreds of fountains come alive with daily performances and illuminated displays each Thursday, Friday and Saturday evening. To plan your visit, click here.
Travel to Bucks County and explore the grounds of a historic riverfront estate
On April 3, Andalusia Historic House, Gardens and Arboretum in nearby Bucks County will reopen to the public for the spring season with the first of six Open Saturday events throughout the year – rare weekend accessibility to the picturesque destination. Visitors will be able to explore the beautiful grounds of the 65-acre estate, which rests along the Delaware River and features 18th-century gardens, over 800 trees, and the 19th-century Greek Revival home of the Biddle family (the "Big House" will be closed for interior tours in the spring). In addition to Open Saturdays, the public can visit Monday-Wednesday through October 27 for self-guided tours. To learn more and plan your visit, click here.
Learn more about Philadelphia's murals with new tours from Mural Arts
Mural Arts Philadelphia's popular tour program is back with brand-new walking tours that further establish Philadelphia as the Mural Capital of the World. Tours, led by knowledgeable guides, reveal interesting details about the mural-making process and the people and communities that inspired these incredible works of art. In addition to the ever-popular Mural Mile Walking Tour weaving through Center City, three new options include: Spring into the Arts, New Bella Vistas and West Philadelphia walking tours that examine breathtaking murals in respective neighborhoods throughout the city. To learn more about Mural Arts' tour program and to schedule a tour, click here.
Shop, dine, and spend time outdoors in Philadelphia's Garden District
Located in the northwestern section of Philadelphia, Chestnut Hill is a perfect destination for spring outing not far from downtown. Shop spring fashion at one of many boutiques that line Germantown Avenue, such as Quelque Chose, and then grab a bite to eat at a local restaurant, with options including Chestnut Hill Brewing Company or Mimi's Market & Café, both of which offer outdoor seating. Learn more about Philadelphia art and artists at the recently reopened Woodmere Art Museum, or venture to nearby Morris Arboretum, where you can spend time outdoors on the lush grounds of the 92-acre property, admiring over 8,000 tulips and some of the largest trees in the region.
TIP: Don't miss Chestnut Hill's Second Saturdays that bring art exhibits, live music, family-friendly activities, restaurant specials and more to Germantown Avenue on the second Saturday of each month.
Relax along the Delaware River waterfront
Enjoy the refreshing breeze from the Delaware River on a warm spring day by visiting one of Philadelphia's popular waterfront destinations. Head to Race Street Pier to relax on benches or on the lower lawn as the Benjamin Franklin Bridge soars overhead (and don't forget to bring your camera), then make your way to neighboring Cherry Street Pier where more impressive views and equally amazing art from local artists await. Cherry Street Pier also regularly hosts pop-up markets, food fairs and art exhibitions, so be sure to check their event calendar before visiting. The recently reopened Independence Seaport Museum invites visitors to learn more about the Delaware River watershed and Philadelphia's maritime history in its museum or aboard the historic Cruiser Olympia docked nearby. For food and drink, make a reservation at the seasonal waterfront bar and restaurant, Morgan's Pier.
Seek out seasonal fun at pop-up parks and beer gardens
A variety of pop-up parks and beer gardens bring green spaces, lots, and streets in Philadelphia to life in the spring, summer and fall seasons. BlueCross River Rink Summerfest reopens on May 7, allowing you to skate riverside in the massive, 12,000-square-foot roller rink, putt your way through a mini-golf course, play arcade games, and feast on local concessions around the park. The nearby Spruce Street Harbor Park, complete with hammocks for lounging beneath a canopy of multi-colored lights and a floating barge oasis, reopens for the season on May 26. Terrace on Tap at The Liberty View at Independence Visitor Center serves as a family-friendly, seasonal dining and drinking destination in America's most historic square mile. Pennsylvania Horticultural Society's two Pop-Up Gardens — one along South Street and another in Manayunk — transform previously vacant lots into lush landscapes outfitted with plenty of outdoor seating where you can enjoy specialty cocktails, craft beer and seasonal menus from local restaurants. Philadelphia's roving beer garden, Parks on Tap, will setup at new locations outdoors in various city parks this season, including Fairmount Water Works and Trail's End along the Schuylkill River Trail.
Skate around a all-new, retro-inspired roller rink next to City Hall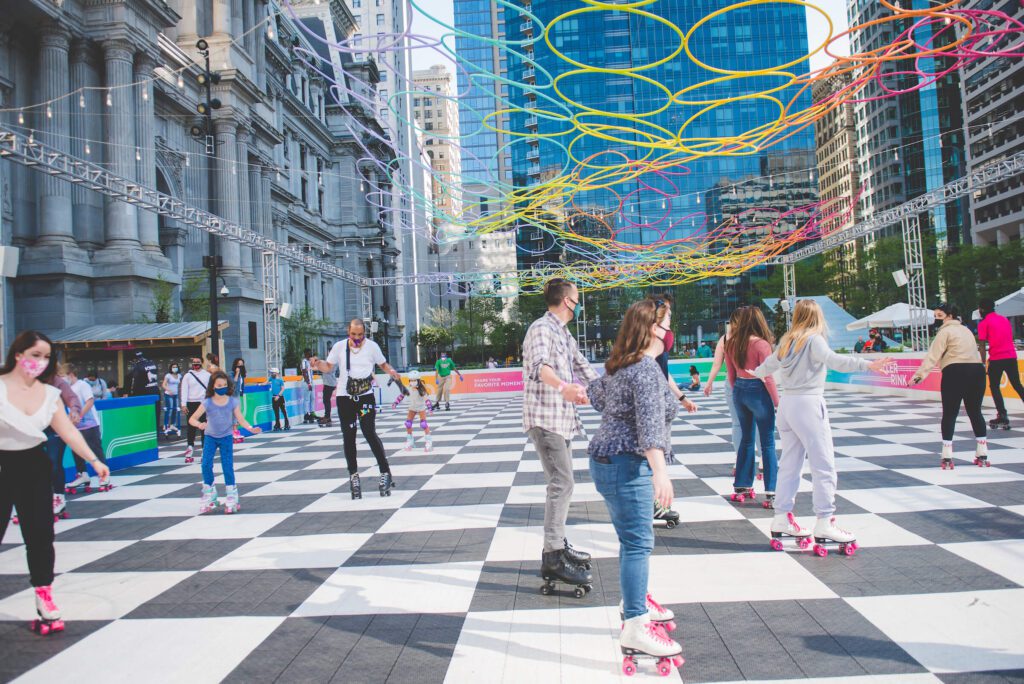 A popular winter destination thanks to a seasonal ice rink, holiday light show and market, Dilworth Park is welcoming visitors for some spring fun in Center City with a new roller rink featuring a retro-inspired design, checkerboard floor, market lights, and a whimsical hula-hoop installation hanging overhead. The Rothman Orthopaedics Roller Rink allows visitors to lace up their skates in the heart of Center City daily through June 27. When not skating, visitors can enjoy a menu of snacks, sandwiches, beer, cocktails, and more at the Air Grille's pop-up beer garden. To help manage capacity, guests are encouraged to book their hour-long skating session online in advance. Skaters are also required to wear masks while in the roller rink area. To learn more and plan your Center City skating session, click here.
View impressive floral designs outdoors at the Philadelphia Flower Show
The Philadelphia Flower Show heads outdoors for the first time in its nearly 200-year history, occupying 15 acres of the spacious, 348-acre FDR Park in South Philadelphia. The 2021 show's theme is 'HABITAT: Nature's Masterpiece', exploring "the beauty of life through nature's kaleidoscopic lens" via three distinct districts – plant, garden and design – each featuring various floral displays, hands-on experiences, vendors, and more. To learn more about the 2021 Philadelphia Flower Show, click here. To purchase tickets (advanced date and time registration is required), click here.
Museums & Attractions
Return to local museums for new spring exhibits
Many of Philadelphia's museums have reopened with enhanced health and safety guidelines in place, and with new exhibits on view. The Franklin Institute's Crayola IDEAworks: The Creativity Exhibition challenges visitors to embrace their creativity and problem-solving skills via a series of themed, interactive activities focused on land, sea, and space. At the Barnes Foundation, learn more about similarities between the work and workstyle of Chaïm Soutine and Willem de Kooning at Soutine / de Kooning: Conversations in Paint. Get a rare look at some of the Mutter Museum's collection – which is typically locked away in storage – at Unseen. Be sure not to miss the final days of exhibitions closing in spring, including When Women Lost the Vote at the Museum of the American Revolution and Taking Space: Contemporary Women Artists and the Politics of Scale at the Pennsylvania Academy of the Fine Arts. For more can't miss exhibits in Philadelphia, click here.
Travel back in time at the Philadelphia Zoo
Beginning March 29, the Philadelphia Zoo invites visitors to travel millions of years into the past and come face-to-face with 24 life-size animatronic dinosaurs and other creatures as part of the Big Time: Life in an Endangerous Age exhibit. On view through September 30, 2021, the experience will educate guests about the catastrophic events that altered life on Earth, rendering certain species extinct while others adapted, evolved, and survived. Throughout their journey, zoo visitors will encounter some of the Earth's most mighty beasts, including a 3,000-pound Tyrannosaurus Rex and a 98-foot-long Alamosaurus. The new exhibit will also feature the debut of a brand-new, dinosaur-themed Zoo Key, which will unlock special experiences throughout the zoo. To learn more about Big Time and to plan your visit to the nation's first zoo, click here.
Navigate new spaces at the Philadelphia Museum of Art
The Philadelphia Museum of Art has unveiled 90,000 square feet of new and reimagined public spaces as part of its Frank Gehry-led Core Project, including 20,000 square feet of new gallery spaces. The new Robert L. McNeil Galleries, dedicated to American art from 1650-1850, highlight often overlooked contributions of Black, Latinx, Indigenous, and women artists of the time, while also shining a light on Philadelphia's key contributions to American art. The new American galleries mark the first major reinstallation of American art since 1976.
Mirroring the American Galleries are the museum's new Daniel W. Dietrich II modern and contemporary art galleries, which will be home to a new exhibition, New Grit: Art & Philly Now, highlighting artists and artwork either from or inspired by Philadelphia. To learn more about the Philadelphia Museum of Art's Core Project, click here. TIP: The Philadelphia Museum of Art offers pay-what-you-wish admission on the first Sunday of every month and each Friday evening from 5-8:45 p.m.
Welcome a brand-new museum to Philadelphia
The Faith and Liberty Discovery Center is now open Independence Mall, joining other popular attractions such as the National Constitution Center, National Museum of American Jewish History, and the sites in Independence National Historical Park in America's most historic square mile. The museum, dedicated to examining how faith helped foster some of the nation's core values, invites visitors from all backgrounds to explore six immersive galleries on a personalized, self-guided tour utilizing a handheld lamp to interact with exhibits and collect inspirational content along the way. Visitors can reserve tickets in advance online.
Explore Eastern State Penitentiary… at night
The recently reopened Eastern State Penitentiary will re-introduce its popular Night Tours series this spring, inviting visitors to explore the crumbling cellblocks of America's most historic prison at night. Launching May 7 and running through September 4, the "Summer Twilight" evening tours will allow guests to experience the once-abandoned prison as moonlight shines through the skylights above, all while navigating the grounds while listening to the signature audio tour. In addition to Night Tours, guests will also be able to visit The Fair Chance Beer Garden, Eastern State's first-ever pop-up beer garden, which will serve craft beer from Triple Bottom Brewing outside on the historic prison's baseball diamond, including a Purpose Pale Ale brewed in collaboration between Eastern State and Triple Bottom. Click here to plan your visit.
Food, Drink & Entertainment
Savor spring flavors at local restaurants
Whether dining al fresco, indoors, or grabbing food to-go, spring is a great season to treat your taste buds to Philadelphia's celebrated culinary scene. Many local restaurants offer outdoor dining in addition to limited capacity indoor seating, allowing you to savor the city's top flavors while still enjoying the excellent spring weather. Several local eateries have recently reopened with updated dining spaces and new menus, including Village Whiskey, Tinto Pintxo and Bridget Foy's. From April 9-18, enjoy special prix fixe menus (available on-site or to-go) from dozens of restaurants in Northern Liberties during the neighborhood's restaurant week. Don't forget to enjoy a pint at one of Philadelphia's craft breweries, such as Yards, Evil Genius, and Love City, each of which is offering indoor and outdoor seating (as well as beer to-go). For more tips on how to dine with confidence in Philadelphia, click here.
TIP: Grab take-out from your favorite local restaurant and head to Dilworth Park on Wednesdays beginning May 5 for their Dinner at Dilworth Park event, featuring live performances and to-go cocktails from the Dilworth Park Café.
Safely cheer on local sports teams
Updated guidelines in the city of Philadelphia allow a limited number of fans – wearing masks and practicing social distancing – to once again cheer on the Phillies at Citizens Bank Park and the Flyers and Sixers at the Wells Fargo Center. At Subaru Park in nearby Chester, the Philadelphia Union's regular season kicks off in mid-April, with a limited number of fans able to attend matches.
Can't make it to a game? Reserve a table (indoors or outside) at one of these local sports bars.
Enjoy performances in-person and online
Philadelphia's spring calendar is packed with new productions from top performing arts organizations, including a series of in-person concerts from Opera Philadelphia's at the Mann Center for the Performing Arts in May. The opera company, which has been celebrated for producing new material throughout the pandemic, will present three 90-minute concert adaptations of Puccini's Tosca to live audiences at the spacious outdoor venue on May 5, 7 and 9, kick-starting the Mann's 2021 season. Opera Philadelphia's 20-21 digital season also concludes in May on the groundbreaking Opera Philadelphia Channel, which streams performances directly to devices via an app.
Several other performing arts organizations continue to present new work and performances online, including The Philadelphia Orchestra, with several concerts set to air in the spring on their Digital Stage, including Beethoven's Symphony No. 2 on June 10. The Orchestra's 'Our City, Your Orchestra' series of intimate, pop-up virtual performances is shared, for free, on their Facebook each week. The Orchestra will also perform during the Fanfare for the Future virtual gala on May 13, benefitting the historic Academy of Music and hosted by Whoopi Goldberg. The Pennsylvania Ballet will stream their spring season online beginning March 25, featuring newly filmed performances that create an immersive digital viewing experience. Look for other virtual performances from local organizations, such as student recitals from the Curtis Institute of Music, throughout the season. For other virtual experiences, consult our Philadelphia From Home guide.
Hotels
Book a room at a new hotel
Not one, not two, but three new hotels are set to open their doors in the spring, adding hundreds of rooms to Philadelphia's expanding portfolio. The boutique, 12-suite Guild House Hotel opens this spring in Washington Square West, occupying the former home of the New Century Guild. In May, the co-branded W and Element hotels at 16th and Chestnut – just steps from City Hall – begin welcoming guests. The W offers an original and vibrant spin on traditional luxury, with 295 rooms and suites with expansive views of Philadelphia. The adjoining Element features 460 spacious rooms and suites, as well as a Sky Lobby and Motion Fitness Center. For more information on Philadelphia's new hotel developments, click here.
For more spring inspiration, be sure to follow the Philadelphia Convention & Visitors Bureau on Instagram, Facebook, Twitter, and TikTok.