Explore Philadelphia's historic sites, diverse neighborhoods, colorful murals and more with walking, Segway, driving, and running tours offered by these local tour companies.
WeVenture serves as a one-stop-shop for a number of different types of tours, ranging from history to happy hours, and everything in between. The History, Highlights, and Revolution Tour takes guests to all of Philadelphia's quintessential historic sites, including Independence Hall, Carpenters' Hall, the Betsy Ross House, Elfreth's Alley, and others. Also available is the South Philly Art Tour, which weaves its way through South Philadelphia, taking guests for a stroll through Queen Village and Bella Vista and stopping at the awe-inspiring Philadelphia's Magic Gardens. To view the full list of tours, click here.
Visitors can strap on a helmet and board a Segway to zip around the city on one of several insightful tours offered by Philly By Segway, including a one hour Segway Adventure, which takes you along the Delaware River, into Old City, and through some of Philadelphia's charming and historic neighborhoods. If you've got more time, opt for the two hour version, which extends your journey west, eventually reaching the Benjamin Franklin Parkway and the iconic Philadelphia Museum of Art. Other tour options include Mural and Cheesesteak tours (both two hours long). To learn more and to book your Philly By Segway experience, click here.
Over 4,000 murals can be found throughout the city of Philadelphia, making it the "Mural Capital of the World." To aid in your discovery of these incredible works of art, and to learn more about the meaning and artists behind them, Mural Arts Philadelphia offers a suite of tours led by knowledgeable guides. The Mural Mile Walking Tour examines the many murals that can be found along the 13th Street corridor in Center City, with newer tour options available including the Spring into the Arts Walking Tour and the West Philly-Inspired Walking Tour. Learn more about the series of "Love Letter" murals in West Philadelphia created by artist Steve 'ESPO' Powers with a special tour hosted aboard SEPTA's Market/Frankford Train Line. To view all of Mural Arts' available tours and to reserve tickets, click here.
TIP: A self-guided version of the Mural Mile Walking Tour is also available from Mural Arts, allowing you to explore the mile-long art collection on your own terms.
Philadelphia is home to a number of reportedly haunted sites and attractions, and one of the best ways to experience them all is on a Ghost Tour of Philadelphia. Led by a costumed guide, visitors will navigate the historic streets of the city by candlelight, learning about the haunting of some of the city's most historic attractions, including Independence Hall, City Tavern, and Washington Square.
Award-winning magician and Philadelphia native Robert Malissa takes guests on a magical history tour of Old City during The Great Philadelphia Comedy Magic Walk. Visitors will explore historic and offbeat locations, while enjoying and participating in theatrical presentations (including a card trick sung to a tune from Les Misérables), comedy, and mind-bending magic tricks. During a stop near Ben Franklin's house, Malissa seemingly makes a coin penetrate a glass bottle in reference to the adage, "A penny saved is a penny earned." Guests will visit eight locations during the tour. Malissa adapts to the city's ever-changing panorama resulting in a unique experience every time. To book a tour, click here.
Visitors with a thirst to learn more about Philadelphia's beer scene should consider City Brew Tours comprehensive journey to some of the city's craft breweries, including Yards Brewing Company and Love City Brewing. Join a tour and let one of the company's designated drivers shuttle you from brewery to brewery, allowing you to sample local suds while learning more about the brewing process, the individual brewery's journey, and more.
See Philly Run's tours pair fitness with history, as tour groups follow the guide on all-levels running trails throughout the city, stopping along the way to learn more about historical sites, cultural institutions, public art, and of course, Rocky. Customizable runs are also available for groups, meeting attendees, or visitors looking to explore a certain part of the city.
Specializing in custom, private, and behind-the-scenes experiences throughout the region, Philadelphia Hospitality allows visitors — either traveling alone or in a group — to select from one of their pre-planned excursions, or create their own 100% customizable experience. To learn more and plan your experience, click here.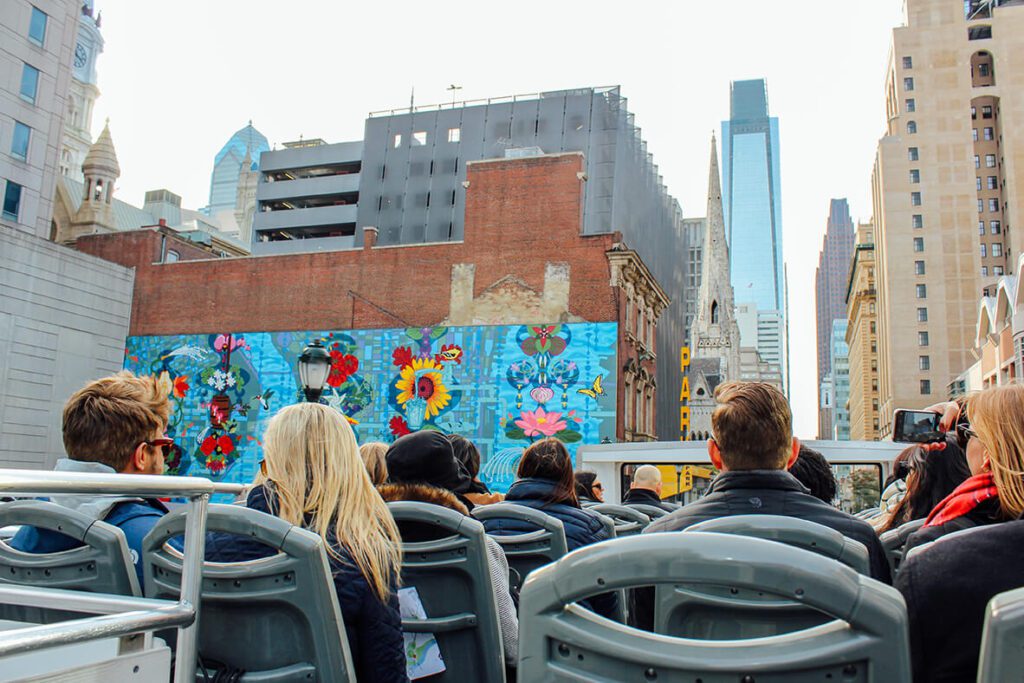 Multiple tours are available from 76 Carriage Company, Philadelphia Trolley Works, and Big Bus Philadelphia. Big Bus Philadelphia tours transport guests around the city on a double-decker bus as a tour guide offers insights for a number of iconic Philadelphia locales. Other tour options currently available include the classic horse-drawn carriage ride through Old City (complete with a haunted alternative) and a Franklin's Footsteps Walking Tour. To learn more about all of their offerings and to schedule your tour, click here.
Cover photo: History in HD Walking Tour from WeVenture. Photo courtesy of WeVenture.