Several of Philadelphia's tour companies have resumed operations, once again offering outdoor walking, segway, driving, or even running tours of the city's historic sites, murals, and more. The tour operators highlighted below have taken the PHL Hospitality Health Pledge — committed to upholding enhanced health and safety standards for their customers — and are part of the growing number of hospitality-related businesses providing safe experiences for visitors to enjoy.
Philly Tour Hub serves as a one-stop-shop for a number of different types of tours, ranging from history to happy hours, and everything in between. While not all tours are currently available, several of the popular Philadelphia Urban Adventures options are, including the History in HD Walking Tour. Available daily, the History in HD Walking Tour takes guests to all of Philadelphia's quintessential historic sites, including Independence Hall, Carpenters' Hall, the Betsy Ross House, Elfreth's Alley, and others. Also available now is the Markets Mosaics and Magic Walking Tour, which weaves its way through South Philadelphia, taking guests through the historic Italian Market and stopping at the awe-inspiring Philadelphia's Magic Gardens. Philly Tour Hub is requiring all guests and guides to wear masks, practice social distancing throughout the tour, and has implemented other health and safety protocols. To learn more, and to view the full list of tours, click here.
For similar experiences, but with much less walking involved, consider one of options offered by Philly By Segway. Guests can strap on a helmet (and a mask) and board a segway to zip around the city on one of several insightful tours, including a one hour Segway Adventure, which takes you along the Delaware River, into Old City, and through some of Philadelphia's charming and historic neighborhoods. If you've got more time, opt for the two hour version, which extends your journey west, eventually reaching the Benjamin Franklin Parkway and the iconic Philadelphia Museum of Art. Other tour options include Mural and Cheesesteak tours (both two hours long). While touring, guests will be encouraged to wear a face covering and practice proper social distancing. Philly By Segway is also carefully sterilizing equipment after each use to keep guest safe. To learn more about their health and safety practices, click here.
There are over 4,000 murals spread throughout the city of Philadelphia, making it the "Mural Capital of the World." To aid in your discovery of these incredible works of art, and to learn more about the meaning and artists behind them, Mural Arts Philadelphia offers a number of tours led by knowledgeable guides. Though Mural Arts' collection of walking tours are suspended through the end of 2020, they are offering two different virtual tours, which are offered periodically to the public or can be purchased for a private group.
Philadelphia is home to a number of reportedly haunted sites and attractions, and one of the best ways to experience them all is on a Ghost Tour of Philadelphia. Led by a costumed guide, visitors will navigate the historic streets of the city by candlelight, learning about the haunting of some of the city's most historic attractions, including Independence Hall, City Tavern, and Washington Square. In the interest of health and safety, Ghost Tour of Philadelphia requires masks for all guests, keeps group sizes small, and encourages social distancing, which is easy to do as the tour is entirely outdoors.
See Philly Run's tours pair fitness with history, as tour groups follow the guide on all-levels running trails throughout the city, stopping along the way to learn more about historical sites, cultural institutions, public art, and of course, Rocky. Customizable runs are also available for groups, meeting attendees, or visitors looking to explore a certain part of the city. To keep runners safe, See Philly Run is practicing social distancing on all tours, and is requiring masks for participants and guides. Tour capacity is also limited to a 10-person maximum and guides check their temperatures prior to starting the tour.
Specializing in custom, private, and behind-the-scenes experiences throughout the region, Philadelphia Hospitality is once again accepting bookings. The tour company allows visitors — either traveling alone or in a group — to select from one of their pre-planned excursions, or create their own 100% customizable experience. Philadelphia Hospitality's tour guides are following all health and safety guidelines as outlined by the City of Philadelphia and individual attractions. To learn more and plan your experience, click here.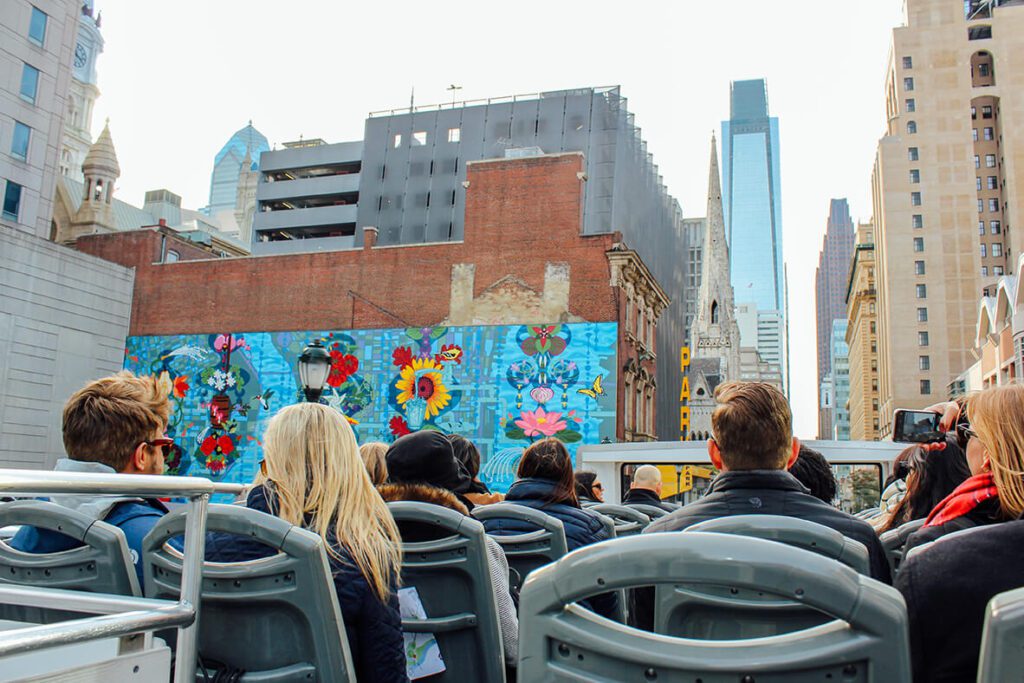 Tours offered by the 76 Carriage Company, Philadelphia Trolley Works, and Big Bus Philadelphia are also available with safety precautions in place. For Big Bus Philadelphia tours, which transport guests around the city on a double-decker bus as a tour guide offers insights for a number of iconic Philadelphia locales, masks and social distancing are required, and the tour follows a continuous 90-minute route, as opposed to a traditional hop-on, hop-off model. Other tour options currently available include the classic horse-drawn carriage ride through Old City (complete with a haunted alternative) and a Franklin's Footsteps Walking Tour. To learn more about all of their offerings, for updates on health and safety practices, and to schedule your tour, click here.
To view more local tour companies, attractions, museums, hotels, and restaurants who have signed the PHL Hospitality Health Pledge, click here.
Discover Philadelphia with Confidence...