Hold your next event in one of Philadelphia's most memorable spaces
Explore unexpected event venues from unmatched historic locations to iconic architectural structures. Philadelphia has a variety of options to suit every size, need, taste and budget.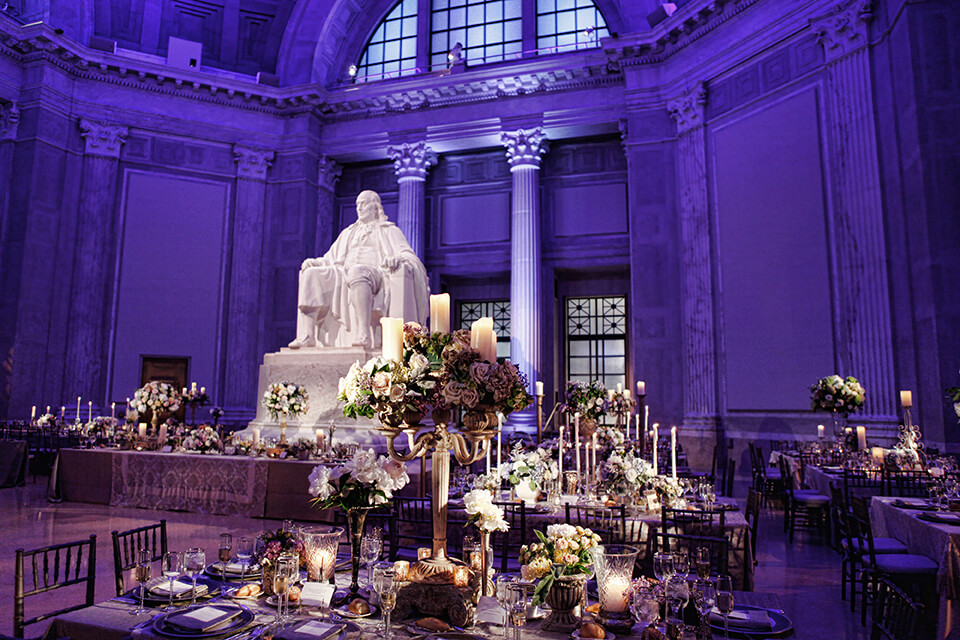 Location: 222 N. 20th Street, Philadelphia, PA 19103
Located right off the Benjamin Franklin Parkway and only 20 minutes from Philadelphia International Airport, the Franklin Institute is one of the top science attractions in Philadelphia. The world-renowned museum features 18 meeting spaces that include a planetarium, IMAX movie theater and a large scale model of human heart. Treat your guests to a one-of-a-kind dining experience and private, guided tours of the newest exhibits. Click Here to plan your next event at the Franklin Institute.
Location: 525 Arch Street, Philadelphia, PA 19106
This venue, honoring the United States Constitution, can accommodate larger events effortlessly and features the Kimmel Theater for a smaller group. Bonus: The National Constitution Center looks out onto Independence Mall and Independence Hall, America's most historic square mile. Click Here to plan your next event at the National Constitution Center.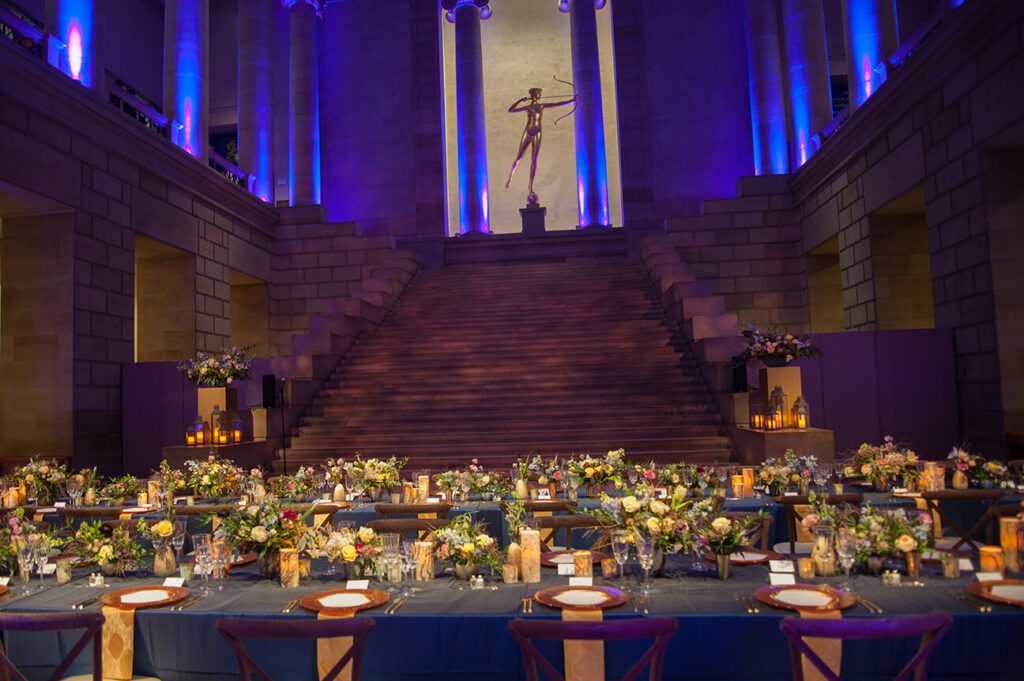 Location: 2600 Benjamin Franklin Parkway, Philadelphia, PA 19130
Founded in 1876, the world-renowned Philadelphia Museum of Art showcases more than 2,000 years of human creativity, with special exhibitions and collections from Europe, Asia and the Americas. In addition to the glorious main building, the Philadelphia Museum of Art's Perelman Building (at Pennsylvania Ave and Fairmount Avenue) and Rodin Museum (at 22nd and the Benjamin Franklin Parkway) provide a range of options for entertaining. Click Here to plan your next event at the Philadelphia Museum of Art. For a virtual look at events held at the museum, stream these videos here and here.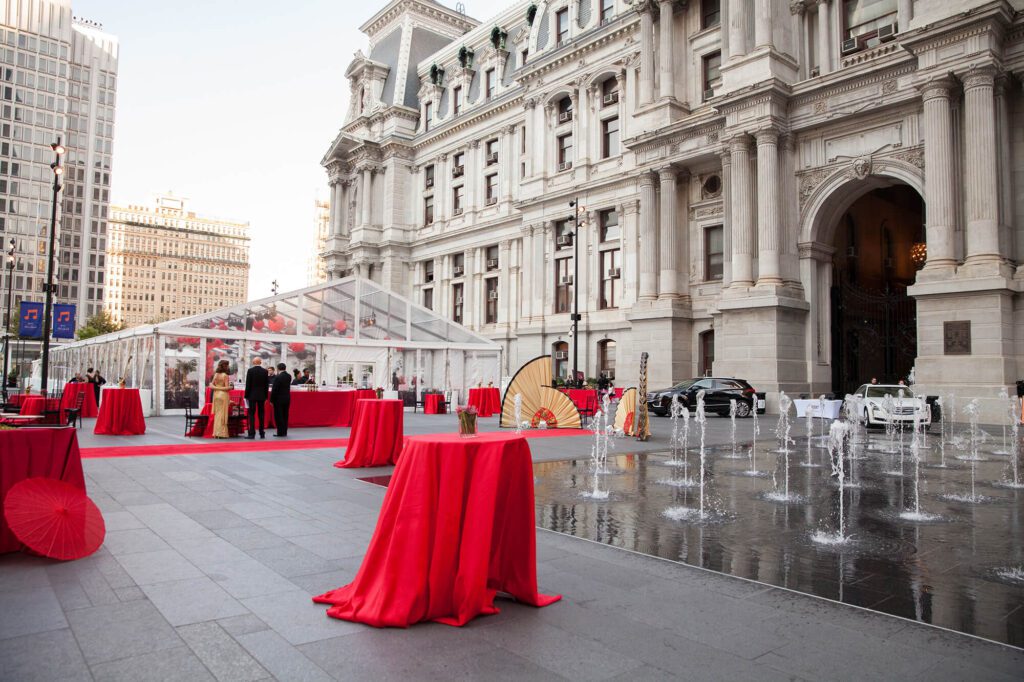 Location: 1 S 15th Street (West side of City Hall), Philadelphia, PA 19102
Imagine your networking event, corporate or wedding reception or, a milestone birthday party at the heart of Center City, adjacent to majestic City Hall, a national historic landmark. Socialize alongside dancing fountains, stroll the lush lawn, get cozy in the sidebar café with views up the Benjamin Franklin Parkway. Mingling can become magical in the center of the city. Dilworth Park spaces include the Lawn, Main Fountain, Middle Fountain, and Bridge areas. Click Here to plan your next event at Dilworth Park.
Location: 12th and Arch streets, Philadelphia, PA 19017
Mouth-watering aromas. Locally grown and exotic produce. Amish specialties. Fresh meats, seafood, and poultry. Handmade confections and baked goods straight from the oven. Everything you need to create a memorable meal, from cookbooks, to table linens, to kitchen ware, to fresh cut flowers, and more. Find the widest variety of restaurants under one roof at the historic Reading Terminal Market, one of the essential places to eat in Philadelphia. Click Here to plan your next event at Reading Terminal Market. For a video overview of the market's event capabilities, click here.
Location: 29 E. Allen Street, Philadelphia, PA 19123
The Fillmore Philadelphia is a spectacular, multi-faceted 25,000 square-foot live music venue conveniently located 2.5 miles from the Convention Center in the lively Fishtown district. Completely renovated and home to a beautiful and state-of the-art live music club, this versatile space is the perfect blend of rock and elegance, both classic and cutting edge. The venue also features a club within a club, the Foundry, complete with its own bar, stage and top-of-the-line production. Click Here to plan your next event at the Fillmore Philadelphia. Take a virtual tour of the venue online.
To learn about additional venues and for more information and assistance in planning a special event in Philadelphia, contact the PHLCVB Convention Services team.
For more resources to help you find a venue for your next gathering, click here.
Cover image of the 2017 NFL Draft on the iconic steps of the Philadelphia Museum of Art by A. Sinagoga for PHLCVB.