The collections and artifacts that fill Philadelphia's museums are certainly worth seeing in person, however many local institutions offer online tours and tools to spotlight key parts of the experience. Other attractions offer interactive digital items, behind the scenes videos, and other ways to engage with them from afar.
Eastern State Penitentiary
Eastern State Penitentiary – once the world's most famous and most expensive prison – offers an online tour that highlights several cell blocks, the baseball field, and other locations throughout the historic site. The team at Eastern State Penitentiary also regularly shares interesting details about the landmark's history on their Facebook and Twitter accounts, while also engaging in discussions around today's prison system. You can also stream video tours on Facebook or book a private virtual tour with one of Eastern State Penitentiary's expert educators.
Barnes Foundation
The Barnes Foundation allows virtual visitors to navigate one of the greatest collections of impressionist, post-impressionist, and early modernist paintings based on visual relationships, such as lines, light, space, and more. The museum also offers videos as part of their Barnes Takeout series, where representatives from the museum offer insights into pieces from the collection. Docent-led video tours of the Barnes' highlights are also available on YouTube and private virtual tours can be scheduled by emailing groups@barnesfoundation.org.
Philadelphia Museum of Art
The Philadelphia Museum of Art's treasured collection can be browsed online and the museum offers 360-degree photos of its Contemporary Art, Modern Art, and American Art galleries. Don't miss the comprehensive online overview (complete with video) of the museum's Temple Hall. The African American Art, Impressionism, and Arts of the Islamic World exhibtions can be browsed online as well.
Pennsylvania Academy of the Fine Arts
The Pennsylvania Academy of Fine Arts' PAFA from Home: Inspiration Everywhere, Anywhere resource allows online visitors to browse the museum's renowned permanent collection, take 360-degree virtual tours of the Historic Landmark Building and Samuel M.V. Hamilton Building, and more.
Independence Seaport Museum
Those with an interest in maritime history browse the Independence Seaport Museum's expansive collection of artifacts and historic ships online or enjoy a Virtual Field Trip, instructional video, or virtual tour of the historic submarine Becuna. The museum also offers a series of virtual events, including scavenger hunts and holiday specials.
Battleship New Jersey
Found just across the Delaware River from the Independence Seaport Museum, the nation's most decorated battleship, Battleship New Jersey, offers an online video tour on YouTube.
Museum of the American Revolution
The Museum of the American Revolution in Old City has a robust online tour, which navigates throughout the museum's immersive galleries and incredible replicas via 360-degree, high-resolution images, clickable elements, an audio tour, and more. The museum also offers a Virtual Field Trip, at-home activities for families, and many other digital resources and virtual events. A new virtual tour allows online viewers to enjoy an immersive, 360-degree look at full-scale replica tents of General George Washington's headquarters and Revolutionary War encampment. A virtual tour is also now available for the museum's current special exhibition, Liberty: Don Troiani's Paintings of the Revolutionary War.
National Constitution Center
The National Constitution Center offers a collection of interactive virtual tours for a number of its exhibits including Civil War and Reconstruction, American Treasures, Hamilton, and Signers' Hall. The museum also features an Interactive Constitution complete with insights on the document's history and impact from multiple scholars with varying backgrounds.
Betsy Ross House
The Betsy Ross House also offers a 360-degree virtual tour that encompasses the courtyard, parlor, Betsy's bedroom, and her upholstery shop. Throughout the tour, viewers will learn more about historic house via interactive stars.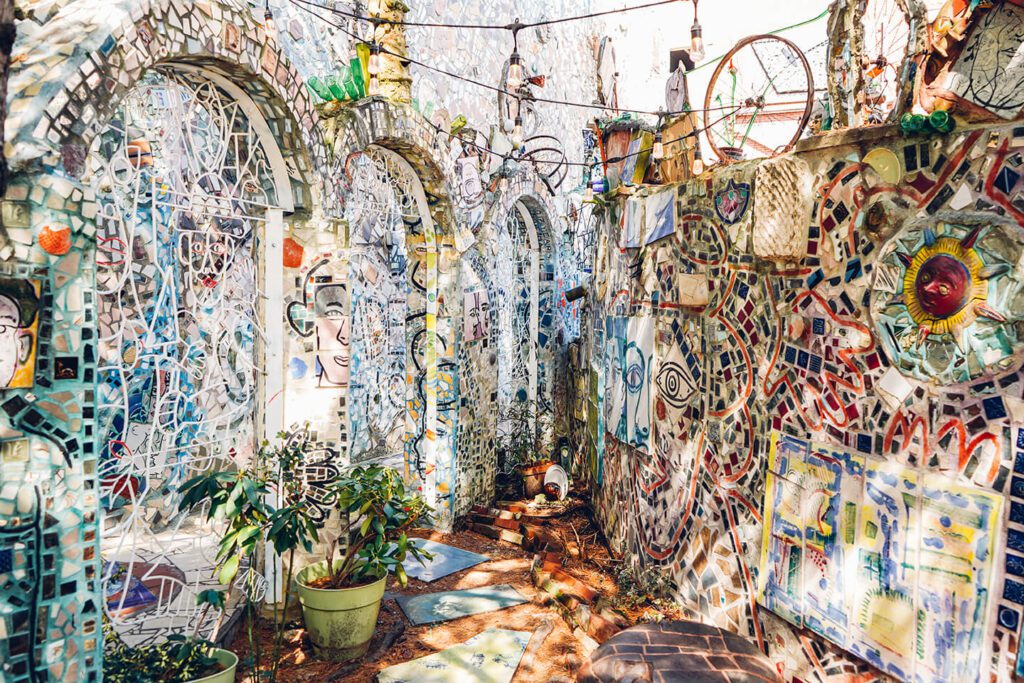 Philadelphia's Magic Gardens
A virtual tour of Philadelphia's Magic Gardens — one of the city's must-see attractions and the largest work to date by mosaic artist Isaiah Zagar — is available online as well.
National Liberty Museum
The National Liberty Museum's NLM @ Home features a collection of resources inspired by the museum's focus on the quest for liberty throughout history, including learning activities, a virtual Heroes Gallery, hero training, and more.
The Franklin Institute
The Franklin Institute invites you to challenge your mind, tour their Giant Heart, connect with experts at the museum, examine the night sky alongside their Chief Astronomer, and more with their Franklin @ Home digital science offerings. The celebrated science museum also regularly shares new videos on YouTube as part of their #SparkOfScience series that highlights various science experiments, including several which can be done from home.
Simeone Foundation Automotive Museum
Home to one of the world's greatest collections of sports racing cars, the Simeone Foundation Automotive Museum in Southwest Philadelphia allows those who download its free mobile app to virtually tour the museum while enjoying over four hours of audio explaining the history and significance of each car.
Weitzman National Museum of American Jewish History
The Weitzman National Museum of American Jewish History has unveiled an all-new virtual tour that offers a comprehensive look at each of the galleries and artifacts in the museum's core exhibition. The tour allows viewers to view panoramic images of each gallery, with the ability to zoom in on contents within display cases to read documents and view artifacts in greater detail than what is accessible in-person. The tour also allows viewers to watch films and listen to podcasts recorded in the galleries. Docents will be able to utilize the new virtual tour to present enhanced digital experiences for groups around the globe.
African American Museum in Philadelphia
The African American Museum in Philadelphia has partnered with Mural Arts Philadelphia for an all-virtual exhibition, Rendering Justice, which examines mass incarceration in America through the work of nine artists created in collaboration with currently and previously incarcerated men and women.
Lest We Forget Museum of Slavery
The Lest We Forget Slavery Museum — the only museum of its kind in Philadelphia — and its collection of authentic slavery artifacts present a unique historical perspective on one of the darkest periods in American history and the societal impacts still felt today. The husband and wife team behind the museum is offering a 45-minute virtual tour of the museum, which adds additional context to the exhibits and rare artifacts found throughout the museum.
Penn Museum
The Penn Museum's collections — featuring artifacts from ancient Egypt, Greece and Italy, Mesopotamia, Asia, Africa, and the Americas — can be viewed via virtual tours online. Additionally, the museum offers other at-home experiences that are designed to bring their galleries and artifacts into living rooms around the world such as their 3-minute Digital Daily Dig segments, family-friendly activities and crafts, lectures, and a series of virtual events. TIP: Don't miss the Ancient Alcohol After Hours virtual events, which invite you to enjoy beer or wine at home while you learn more about alcohol in ancient civilizations from around the world.
Association of Public Art
To remotely view and learn more about Philadelphia's impressive collection of public art, the Association of Public Art offers an interactive map with photos, historical backgrounds, and even audio guides for hundreds of pieces of outdoor art. The association has also published a roundup of virtual art experiences, which includes those offered by the University of Pennsylvania and other organizations.
Woodmere Art Museum
The Woodmere Art Museum in Chestnut Hill allows you to explore its collection online while also providing access to digital catalogues and a library of podcasts about art, artists, and cultural ideas.
Mural Arts Philadelphia
Mural Arts Philadelphia's new 'Murals on the Fly' video series sheds additional light on some of the city's most eye-catching murals and the artists behind them. Mural Arts also offers virtual tours that are periodically made available to the public or can be purchased for private groups.
Fabric Workshop and Museum
The Fabric Workshop and Museum's 'FWM @ Home' includes resources for students and educators, artist interviews, access to their online shop, and more.
Wagner Free Institute of Science
The Wagner Free Institute of Science's mineral collection can be viewed online, while they share images and insights on their taxidermy collection and other specimens on social media.
Academy of Natural Sciences
The Academy of Natural Sciences — the first natural sciences institution in the Americas — has created a Science From Home resource which offers a number of at-home museum experiences, including coloring sheets made of images from the Academy's library and archives, do-it-yourself science experiments, a backyard bird-watching guide, and more.
Philadelphia Zoo
Learn more about the many animal species that inhabit the nation's first zoo including lions, tigers, giraffes, red pandas, and more with behind-the-scenes videos shared to the Philadelphia Zoo's Facebook page.
Adventure Aquarium
The Adventure Aquarium offers at-home kids activities such as coloring pages, word searches, and mazes with marine animal themes. The aquarium also regularly shares video updates of their adorable animal residents on their website and social media.
Mütter Museum
Those looking to be "disturbingly informed" can turn to the Mütter Museum's online resource, which offers 360-degree photos and additional insight on a few of the over 25,000 medical curiosities and instruments in the museum's expansive collection, such as the giant megacolon, conjoined twins Chang and Eng Bunker, and more. A curator-led video walkthrough of the Mütter Museum's collection is also available on YouTube.
Center for Art in Wood
The Center for Art in Wood in Old City is publishing new experimental online content to a sister site, The Wood Shed, including artist podcasts and studio tours, home crafts, and more.
Shofuso Japanese House and Garden
Shofuso Japanese House and Garden hosts virtual tours of the charming space in Fairmount Park bi-weekly on Tuesdays via Zoom.
Longwood Gardens
Longwood Gardens in Kennett Square offers live looks at its lush conservatory and beautiful fields online, alongside other resources including digital gardening lessons, streams of past performances, video tours, and more.
Brandywine River Museum of Art
The Brandywine River Museum of Art's Brandywine at Home resource connects art enthusiasts with virtual tours and gallery talks (including an interactive tour of their recent Votes for Women exhibition) as well as crafts and educational projects, while nature lovers can browse conservation resources or relax by watching soothing videos captured outdoors on the museum's campus.
Faith and Liberty Discovery Center
Set to open on May 1, 2021 along Independence Mall, the Faith and Liberty Discovery Center invites visitors to its interactive website to explore the diverse Visions of America from historical Americans such as William Penn and Martin Luther King, Jr. NOTE: Tickets are available now for those able to visit the new museum in-person.
Institute of Contemporary Art
The Institute of Contemporary Art presents views of current exhibitions online, while also hosting regular virtual mindfulness sessions, curator-led tours, and other events.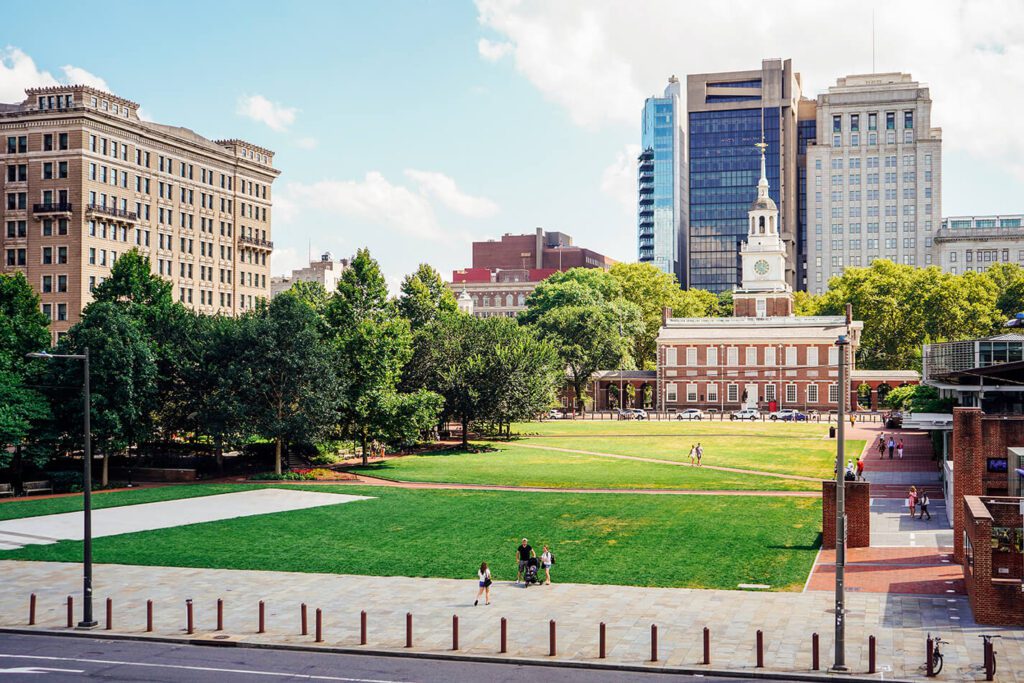 WeVenture
Local tour company WeVenture has partnered with Amazon to deliver a series of one-hour virtual tours that can be enjoyed online. Three options from their Urban Adventures line of tours are currently available to book digitally, including Historic Highlights of Old City Philadelphia, The Birthplace of America: Virtually Explore Philadelphia's Independence National Park, and Murals and Mosaics of South Philadelphia. Each tour features a live guide that leads the tour, offering commentary and insights as videos, photos, and other content is shared along the way.
For more remote Philadelphia experiences, follow the Philadelphia Convention & Visitors Bureau on Facebook, Twitter, Instagram, and TikTok.
DISCOVER MORE FROM HOME...