Foodies will feel right at home in Fishtown, with an increasing collection of acclaimed restaurants and local favorites dotting the landscape.
Start the day with a freshly made bagel from Philly Style Bagels, named one of the best bagel shops in the nation by Food & Wine in 2021. For coffee, a visit to La Colombe's flagship location along Frankford Avenue is a must. The renovated warehouse space features an interior mural and a food menu including baked goods, snacks, pizza, sandwiches and more. In nearby Kensington, Càphê Roasters is Philadelphia's first and only Vietnamese specialty coffee roastery. Local roaster Reanimator Coffee has a nearby shop tucked among residential streets and tea connoisseurs should visit Steap & Grind, which curates an extensive collection of exotic teas.
For lunch, consider Front Street Café, featuring a plant-forward menu and a beautiful outdoor patio. Nearby Kensington Quarters has revamped its offerings for a more seafood-focused menu, sourcing items from sustainable farmers and purveyors. The celebrated Suraya features Lebanese-inspired brunch, lunch and dinner menus either served inside the restaurant's dining room, filled with modern and Middle Eastern design elements, or outdoors in their oasis-like garden. One of Fishtown's newer restaurants and one of best new restaurants in the world according to Condé Nast Traveler, Laser Wolf is from the same team behind the acclaimed Zahav and serves an array of Israeli skewers, fresh hummus, warm pitas, baba ganoush, and more.
TIP:
Reservations for Suraya and Laser Wolf tend to fill up quickly, so it's recommended to reserve your spot several weeks in advance, if possible.
Ramen, dumplings, and other Asian fusion dishes await at Cheu Noodle Bar, while neighboring izakaya nunu specializes in sushi, small bites and Japanese sandwiches. If pizza is more your style, Pizzeria Beddia, widely regarded as one of the best pizza spots in the nation, can be found just off a narrow street between Frankford Avenue and Front Street. Pizza Brain, the nation's first "pizza museum," sells slices and whole pies further north along Frankford Avenue inside a tiny shop filled with quirky, pizza-themed memorabilia.
For a traditional Philadelphia cheesesteak, look no further than Joe's Steaks at the corner of Frankford and Girard. Philadelphia's food history extends far beyond just cheesesteaks, and Fishtown BYOB Elwood is dedicated to showcasing the region's centuries old culinary traditions with local ingredients and old-school recipes — including many Pennsylvania Dutch specialties — served in an intimate dining room in an otherwise unsuspecting rowhouse.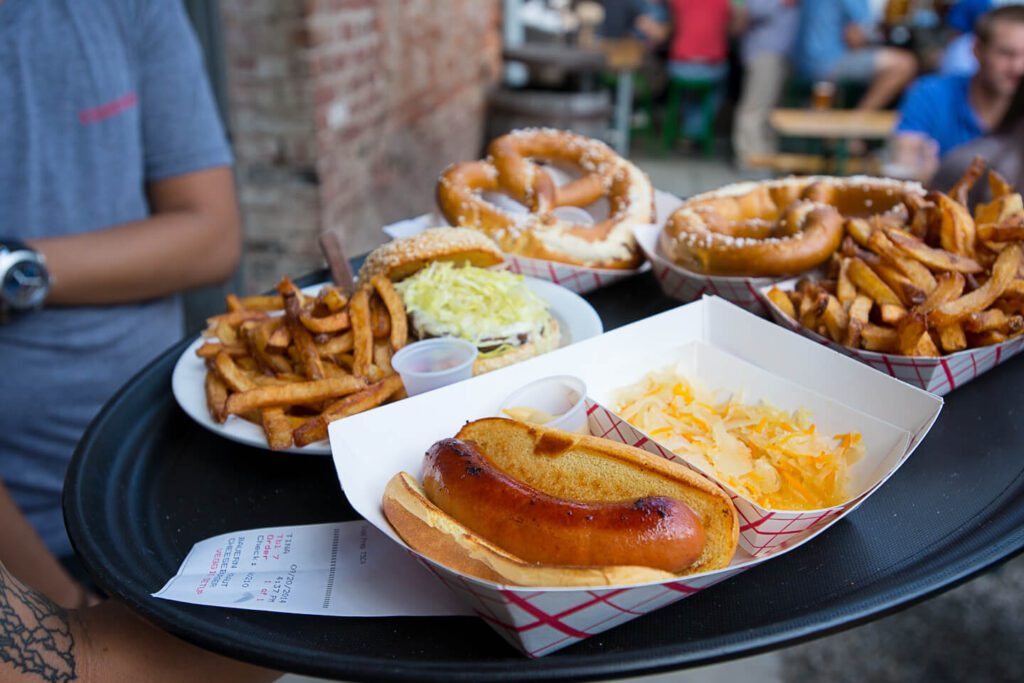 Found opposite Johnny Brenda's on Girard Avenue is Garage, with a seemingly endless supply of cans from nano-, micro- and macro-breweries and a rotating selection of pop-up food vendors inside. More beer awaits at Starr Restaurant's Frankford Hall, modeled after an authentic German beer hall and featuring a menu of pretzels, sausages, schnitzel and more, served alongside a tap list of lagers, Kolsch, and other German ales. Neighboring Fette Sau – another Starr Restaurant property – specializes in slow-cooked meats and traditional barbecue.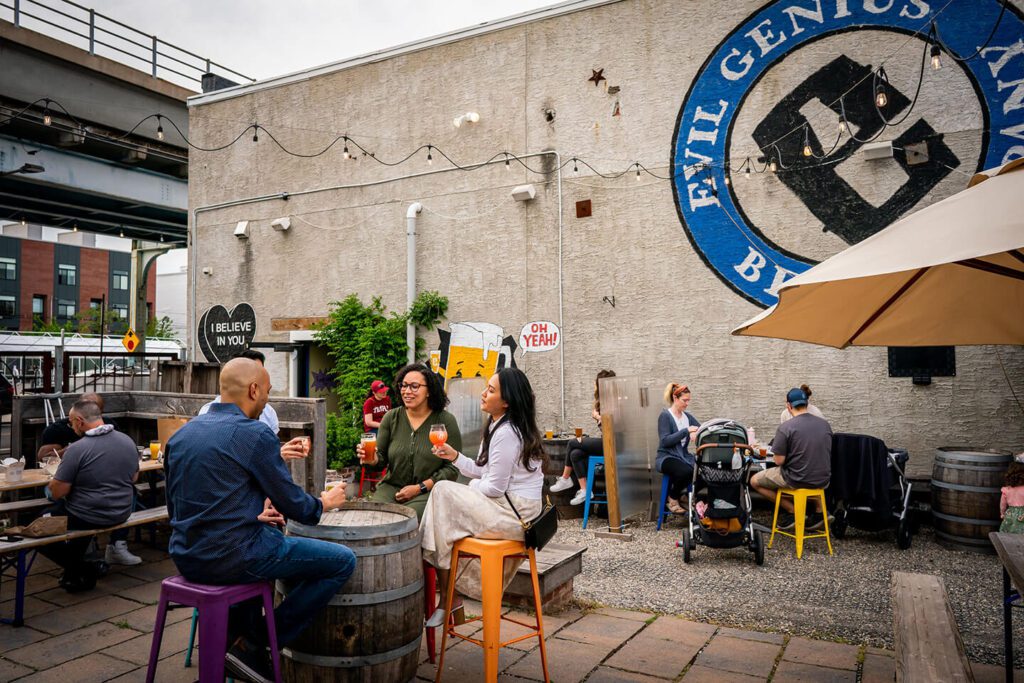 Cheers with a pint from Evil Genius at their brewery space along Front Street or grab cans to-go from St. Oner's along Frankford Avenue – the Fishtown outpost of Ardmore-based Tired Hands Brewing Company. Hidden in an alley off of Cecil B. Moore Avenue and distinguished only by a green light when open (openings are announced ahead of time on social media), Fermentary Form specializes in tart, barrel-aged beers, served in bottles to-go or for enjoyment in their small barrel room. For locally distilled whiskey and bourbon, head to New Liberty Distillery in Old Kensington, and for local gin and vodka, consider a trip to Philadelphia Distilling — both distilleries have bars that allow you to enjoy their signature spirits on-site. End the day on a sweet note with a scoop of ice cream or an ice cream sandwich from Weckerly's along Girard Avenue.
Cover photo: Laser Wolf. Photo by M. Persico.