Explore a massive outdoor art gallery, enjoy genre-defying live performances, and dine at Philadelphia's most artistic eateries
Home to the largest collection of public art in the U.S., Philadelphia also boasts plenty of historic museums, renowned performing arts companies and eclectic eateries that will impress any art aficionado.
Day 1
Morning
Start with breakfast at the Cosmic Café, a farm-to-table, woman-owned restaurant on Boathouse Row. Then, take a "Museum Without Walls" audio tour on bike or by foot, courtesy of the Association for Public Art – the country's first private entity dedicated to public art. Head to West Philadelphia to visit the Institute of Contemporary Art (ICA) on the University of Pennsylvania's campus, a free museum that has been at the forefront of cutting-edge exhibitions since it organized Andy Warhol's first solo museum show in 1965.
While in Philadelphia's "innovation hub," check out the University City Science Center's Esther Klein Art Gallery, with programming that explores the relationship between art, science and technology. The free gallery hosts exhibitions, artist talks, performances and other special events. Take in a show at Penn Live Arts, the University of Pennsylvania's home for the performing arts and one of the nation's foremost urban performing arts centers, offering a broad range of programs in theatre, music and dance for over 50 years.
Afternoon
Journey to South Broad Street to explore Philadelphia's Avenue of the Arts. The arts and culture hub is home to some of the city's most notable performing arts institutions, including the Kimmel Center, Miller Theater, and Philadelphia Theater Company. Eat at one of the many spots along South Broad Street or take in breathtaking views high atop the Bellevue Hotel at XIX, one of the city's highest restaurants.
Evening
Attend a performance by Philadelphia's renowned ballet company, Philadelphia Ballet, started in 1963 by George Balanchine protégée Barbara Weisberger, and considered one of America's leading ballet companies, performing at the Academy of Music, the oldest opera house in the United States.
For a meal with live music, make a reservation at Chris' Jazz Café. This go-to jazz spot's kitchen is led by Chef/Owner Mark DeNinno, serving soulful Southern-influenced menu for lunch and dinner.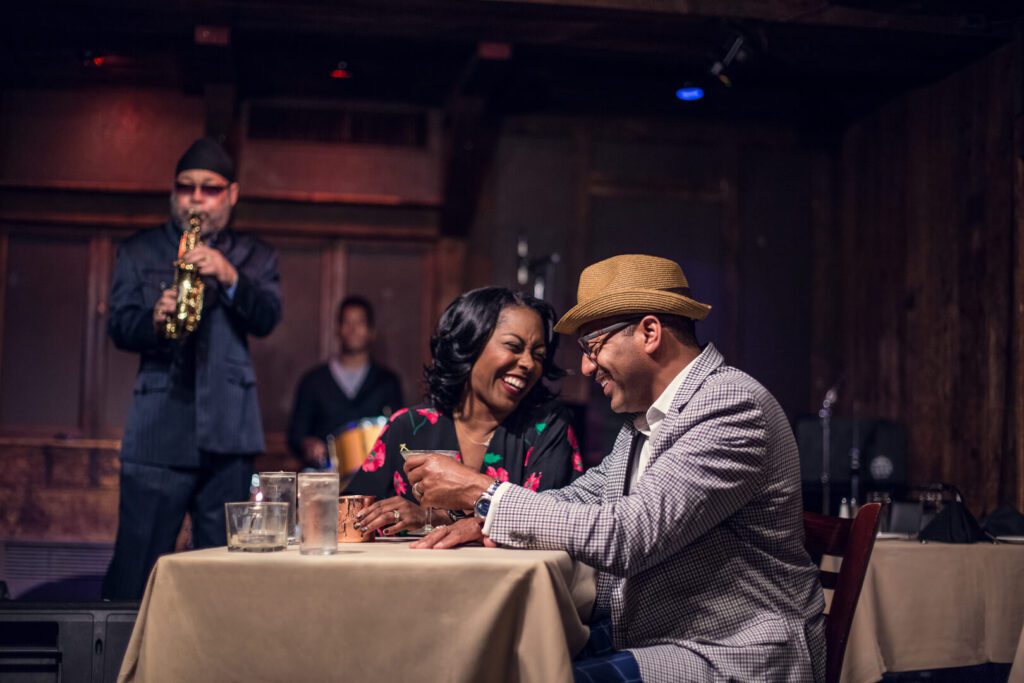 Day 2
Morning
Explore the Pennsylvania Academy of the Fine Arts (PAFA), America's oldest art museum and school that trained the likes of Thomas Eakins, Mary Cassatt, Henry O. Tanner, Meta V.W. Fuller and many more, with a vast collection of 19th- and 20th-century American paintings and sculptures housed in a grand New-Gothic building designed by Frank Furness.
Walk up the Benjamin Franklin Parkway to the first and only women's visual arts college in the nation, Moore College of Art & Design, founded in 1848. Free to visit, the Galleries at Moore introduce the work of significant regional, national and international artists to the community through distinctive exhibitions and educational programs.
Afternoon
Grab lunch at Urban Farmer inside The Logan Hotel, offering a seasonal menu with locally-sourced ingredients. Then, explore The Logan's 1,800+ piece art collection with a self-guided or private art tour open to visitors and guests. TIP: Return in the evenings to enjoy cocktails on the hotel's roof at Assembly Rooftop Lounge — one of Philadelphia's signature hotel bars.
Located in West Fairmount Park, Shofuso was built in Japan in 1953 using traditional techniques and materials and moved to Philadelphia. The traditional-style house with its hinoki roof — the only one of its kind outside of Japan — can be toured, along with the gardens, koi pond and island.
Venture out to Chestnut Hill to learn more about Philadelphia art and artists at the Woodmere Art Museum, housed in a 19th-century stone mansion. The museum's collection contains more than 6,000 works showcased in nine galleries and offers guided tours, a jazz and classical music series and gallery talks.
Evening
Refuel at the ArtBar, located in the lobby level of the Sonesta Philadelphia, offering art-infused cocktails and small, shared and sweet plates. TIP: Don't miss the 22-story mural on the building's exterior.
Hailed by the New York Times as "one of the most creative and ambitious companies" in the U.S., Opera Philadelphia mixes traditional and new repertoire that engages the public. These must-see performances take opera out of the opera house and onto the streets, into parks and museums and other interesting venues throughout the city.
The 300-seat FringeArts theatre on the Delaware River waterfront offers year-round genre-defying dance, theater and music performances by emerging innovators who push the boundaries of art-making. Stay for dinner at indoor/outdoor La Peg and catch live shows from bands to pop-up shows to cabarets, plus a late-night menu.
Day 3
Morning
Take an architecture tour offered by the Preservation Alliance for Greater Philadelphia and learn about Philadelphia's fascinating architecture, dating back to the 17th century. The city has more historic buildings from the colonial and federal periods of American history than anywhere else in the United States.
Visit the Fabric Workshop and Museum, an internationally acclaimed contemporary art museum featuring works by artists with diverse artistic backgrounds including sculpture, installation, video, painting, photography, ceramics, and architecture. At the gift shop, find affordable artwork and cool accessories and gifts designed by artists in residence, with purchases supporting artist programs.
Take a short walk east to explore Philadelphia's Chinatown and snap a photo under the Friendship Gate — our nation's first authentic gate, which was constructed by artisans from Philadelphia's sister city of Tianjin. Visit the Asian Arts Initiative to view exhibitions and performances celebrating Asian American artists.
Afternoon
Head to Second Street in Old City for lunch at Cuba Libre, a restaurant with an open-air vibe that is modeled after a Havana streetscape.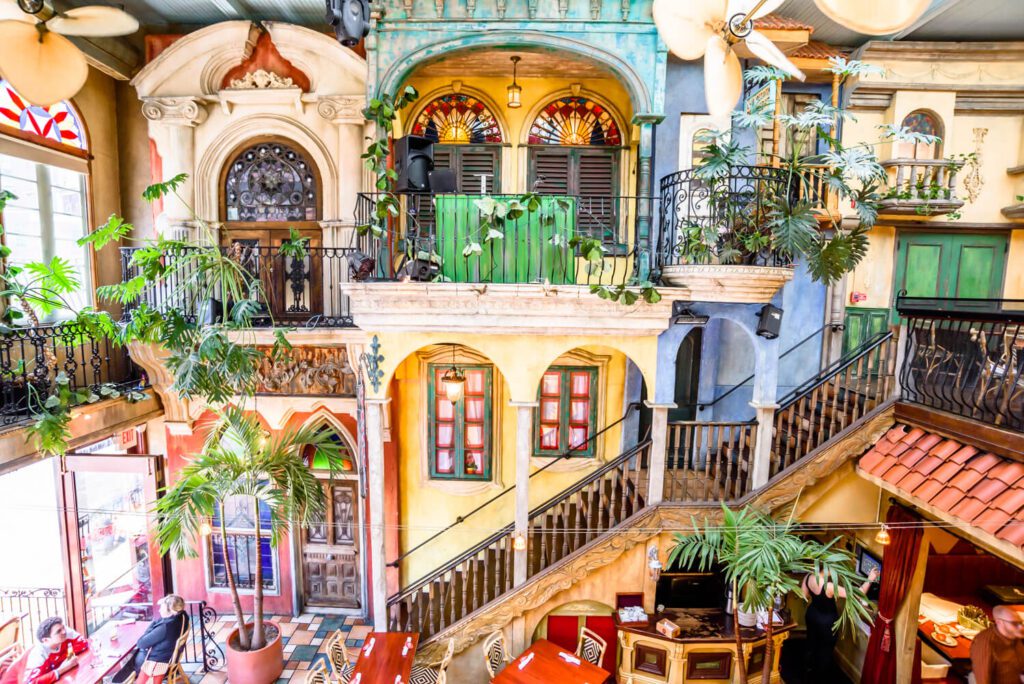 Stay in Old City and catch a new performance by Arden Theatre Company, known for its professional and world-premiere productions and commitment to presenting original works. Or journey to Rittenhouse Square to attend a student recital, the Curtis Symphony Orchestra, Curtis Opera Theatre, or family concerts at the Curtis Institute for Performing Arts. The renowned, exclusive conservatory trained virtuosos such as Leonard Bernstein and Samuel Barber.
Evening
Enjoy a performance at the Walnut Street Theatre. Founded in 1809, America's oldest theatre produces an exciting season of Broadway-quality musicals and plays, along with its acclaimed WST for Kids series.
End your art tour with a walk along Philadelphia's famous South Street, known for its diverse mix of shops, bars, and restaurants. Grab a meal at Tattooed Mom and peruse the display of street art and graffiti from local and visiting artists.