Go off the beaten path to find hidden gems: some fascinating, some bizarre and all unique.
Philadelphia is known for its history and American tradition, but it's also home to many sites and attractions that are anything but traditional.
Day 1
Morning
Start in Old City and grab a coffee from The Bourse. Once the nation's first commodities exchange, the historic building is now home to a modern food hall with 20+ vendors inside. Afterwards, take a short walk to nearby Christ Church and sit in the pews where the nation's Founders once worshipped. Pay your respects to Ben Franklin at the church's nearby burial grounds. Staying in the historic district, visit the National Liberty Museum to examine the principles of freedom and liberty via intricate glass art — including 21-ft Flame of Liberty by renowned glass sculptor, Dale Chihuly — and a crack-less, ring-able copy of the Liberty Bell.
The 21-ft Flame of Liberty by renowned glass sculptor, Dale Chihuly at the National Liberty Museum. Photo by K. Huff for PHLCVB.
Afternoon
Head to the Delaware River Waterfront and explore Cherry Street Pier – a former municipal pier that is now a mixed-use space with artist studios, rotating exhibitions, and pop-up events. Enjoy lunch at The Garden at Cherry Street Pier, a riverside, open-air dining area on the pier's eastern end that offers stunning views of the Delaware River and Benjamin Franklin Bridge.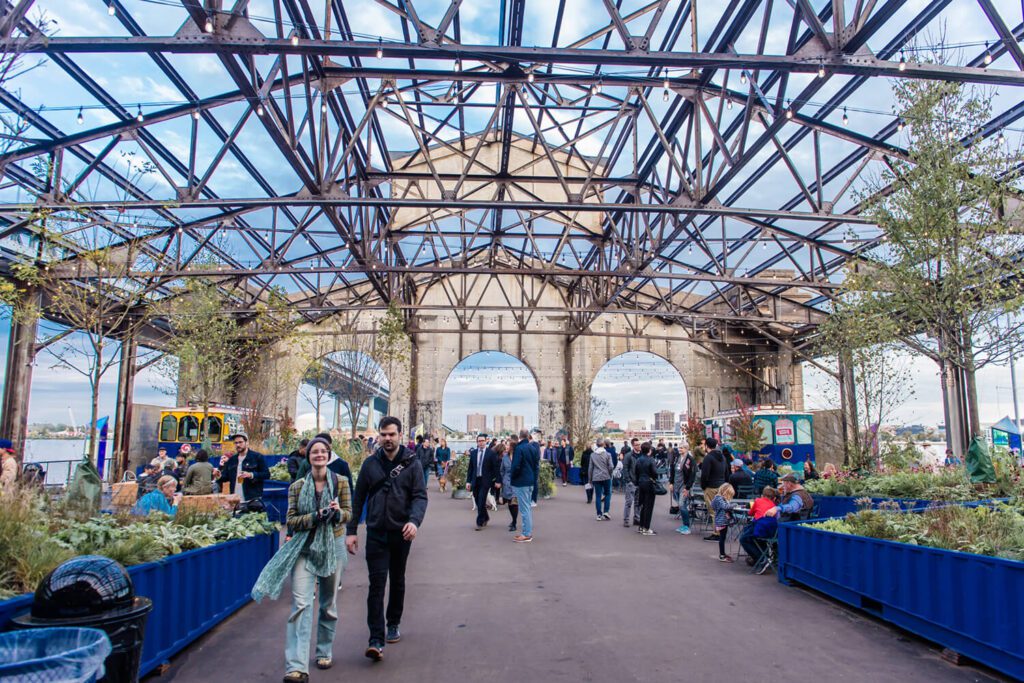 Journey to South Street, where you can bask in the reflections of Philadelphia's Magic Gardens. Half indoor, half outdoor, fully out of the ordinary, this mesmerizing labyrinth is the largest work to date by mosaic artist Isaiah Zagar.
Evening
For dinner, traditional Italian dishes and an extensive wine list at Victor Café, a cozy South Philadelphia restaurant that was featured in several Rocky and Creed films. Here, the servers double as professional opera singers who perform every 20 minutes.
Walk off your meal by chasing the sunset along the Benjamin Franklin Bridge's pedestrian walkway. Enter at 5th & Race streets and head east to encounter one of the best views of the city as you hover over the Delaware River. End the day in Old City with a candlelit Ghost Tour that reveals the more macabre past of Philadelphia's historic haunts, including Washington Square and Independence Hall.
Benjamin Franklin Bridge Pedestrian Walkway at sunset. Photo by K. Huff for PHLCVB.
Day 2
Morning
Start the day on the University of Pennsylvania campus and embrace your inner Indiana Jones and unearth an amazing collection of nearly a million of archaeology's most prized artifacts at the Penn Museum — including the largest Sphinx in the western hemisphere. Take a short walk to the 12th floor of this otherwise unsuspecting parking garage to find Cira Green, a picnic-perfect park in the sky with some of the best views of the Center City skyline. TIP: Grab coffee and snacks to-go from the nearby Walnut Street Café and enjoy them while atop Cira Green.
Afternoon
Cross the Schuylkill River and visit the Mütter Museum – named one of Lonely Planet's "unique museums around the world you can't miss." Siamese twins, the "mega-colon" and slices of Albert Einstein's brain are just a few of the interesting medical specimens on view at this Rittenhouse-area museum. Make your way to North Philadelphia for the free-to-visit Wagner Free Institute of Science, which boasts more than 100,000 natural history specimens including fossils, shells, minerals, mounted animal skeletons and skins displayed in original wood and glass cabinets.
Wagner Free Institute of Science. Photo by R. Cardillo.
Beloved gastropubs and hip brunch spots abound in Northern Liberties. After enjoying lunch, shop your way through the neighborhood's collection of independent boutiques. Nearby, peer into the study of the Edgar Allan Poe House, where one of America's most influential writers penned some of his well-known spine-tinglers. TIP: Don't forget to snap a photo with the accompanying mural, just across the street.
Evening
End the day with dinner and a show in Fishtown, such as a concert at a local venue like the Fillmore or Johnny Brenda's, or with circus-style acts and burlesque performances at Fabrika, a local dinner theatre.
Fabrika. Photo by A. Armando.
Day 3
Morning
Wake up and take a bite out of scrapple — an authentic Philadelphia breakfast delicacy — at Down Home Diner at the Reading Terminal Market, or savor other early morning eats from one of the other 80+ vendors. Take a short walk north to explore The Rail Park – an elevated park occupying former train tracks of the Reading Railroad (of Monopoly fame). Relax on an industrial swing before exploring the murals nearby.
Afternoon
Drink up and explore one (or several) of Philadelphia's local breweries and beer gardens, a blossoming staple of Philadelphia culture. Don't miss Yards, Philadelphia's original craft brewery, with recipes inspired by the Founding Fathers. Sign up for a guided tour offered by City Brew Tours to travel from brewery to brewery (via a designated driver), sampling local suds and learning more about the brewing process along the way.
Photo courtesy of Yards Brewing Company.
Pass through East Fairmount Park and explore Laurel Hill Cemetery – a 78-acre National Historic Landmark and the nation's second oldest cemetery. Explore with themed tours including art and architecture; pop culture and contemporary stories; and lore and legend, or schedule your own ghost hunt with a Private Ghost Hunting Planning Guide. TIP: Among the notable inhabitants of Laurel Hill Cemetery .
Change course toward South Philadelphia and explore one of the world's greatest collections of racing sports cars at the Simeone Foundation Museum. Visit on Saturdays to see these vintage vehicles rev their engines and burn rubber in the parking lot. Take a lap around the lake in the middle of FDR Park, South Philadelphia's largest park. Along the way, visit a romantic pavilion, an iconic skatepark, and the American Swedish Historical Museum — the oldest Swedish museum in the United States.
Evening
No matter the time of year, East Passyunk Avenue is often home to the newest it-restaurant. If you're craving Italian for dinner, there's no better locale, but don't miss the other international eateries that line the thoroughfare.
Cap your unexpected Philadelphia experience by raising a glass against the beautiful Philadelphia skyline while on top of… a former South Philadelphia school?! Bok Bar tops what is now a mixed-use space filled with artist studios and other small businesses. On the south side of the roof is Irwin's, an Italian restaurant with indoor and outdoor seating (and even more views).