---
BIO's Big Week in Philadelphia
From June 3rd to 6th, 17,307 of the world's leading researchers, scientists, executives and policymakers visited Philadelphia for BIO 2019. With the strength of the region's life sciences and business industries, the global convention was able to surpass 48,500 partnering meetings for the first time, a key marker for success.
As for the overall impact on the economy, the citywide convention provided Philadelphia County with its best week in 2019 for hotel revenue and room occupancy, at $17.5 million and 90.2% respectively.
Inside the Pennsylvania Convention Center, 1,800 exhibitors spread out on the showroom floor. The PHLCVB and PHL Life Sciences worked to support programming that tackled important issues like the opioid crisis and pharmaceutical drug pricing.
The convention group also engaged with the community outside of the building, including the unveiling of a new public mural dedicated to STEM-focused education and the future of the industry. It was an opportunity to celebrate the next generation of innovation organically growing in the city. BIO attendees also experienced some of Philadelphia's popular off-site event spaces, with a closing night reception and party held at the newly opened Met Philadelphia concert hall.
---
Ultimate Solution Honoree Announced
One of our region's pioneers and a leading advocate for healthcare parity is being honored for her career achievements. PHL Life Sciences Ultimate Solution Award will be presented to Jefferson University Hospital's Edith Mitchell, MD, FACP, FCPP on September 17, 2019.
The practicing physician and clinical professor is an inspiration to the meetings industry, working closely with the Philadelphia Convention and Visitors Bureau through the years to secure influential conventions and conferences for the city. Specifically, bringing the National Medical Association's annual meeting to Philadelphia in 2015 while she served as the organization's 116th president.
"There's no way to capture in a few sentences all that Edith has done to raise the profile of Philadelphia as a life sciences and medical meetings powerhouse," said PHL Life Sciences Executive Director Bonnie Grant. "Her ability to play the role of facilitator – making key introductions to industry influencers – and to champion Philadelphia in circles outside of the region has been critical to the work we are doing."
A collection of government representatives, meeting planners, academic and medical professionals, and PHLCVB leadership will be on hand to celebrate the achievement.
---
Brain Health Fair Sets Attendance Record in Philadelphia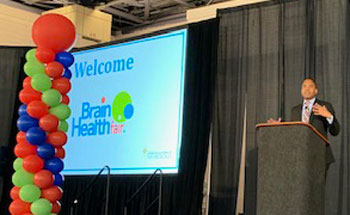 With presentations on the latest neurology research, giveaways, and the opportunity to hold a human brain, the American Academy of Neurology's (AAN) Brain Health Fair brought something for everyone in Philadelphia on May 9th.
As part of AAN's annual meeting, the one day public forum brought together more than 3,000 students, senior citizens, and curious community members in an opportunity to gain insights about preventative health. PHL Life Sciences partnered with AAN's organizers to produce the event, marketing and promoting it to key groups. The business development division also secured the day's informal emcee, Gray Hall, a television anchor with ABC, who had an on-air scare with a cyst on his brain.
The record-setting event was held at the Pennsylvania Convention Center, and received a significant amount of media attention and support from local partners in the healthcare industry – from health systems to government leaders and more.
---
PHL International Airport Exhibit Showcases City's Medical History
Going through Terminal A-East at Philadelphia International Airport any time soon? You can't miss a new exhibit inspired by the city's history of medical research and innovation. A June press conference with Philadelphia Mayor Jim Kenney and Philadelphia International Airport CEO Chellie Cameron unveiled the educational piece.
On display until June 2020, the collage consists of 80 panels paying homage to the country's first medical school, children's hospital, and breakthrough health procedures administered first in Philadelphia, like brain surgery, heart surgery using a heart-lung machine and other important modern vaccines.
"All of us know about Philadelphia's historical significance as our nation's birthplace and the first U.S. capital," Cameron said. "This exhibit shares Philadelphia's prominence as the seat of medical innovation dating to Colonial Times and its status today as an epicenter for advancements in medicine."
---
American Public Health Association Prepares for 2019 Meeting and Expo
A national movement of people, communities and organizations focused on improving health, regardless of socioeconomic standing will come to Philadelphia from November 2 to 6, 2019. American Public Health Association's (APHA) Annual Meeting and Expo will attract nearly 13,000 to the Pennsylvania Convention Center for workshops, educational programming, and networking opportunities.
For APHA, the choice was simple – Philadelphia had the amenities and depth of healthcare resources to host this year's important citywide convention.
Discounted registration runs until August 8, and if you sign up now you can save $100. A full pricing chart can be found here.
---
Supporting Autism: Hubert J.P. Schoemaker Golf Outing
The 14th Annual Hubert J.P. Schoemaker Classic has become the quintessential networking opportunity for life sciences professionals in the Greater Philadelphia region. Supporting Melmark, a human services organization committed to enhancing the lives of individuals with autism and developmental disabilities, the golf outing bears the name of the pioneering scientist who was the co-founder and president of biotech company Centocor.
The event will be held at Gulph Mills Country Club on October 14th. Sponsorships, along with playing opportunities, are still available.
---
Philadelphia Hosts One-Day Event on Heart Health
Heart disease remains the leading cause of death in the United States, contributing to 23.5% of all deaths. The Heart Failure Society of America (HFSA) brings its mission – to educate and encourage patients on preventative measures and treatment of the disease – to Philadelphia on September 14.
HSFA's Heart Failure Patient and Caregiver Day will look at key developments in the field of cardiology and help families affected by the disease cope with deaths or family hardship.
Philadelphia's reputation for leadership in medicine and healthcare innovation put the destination on the top of HSFA's list of host cities during the selection process. A large portion of the non-profit organization's membership also resides in the Northeast Corridor.
---
On the Road with PHL Life Sciences
PHL Life Sciences Executive Director Bonnie Grant participated in three education sessions at the annual Meeting Professional International (MPI) World Education Conference in Toronto, June 14-18. As part of the MPI-MD Advisory Board, Grant regularly meets with peers and medical meeting planners to help gather resources, exchange best practice information, and drive policy for medical meeting associations and planners.
Philadelphia will be represented at the Healthcare Convention Exhibitors Association's annual HCEAConnect meeting, held in Miami, August 17-20. Grant will participate in a panel discussion titled "Legislative Trends for Pharma Representatives." HCEAConnect brings together healthcare exhibit marketers, medical association meeting and exhibition directors, and exhibit design, creative marketing and convention services companies.
In November, PHL Life Sciences will attend the ExL Pharmaceutical Meeting Professionals Summit (November 6-7), an annual gathering for the pharmaceutical, biotechnology and medical device industry meeting and event executives. Two weeks later (November 21-23), Grant will join industry executives at the Nursing Organization Alliance (NOA) 2019 Fall Summit in Cleveland, in order to network, attend sessions, and learn about issues that are impacting the nursing profession.
Engage with us on social media (@meetPHL) or contact bonnie@discoverphl.com to connect further.
---
Also in the News
---
Upcoming Life Sciences Meetings and Conventions in Philadelphia