Latest News
City of Philadelphia asks FIFA to "Bring It" in Bid to Host 2026 World Cup Matches
The City of Philadelphia and Philadelphia Convention and Visitors Bureau (PHLCVB) convened local leaders to provide an update on the city's on-going efforts to bring the 2026 FIFA World Cup to Philadelphia. Philadelphia Mayor Jim Kenney announced that Comcast Senior Executive Vice President & Chief Diversity Officer David L. Cohen will serve as Chairman of the city's Bid Committee. In addition, PHLCVB President and CEO Julie Coker, Philadelphia Eagles' CFO Frank Gumienny and leadership from the Philadelphia soccer community unveiled new branded materials and their vision for the next phase of Philadelphia's bid efforts, including the taglines "Bring It!" and "Philadelphia 2026, America's Host City."
David Montgomery (1946-2019)
We remember with gratitude and admiration our Chairman and friend, David Montgomery. For the last ten years, he served as PHL Sports' Chair, volunteering his time and sharing his warmth, vision and enthusiasm. David was an incredibly devoted champion for our city and one of the greatest ambassadors Philadelphia has ever known. He will be sorely missed.
---
Philadelphia to Host MLB All-Star Game in 2026
Major League Baseball, the Philadelphia Phillies, the City of Philadelphia and the PHLCVB announced officially on Tuesday, April 16 that Philadelphia will host the 2026 MLB All-Star Game and accompanying All-Star Week events.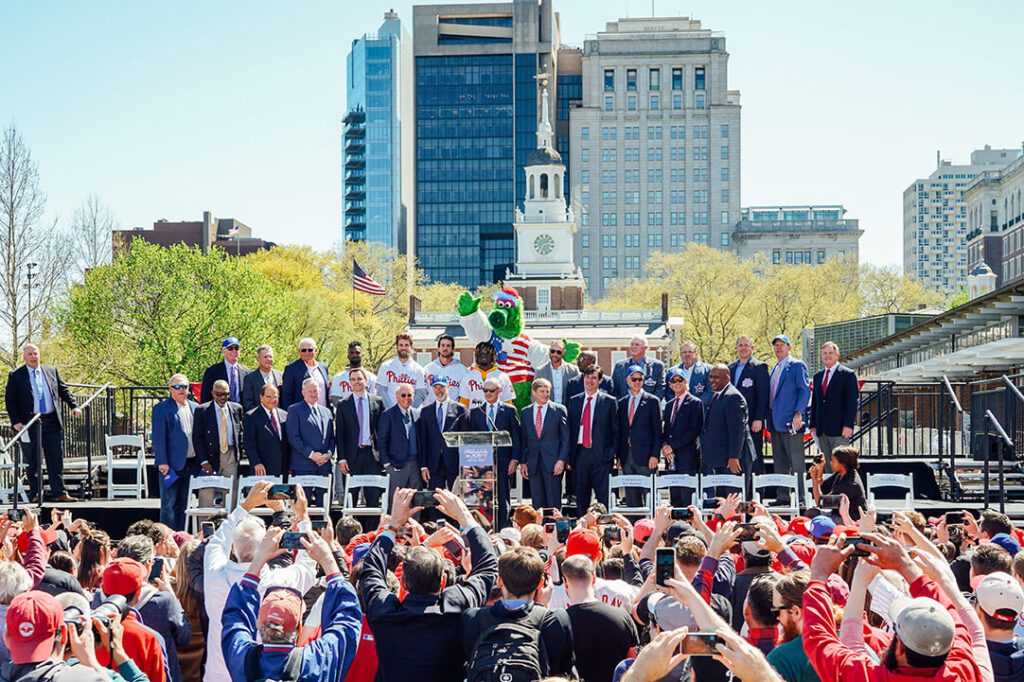 ---
Stand & Be Counted!
Join the team to bring the World Cup to Philadelphia!
We are excited to unveil our brand new website — Philadelphia2026.com — to share Philadelphia's compelling World Cup story with the world.
One of the world's great sports cities, Philadelphia has been selected as one of 23 prospective host cities for the 2026 FIFA World Cup™ — a list which will be narrowed down to the final 16 host cities in the next few years. Stand with us and be counted!
---