Plan your Philadelphia visit, meeting or event around one of these can't-miss annual experiences, including parades, cultural celebrations, concerts, sporting events, and more.
Watch this annual Philadelphia tradition as the charismatic Mummers strut along Broad Street, celebrating the New Year. The colorful and extravagant costumes and performances are judged at the Fancy Brigade Finale at the Pennsylvania Convention Center. Annually on January 1.
Celebrate the Lunar New Year with an authentic dragon parade and enjoy traditional food and festivities in Philadelphia's Chinatown. Annually in January or February.
The largest and longest running flower show in the nation features acres of dazzling floral displays and gardens, with a new theme each year. After a successful transition outdoors in 2021, the 2022 Philadelphia Flower Show was held outside for only the second time in its nearly 200 year history, once again hosted in the spacious FDR Park in South Philadelphia.
The 2023 Philadelphia Flower Show will be held inside of the Pennsylvania Convention Center from March 4-12, 2023.
Hundreds of vehicles, showcasing the latest models and trends, will be on display at the Pennsylvania Convention Center. Annually in February or March.
The 2023 Philadelphia Auto Show is scheduled for January 28 – February 5, 2023.
A Philadelphia tradition since 1771, Philadelphia's St. Patrick's Day Parade, noted as one of the best parades of its kind in the U.S. by Thrillist, takes place annually on the Sunday before St. Patrick's Day (March 17) to honor the patron saint of Ireland and to celebrate Irish heritage and culture. Spectators line the Benjamin Franklin Parkway to watch the event. Annually in March.
Held inside of the Pennsylvania Convention Center, the Philly Home Show offers busy homeowners a one stop shop. With more than 200 booths to discover and learn from, attendees will find everything they need to inspire or complete their next home project, as well as expert advice. Annually in March.
The 2023 Philly Home Show is set for March 17-19 and March 24-26, 2023.
The Philadelphia Film Society is taking over production of the Environmental Film Festival in 2022. The event will showcase new, powerful, and thought-provoking films that address urgent environmental issues, from animal welfare to the effects of climate change. Annually in March or April.
Celebrate spring and Philadelphia's rich cultural connection to the art, music, food and beauty of Japan with this festival that culminates in Sakura Sunday at the Horticulture Center in Fairmount Park. Annually in April.
Watch high school, college and masters-level track stars as well as Olympic athletes compete in the oldest and largest track and field competition in the U.S. — and one of Philadelphia's signature annual sporting events — at Franklin Field on the University of Pennsylvania campus. Annually in April.
The 2023 Penn Relays will be held April 27-29, 2023.
A premier showcase of the country's top dealers of antiques and fine art, the show features 40 exhibitors and a brilliant selection of art from the 17th century to the present. Annually in April or May.
This 10-mile race along historic Broad Street has attracted local and international athletes for more than 35 years. Annually in May.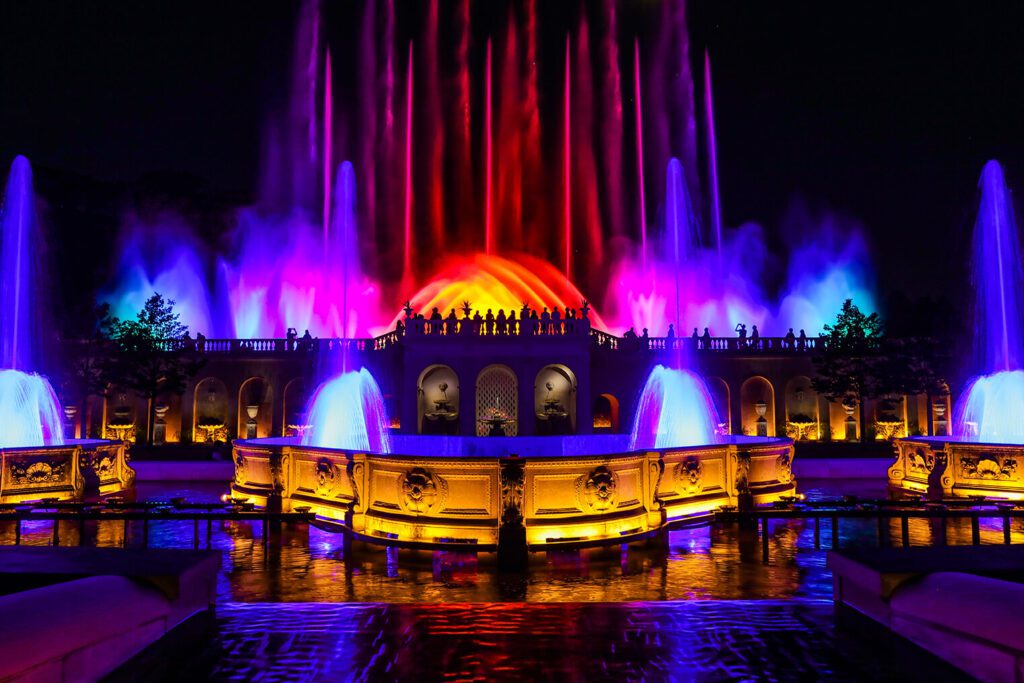 Daily performances at the Main Fountain Garden are set to music with water jets shooting 175 feet into the air. Visit in the evenings on weekends to experience the fountain shows paired with colorful lights. The Festival of Fountains will be held May 5 – September 25, 2022.
Head to the banks of the beautiful Schuylkill River for this annual collegiate regatta, which draws participants from more than 100 North American colleges and universities. Annually in May.
Take part in this annual tradition where delicious Italian favorites, both sweet and savory, are available along with great music, shopping and more. Annually in May.
The 2023 South 9th Street Italian Market Festival is set for May 20-21, 2023.
<! --- PHILADELPHIA LATINO FILM FESTIVAL --->
This annual festival showcases the innovative work of emerging and established Latin American and Latino filmmakers. Annually in May.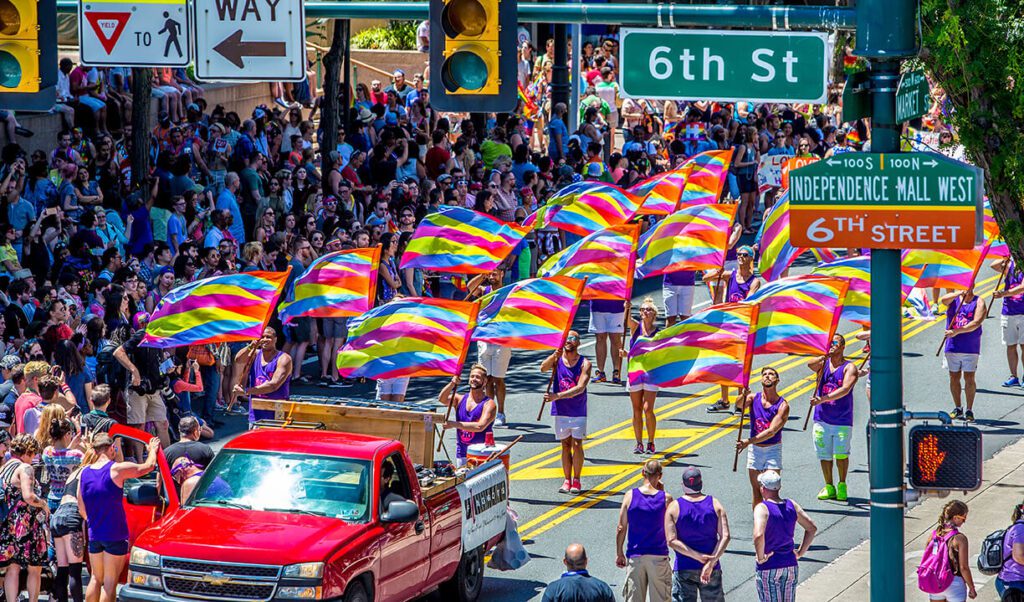 One of the largest celebrations of LGBTQ pride in the nation, attracting more than 25,000 people each year to the city's Gayborhood. Annually in June.
<! --- PHILLY LOVES BEER WEEK --->
This festival gives you the chance to try locally made brews and participate in beer tours, prix fixe beer-pairing dinners, pub crawls and hundreds of events in restaurants and bars across America's Best Beer Drinking City. Annually in June.
Watch teams (from novices to experienced racers) compete along the Schuylkill River to help raise money for a number of worthy charities in this spectacular annual tradition. Annually in June.
The Mann Center for the Performing Arts is host to a weekend of music and performances handpicked by Philadelphia natives: The Roots. Annually in June.
<! --- ODUNDE --->
With live entertainment, 12 blocks of vendors along South Street, arts-and-craft booths and African, Caribbean and soul food, this huge festival celebrates the Yoruba New Year. Annually on the second Sunday in June.
Juneteenth, now a federal holiday, is the oldest nationally celebrated commemoration of the ending of slavery in the United States. Celebrate freedom at the largest Juneteenth celebration in the nation produced by Pennsylvania Juneteenth Initiative. Annually in June.
Celebrate America's Independence with a multi-week-long festival featuring family-friendly fun, free concerts from chart-topping entertainers, and a patriotic parade traveling past America's most historic sites, all capped by a spectacular fireworks show above the Philadelphia Museum of Art. Annually June – July.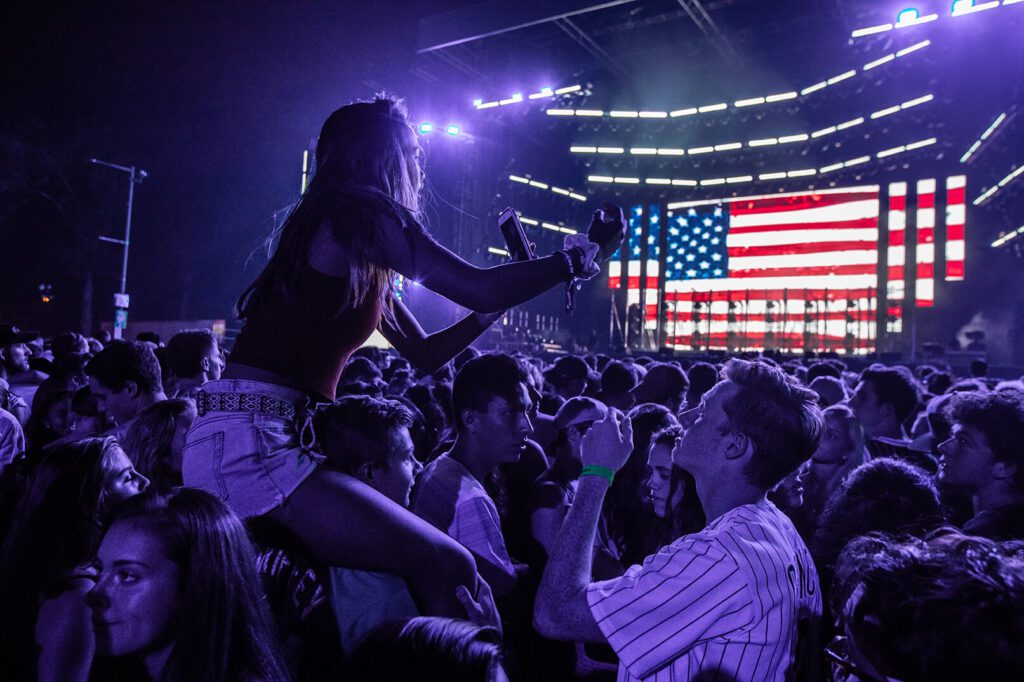 An exciting music festival curated by Jay-Z and featuring dozens of artists across three stages along the Benjamin Franklin Parkway, including a main stage at the base of the iconic Rocky Steps. Annually on Labor Day Weekend. This year's festival will be held September 3-4, 2022. Tyler, the Creator and Bad Bunny are set to headline the event. Other artists set to perform include Lil Uzi Vert, Jazmine Sullivan, Burna Boy, Kodak Black, Pusha-T, and more.
More than 1,000 experimental performances take over neighborhoods throughout the city during this annual arts festival. Performances include theater, dance, comedy, visual arts, spoken word and more. Annually in September. Registration for the 2022 Fringe Festival is now open.
Over a week's worth of opera across Philadelphia from the world-renowned and cutting-edge Opera Philadelphia. Festival O22 will be held September 21 – October 2, 2022.
From the creators of the famed Terror Behind the Walls haunted attraction, the new Halloween Nights at Eastern State Penitentiary fills the cellblocks of America's most historic prison with 15 attractions, including two haunted houses, four immersive walk-through environments, two live performances, four themed bars and lounges, and a new Steve Buscemi-narrated audio tour recorded especially for Halloween Nights. Annually, on select evenings in late September through early November. This year, Halloween Nights at Eastern State Penitentiary will be held on select nights September 23 through November 12, 2022.
Greater Philadelphia has one of the largest Italian-American communities in the United States. This annual festival celebrates Italian cultural heritage and connects the city with contemporary Italy. Annually in autumn.
Get an insider's view of Philadelphia's thriving creative industry at work with exhibitions, design events, lectures and more during the Philadelphia Center for Architecture's annual festival. Annually in October. This year's festival will be held October 12-23, 2022.
Hundreds of paddlers gather to race down the scenic Schuylkill River in this 2,000-year-old tradition that involves beautiful boats, drumming and more. Annually in October.
Outfest celebrates "National Coming Out Day" with the largest event of its kind in Philadelphia's Gayborhood. Annually in October.
International teams compete in the Professional Squash Association's annual championship, hosted by Drexel University. Annually in October. This year's event will be held October 8-15, 2022.
The Philadelphia Film Festival is a world-renowned annual event hosted at various locations, premiering everything from Oscar contenders to breakthrough local films. The 31st Philadelphia Film Festival will be held October 20-30, 2022. Badges for the 31st edition of the festival are on sale now.
The 46th Annual Philadelphia Museum of Art Contemporary Craft Show will be held inside of the Pennsylvania Convention Center and will feature 195 talented artists. The 2022 Craft Show will be held November 11-13, 2022 – with a preview gala set for November 10, 2022.
The Philadelphia Marathon is one of the fastest courses in the country and a great way to see America's Historic Mile while making some history of your own. Annually in November. This year's Philadelphia Marathon Weekend will be held November 19-20, 2022.
Philadelphia Thanksgiving Day Parade
For more than 100 years, Philadelphia has kicked off the holiday season with this family-friendly parade along the Benjamin Franklin Parkway featuring giant floats, balloons and marching bands from across the country. Annually on Thanksgiving Day.
Army and Navy football teams square off in "America's Game" — the ultimate college rivalry — at Lincoln Financial Field. The Army-Navy Game returns to Philadelphia December 10, 2022.
Philadelphia continues the tradition of two sets of fireworks on New Year's Eve at 6 p.m. and midnight over the Delaware River. Launched from barges in the river, the fireworks are choreographed to unique soundtracks that can be heard from Penn's Landing. Annually on New Year's Eve.
Cover photo: Made in America 2018. Photo by B. Esakof / Halo Creative for Roc Nation.