Art in Philadelphia Hotels
Philadelphia is an arts and culture hub, from world-renowned fine art museums and the country's largest public art program to fabulous local art in the city's hotels. Check into one of these imaginative hotels for some art appreciation.
With more than 1,800 original works of art, THE LOGAN is like an art museum that lets you sleep over. The hotel's collection is so extensive, a free, self-guided tour is provided through a mobile app. As you learn about the different pieces, you'll notice the collection has a Philadelphia focus, from "Philadelphia Elite Silhouettes" — a large chandelier comprising more than 300 hanging portraits of famous Philadelphians — to "Join or Die," a bronze, bas-relief interpretation of Benjamin Franklin's famous sketch of the same name, to "Crew," a series of life size sculptures of rowers paying homage to Boathouse Row.
Situated atop the Comcast Technology Center, the tallest building in the city, and recipient of a AAA Five Diamond Hotel Designation, THE FOUR SEASONS HOTEL PHILADELPHIA invites guests to engage with high-end, one-of-a-kind experiences. It starts with the 60th floor lobby, which features a floral art installation by famed floral artist Jeff Leatham and visual art by Japanese art collective teamLab. The experience continues in the guest rooms, which host an audio-visual art installation by musical artist Brian Eno. If guests still want more, the hotel's Extraordinary Experience program offers the option of a private, docent-led tour of the Barnes Foundation, followed by dinner at the original Barnes mansion on the Main Line.
THE HOTEL PALOMAR is a work of art in itself. Located in the former Philadelphia headquarters of the American Institute of Architects, the hotel has preserved the building's original Art Deco details, including tile mosaics and artwork by Philadelphia artists. The property has also added new pieces from local artists and has sought to increase visitors' engagement with the pieces by hosting installations, providing postcards designed by local artists and allowing local photographers to take over its Instagram.
Local artists are on display at the SONESTA HOTEL PHILADELPHIA inside and out. On the property's facade is a 22-story-high mural—one of the largest in the city—that's part of the world-renowned Mural Arts Philadelphia program. Inside, a rotating gallery, in partnership with the Center for Emerging Visual Artists, presents paintings by area artists, all of which are available for purchase. And, if you want to end your day with a toast to the arts, try a nightcap at the hotel's Art Bar, where the visual arts inflect everything from the furniture to the cocktails.
THE STUDY AT UNIVERSITY CITY taps into the neighborhood's art community for their guests' viewing pleasure. The hotel's lobby hosts a rotating gallery of art from students and professors from the University of Pennsylvania and Drexel University, as well as from local artists. Also on display is artwork from the University City Arts League, a nonprofit organization dedicated to arts education, as part of their collection of original artwork that you can find throughout the hotel.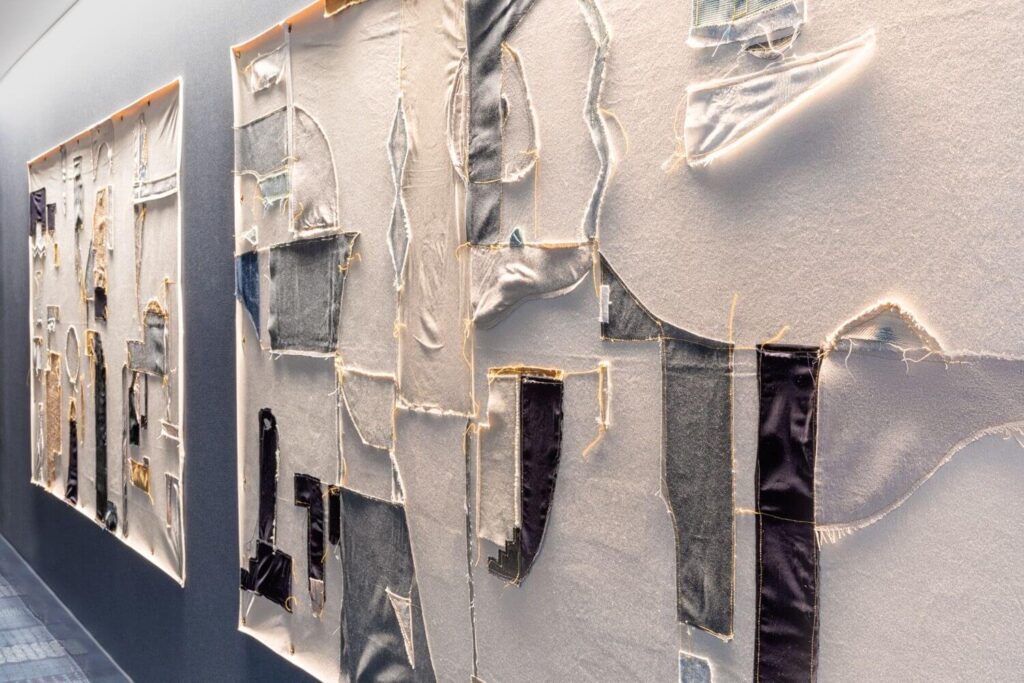 The HYATT CENTRIC CENTER CITY PHILADELPHIA was designed by Creme Architecture and Design with locally-inspired artwork that speaks to Philadephia's Quaker roots, diversity, longstanding textile industry ties, and patchwork style geographical composition. The hotel's restaurant, Patchwork, is inspired by a patchwork quilt signifying the diverse neighborhoods in Philadelphia and the city's Quaker roots. Each bathroom at the hotel contains an oar, an acknowledgment of Philadelphia's rowing history. The hotel also hosts a series of monthly art displays featuring local artists called "Makers Series."
Guests will experience home away from home at THE PHILADELPHIA HOTEL BELLA VISTA BOUTIQUE INN and will be immersed in the character and charm of picturesque and classic Philadelphia sights. Each of the private suites boasts its own unique art collections and timeless antique furnishings, specifically selected to theme and complement the natural architectural features of this stately Philadelphia row home built in the 1860s. Modern and antique charms abound at the Bella Vista, including original staircase and hardwood floors, Art Deco Era stained glass, and other enduring architectural details.
Many of the hotels listed here also serve as excellent venue options for meetings and events. For resources to help you find a hotel for your next gathering, click here.
Cover photo of artwork in Sonesta Hotel Philadelphia lobby by R. Bloom for PHLCVB.