Commemorate the anniversary of the ending of slavery in the United States with special events in neighborhoods and at historic sites around Philadelphia
Each year, Philadelphia commemorates the Juneteenth holiday with a series of festivals, parades, and community events.
One of Philadelphia's largest Juneteenth celebrations is the annual Philadelphia Juneteenth Parade & Festival. For 2021, the event will be without its typical parade elements, such as marching bands, elaborate mobile floats and performers, but will instead take the form of a Freedom Day March. The march will begin at 9 a.m. at 52nd Street and Haverford Avenue in West Philadelphia and will conclude at Malcolm X Park — home to Philadelphia's first Juneteenth Freedom Day Exhibit. For 2021's event, residents and business owners along the route are encouraged to decorate their homes and storefronts, transforming them into stationary Juneteenth "parade floats" featuring the signature red, black and green colors of the Pan-African flag while representing other themes such as civil rights, support for Black-owned businesses, education, and more. The event also typically hosts a vendor marketplace spotlighting Black-owned businesses throughout the city. For 2021, event organizers will be encouraging attendees to visit storefronts or websites directly via a virtual marketplace.
Philadelphia's Germantown neighborhood is also home to a large Juneteenth celebration, held annually outside of the Johnson House Historic Site. The house, once home to the Johnson family of Quaker abolitionists, is one of only a few intact and accessible Philadelphia historic sites that served as stations along the Underground Railroad. 2021 marks the 15th anniversary of the festival, which will feature historic re-enactments, a panel discussion, food trucks, kids' activities, and more from 1-5 p.m. on June 19. The 6300 block of Germantown Avenue will also feature historical and cultural marketplace, exhibitions, and live performances. Tours of the National Historic Landmark will also be offered throughout the day.
In 2021, Philadelphia's annual Wawa Welcome America festival will begin on June 19 and will feature several events commemorating the Juneteenth holiday. At the African American Museum in Philadelphia, enjoy family-friendly activities and events outside of the museum, including a local vendor marketplace, arts and crafts, food trucks and more. From 12-2 p.m., PECO Go 4th & Learn will explore the history of the Juneteenth holiday with live performances and re-enactments. The museum will also offer free admission on June 19 and 20. At Wawa Welcome America's Broad + Market experience on City Hall's northern apron and at LOVE Park, enjoy a series of live performances throughout the day on June 19, including dancers, African drummers, live music and more.
The National Constitution Center along Independence Mall will commemorate the holiday by offering free admission on Saturday, June 19, 2021. The museum will also be offering special tours of their Civil War and Reconstruction: The Battle for Freedom and Equality exhibit with other programs highlighting figures from the Reconstruction era such as Frederick Douglass and Harriet Tubman. Nearby, the Museum of the American Revolution will celebrate Juneteenth from June 17-21 with a series of events and activities hosted online and in-person. These events include a virtual walking tour of the historic Mother Bethel AME Church on June 19, as well as a contactless discovery cart exploring the life of Harry Washington — a former slave of George Washington — at the museum on June 19 and 20.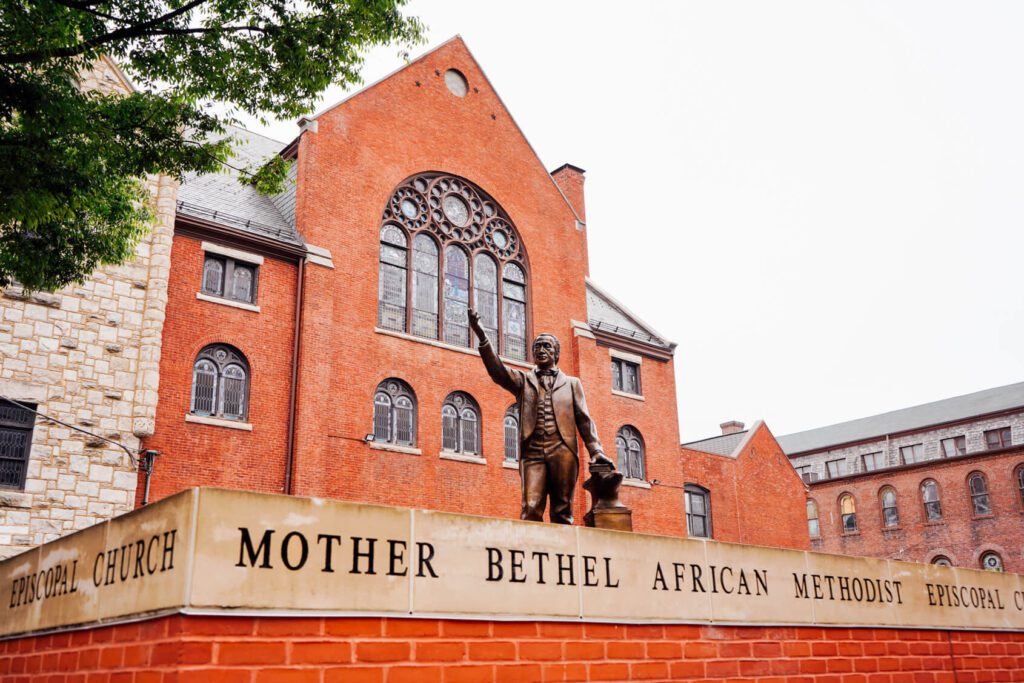 Other 2021 Juneteenth events include:
For more ways to learn about and honor Black history and culture in and around Philadelphia, click here.
Cover photo: A Juneteenth flag flies outside of the Johnson House Historic Site along Germantown Avenue. Photo by K. Huff for PHLCVB.