Commemorate the anniversary of the ending of slavery in the United States with special events in neighborhoods and at historic sites around Philadelphia
Each year, Philadelphia commemorates the Juneteenth holiday with a series of festivals, parades, and community events.
One of the largest Juneteenth celebrations in the nation is the annual Philadelphia Juneteenth Parade & Festival, started by the Pennsylvania Juneteenth Initiative. For 2022, the parade will kick off on Sunday, June 19 at 52nd Street and Parkside Avenue featuring elaborate floats, marching bands, dance groups, and other performers, along with appearances by politicians and other public figures. The parade will make its way through West Philadelphia, ending at Malcolm X Park, where the festival will feature activities, local merchants, food vendors, and art exhibits, as well as health initiatives offering COVID-19 testing and vaccinations for those who are interested. Just across the street from Malcolm X Park, attendees will find a carnival, games, face painting, photo booths, and more family-friendly activities in the parking lot of Global Leadership Academy Southwest, a charter elementary school.
Philadelphia's Germantown neighborhood is also home to a large Juneteenth celebration, held annually outside of the Johnson House Historic Site. The house, once home to the Johnson family of Quaker abolitionists, is one of only a few intact and accessible Philadelphia historic sites that served as stations along the Underground Railroad. 2022 marks the 16th anniversary of the Johnson House's annual Juneteenth festival, which will feature historic re-enactments, a panel discussion, food trucks, kids' activities, and more from 12-6 p.m. on June 18, 2022. The 6300 block of Germantown Avenue will also feature a historical and cultural marketplace, exhibitions, and live performances. Tours of the National Historic Landmark will also be offered throughout the day.
In 2022, Philadelphia's annual Wawa Welcome America festival will begin on June 19 and run through July 4 and will feature several events commemorating the Juneteenth holiday. At the African American Museum in Philadelphia, enjoy a Juneteenth Block Party from 11 a.m. – 3 p.m. on June 19, 2022 featuring family-friendly activities and events outside of the museum, including a local vendor marketplace, arts and crafts, food trucks and more. Rapper Talib Kweli is also set to perform at the event. The museum will also offer free admission on June 19, 2022. The Barnes Foundation is partnering with Mural Arts Philadelphia to host its annual Barnes on the Block presented by PNC Arts Alive from 4-9 p.m. on June 19, 2022. The event will include a free-to-attend block party featuring food trucks, live music, a beer garden, live artist demos, live poetry, and other all-ages experiences throughout the museum's grounds.
The National Constitution Center along Independence Mall will commemorate the holiday by offering free admission on Sunday, June 19, 2022. The museum will also be offering special tours of their Civil War and Reconstruction: The Battle for Freedom and Equality exhibit with other programs highlighting figures from the Reconstruction era such as Frederick Douglass and Harriet Tubman. Nearby, the Museum of the American Revolution will celebrate Juneteenth from June 18-20, 2022 with a series of events and activities hosted online and in-person. New for 2022, the museum is offering a sneak preview of its James Forten's Philadelphia Walking Tour. The tour was created for the upcoming special exhibition, Black Founders: The Forten Family of Philadelphia set to open February 11, 2023.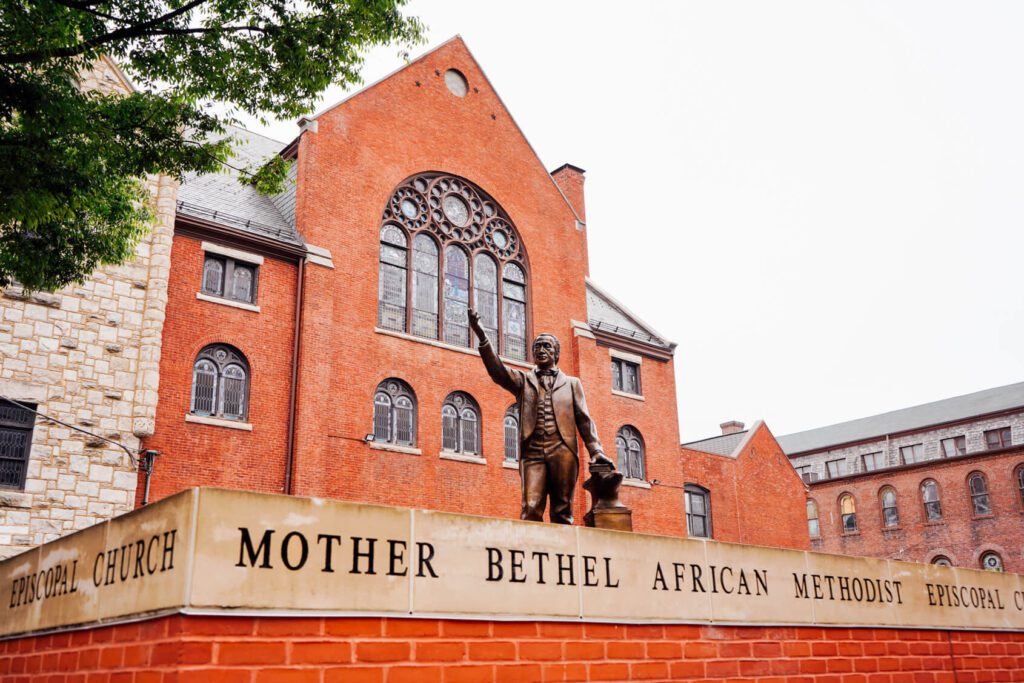 Another historic site worth visiting to commemorate Juneteenth is Mother Bethel AME Church. Founded in 1792 by Richard Allen, the church is one of the oldest of its kind in the country and one of the oldest pieces of property continuously owned by African Americans.
Other 2022 Juneteenth events include:
For more ways to learn about and honor Black history and culture in and around Philadelphia, click here.
Cover photo: Wawa Welcome America celebrates Juneteenth at the African American Museum in Philadelphia, Saturday June 19, 2021. Photo courtesy of Wawa Welcome America. Photo by J. Kaczmarek.