For a true "local" taste of Philadelphia, be sure to visit one of the city's many farmers markets. At each, you will find meat and produce sourced from farms and orchards in Philadelphia's surrounding counties in addition to crafts, art, and other delicacies made within the city.
Consistently regarded as one of the best farmers markets in the nation, the 128-year-old Reading Terminal Market in Center City boasts over 80 merchants selling fresh produce, breads, meat and fish along with a wide variety of gourmet prepared foods that are perfect for a quick lunch on the go. You can also find a number of Amish specialties as well as locally made crafts and jewelry, all just steps from the Pennsylvania Convention Center.
Found at the intersection of S. 2nd and Lombard streets is the nation's oldest surviving Colonial-era marketplace, the Shambles. Here, 18th-century Philadelphia residents would shop for fresh produce and other goods, something still practiced to this day with the weekly Headhouse Farmers Market. Visit on Sundays throughout the year to find farmers and local businesses selling fresh produce and other goods. Popular Kennett Square restaurant Talula's Table regularly has a spot here and food trucks often line the cobblestone streets surrounding the market.
Open on Tuesdays and Saturdays year-round, the Rittenhouse Farmers Market lines the sidewalks around the picturesque square with a large selection of meat, cheeses, and vegetables from regional farmers, as well as local honey and beer. You will also regularly spot Amish vendors selling Pennsylvania Dutch baked goods, flowers, and other items. For a full overview of the vendors you can expect to find at the Rittenhouse Farmers Market, click here.
Not far from Rittenhouse, Fitler Square hosts a small sidewalk market each weekend. The star of this Saturday market is Brogue Hydroponics, a farm that uses cutting-edge technology to grow fresh and wholesome produce pesticide-free. Be sure to pick up some grass-fed beef and lamb, fair trade coffee and some fresh-from-the-oven pies and tarts.
Head to South Philadelphia to find the Italian Market – America's largest and oldest continuously operating open-air marketplace – along S. 9th Street, from Wharton to Fitzwater streets. Here, you'll find cheese shops (including the quintessential DiBruno Bros.), fish and meat merchants, and dozens of outdoor stalls bursting with colorful, fresh produce. Today, you will also find vendors selling Asian and Latin American specialties alongside the market's original Italian occupants.
Found adjacent to the historic Eastern State Penitentiary, The Food Trust's Fairmount Farmers Market fills the neighborhood's namesake avenue each Thursday with locally roasted coffee, fruits from nearby orchards, Jewish baked goods, kombucha, and more.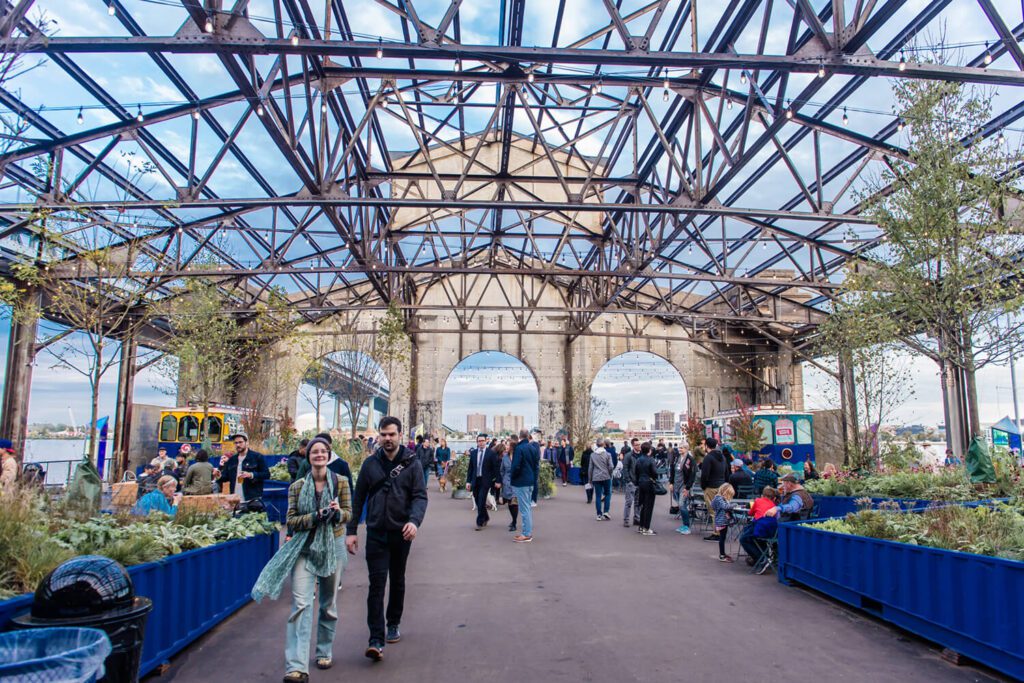 One of Philadelphia's newest market experiences is found along the Delaware River. Once a municipal pier, Cherry Street Pier now serves as a mixed-use space, housing artist studios, art exhibitions, and pop-up markets and events. In addition to occasional farmers markets, the pier also regularly hosts a series of artisan pop-ups featuring jewelry, clothing, gifts and more from local makers. Food trucks are also never far away and are often parked within the pier itself. Be sure to check Cherry Street Pier's website prior to visiting for an up-to-date schedule of events.