Philadelphia's celebrated food scene is flourishing with new dining options.
From beloved chefs and restaurants reinventing themselves, to cutting-edge dining experiences, there's a lot to get excited about eating in Philadelphia today. Check out these new additions to the city's award-winning restaurant scene.
Head to Old City for a creative American Southern menu from Felicia Wilson and Chef Darryl Harmon, formerly of Water Works Restaurant and The Lure Group in New York City. Think fried catfish hush puppies and cheesesteak beignets. 104 Chestnut Street, Old City.
The first independent venture from Chef Dionicio Jimenez gives him the chance to showcase the Mexican cuisine he perfected at restaurants like El Rey and Xochitl. It's the culmination of a decades-long journey Jimenez began as a restaurant dishwasher in his native Mexico as a teen. 2800 D Street, Kensington.
From dinner to late-night bites, this nightlife newcomer features global fare in a loungey atmosphere. Chef Brianna Wellmon, a native Philadelphian, also offers a fun "way back menu" with reimagined childhood favorites. 222 Market Street, Old City.
Chef Marcie Turney and Valerie Safran's newest addition to 13th Street specializes in thick-crust pies with high hydration and a long fermentation process. It's already gotten a special shoutout for its excellent gluten-free dough, developed by chef George Sabatino. 105 South 13th Street, Center City.
Stephen Starr's University City standby gets a "kinda Korean" makeover from his longtime collaborator chef Peter Serpico. New additions include a raw bar replacing the sushi conveyor belt, a new design, and lots of Korean staples like Bibimbap. 3636 Sansom Street, University City.
French-inspired Southern comfort food is on the menu at this Washington Square West BYOB from chef Ayad Sinawi. Named for a village on Cape Breton Island in Nova Scotia, it offers dinner and weekend brunch. 1120 Pine Street, Center City.
Food writer Alex Tewfik took over the former Noord space to open this Mediterranean restaurant with 32 seats and a bar. Chef Kyle McCormick's menu features dishes like fried Armenian string cheese, and pomegranate-lacquered grilled chicken. 1046 Tasker Street, South Philadelphia.
When you're craving Caribbean standards like jerk chicken or oxtail stew, head to this lively new South Philly spot. Vegetarians have options too — like vegetarian fritters and Jamaican tofu curry. 1710 East Passyunk Avenue, South Philadelphia.
This menu at this seafood-focused Mediterranean in Old City features several pastas, plus large plates like braised rabbit and branzino. It's conveniently located in the former Chloe space across from the Betsy Ross House. 232 Arch Street, Old City.
Wood-fired pizza and pasta in an upscale setting is the latest from restaurateur Michael Schulson. The pizzeria features a marble bar and crisp American-style pies. 112 South 13th Street, Center City.
Traditional Lowcountry Southeast Atlantic cuisine is now being served inside the historic Royal Theater along South Street, once a central component of Black culture in Philadelphia in the early 20th century. Signature dishes include shrimp and grits, chicken and dumplings, and barbequed beef and beans, alongside an expansive raw bar and favorites from the menu of the original REX 1516 concept. The rejuvenated interior features an expansive dining room, a large turquoise bar, and upper mezzanine, as well as a café, bottle shop and a raised stage that will host live music acts — a nod to the building's rich history. 1524 South Street, Graduate Hospital.
A popular food truck has a new permanent home in Washington Square West. Aminah McDaniel and Angel King turn out soul food favorites like mac and cheese, greens, and wings. 1112 Locust Street, Center City.
A swanky, spacious new steakhouse has arrived on Broad Street, across from the Kimmel Center. Expect a dress code and $100 per person minimum at the Philadelphia location of this national chain. 260 South Broad Street, Center City.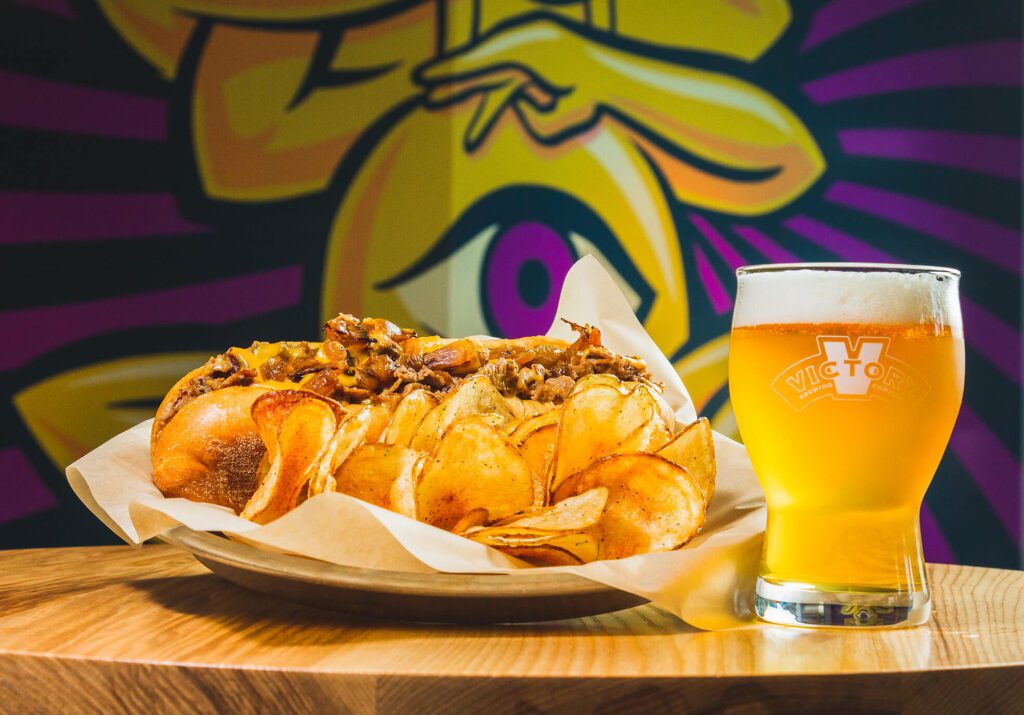 Downingtown-based Victory Brewing Company's new, 14,000-square-foot taproom along the Benjamin Franklin Parkway features two indoor bars, an outdoor bar, street level outdoor seating and a rooftop patio that presents gorgeous views of the Museum Mile. The Philadelphia taproom also features a full scratch kitchen serving beer-inspired takes on classic pub fare and Philadelphia favorites, as well as an on-site brewing system that will produce limited edition, site-specific brews. 1776 Benjamin Franklin Parkway, Parkway Museums District.
This ambitious new three-level spot from chef-restaurateur Brett Naylor and his wife Nicole Barrick has two bars, an open pizza kitchen, crudo and raw bar, and private dining room. Posh design accents in the former ballroom include chandeliers and leopard-print bar stools. 2009 Sansom Street, Rittenhouse.
Chefs Jonathan Raffa and Mike Gingras met while working at the former Will BYOB a few years back. Now they're turning out comfort food with a side of hospitality from the same South Philly kitchen. 1911 East Passyunk Avenue, South Philadelphia.
Cover photo: KPOD. Photo courtesy of Cohere.