Philadelphia's celebrated food scene is flourishing with new dining options.
From beloved chefs and restaurants reinventing themselves, to cutting-edge dining experiences, there's a lot to get excited about eating in Philadelphia today. Check out these new additions to the city's award-winning restaurant scene.
Café Click
Café Click: The Comcast Center plaza is home to this new outdoor, seasonal spot from Stephen Starr. Look for French-inspired fare and a raw bar. Open for lunch and dinner on weekdays only, through September.
Address: 1701 John F. Kennedy Boulevard, Center City.
Fitz on 4th
Fitz on 4th: Head to Fabric Row in Queen Village for your choice of 100% vegan tapas, like jackfruit sliders with "cheezy" sauce. This family-owned spot also offers a full bar menu of plant-based cocktails, mocktails, beer and wine.
Address: 743 South 4th Street, Queen Village.
Grandma's Philly
Grandma's Philly: Shared and small plates make it easy to sample a variety of Thai tapas made "Grandma's way" at this new Midtown Village restaurant. Think curry puffs, meatballs with a sweet-savory Thai sauce, chicken satay skewers, and crabmeat fried rice.
Address: 1304 Walnut Street, Center City.
La Chingonita
La Chingonita: Fans of this popular Mexican food truck are flocking to its permanent home on Girard Avenue in Fishtown. There chefs Rebecca Baez and Omar Martinez serve an evolving menu of carnitas and birria tacos, tortas, flautas, and more.
Address: 413 East Girard Avenue, Fishtown.
Liberty Point
Liberty Point: Take in the panoramic waterfront views with your lunch, dinner, or late-night bites from this seafood-focused destination on the Delaware. The three-level hot spot is Philly's largest restaurant, and features live entertainment and frequent special events like "Canines and Cocktails."
Address: 211 South Columbus Boulevard, Delaware River Waterfront.
Nonna & Pop's
Nonna & Pop's: From the Terminis, one of Philly's most iconic food families, comes this cozy dessert shop and café, across the street from Termini Brothers Bakery. In addition to the famous cannoli filled to order, the shop offers a full selection of Italian pastries, La Colombe coffee, and creative ice cream collaborations with Bassetts.
Address: 1514 South 8th Street, South Philadelphia.
Omakase by Yanaga
Omakase by Yanaga: Chef Kevin Yanaga has expanded the offerings at his Fishtown sushi restaurant to include a 25-course omakase experience in an intimate private dining area at Izakaya by Yanaga. The seatings run Thursday through Sunday, with a $195 tasting menu and $85 wine and sake pairing.
Address: 1832 Frankford Avenue, Fishtown.
Paulie Gee's Soul City Slice Shop
Paulie Gee's Soul City Slice Shop In the former Amis space in Washington Square West, this Brooklyn import is a retro pizza parlor with classic and vegan pies, whole and by the slice. It features a full bar and retro video games and offers both delivery and takeout.
Address: 412 South 13th Street, Center City.
Restaurant Aleksandar
Restaurant Aleksandar: The son of Serbian-born restaurateurs, Aleksandar Stojnic grew up in Germany and came to Philadelphia as an exchange student during high school. His namesake restaurant off Rittenhouse Square serves an American menu with Eastern European influences.
Address: 126 South 19th Street, Rittenhouse.
The Cauldron
The Cauldron: Don your wizard robe and channel Harry Potter as you create your own magical potions (i.e., cocktails and mocktails) in the Gayborhood. Then refuel with selections from the fantasy-themed British pub-style menu. Note that tickets for this immersive experience must be booked ahead of time.
Address: 1305 Locust Street, Center City.
The Dutchess
The Dutchess: Chefs Lee Styer and Jessie Parawlucki-Styer of The Dutch (and the former Fond) have debuted a new concept in Pennsport. The menu at this fast-casual sandwich shop includes burgers, salads, fries, and housemade ice cream.
Address: 1527 South 4th Street, South Philadelphia.
Cantina La Martina
Cantina La Martina: The first independent venture from Chef Dionicio Jimenez gives him the chance to showcase the Mexican cuisine he perfected at restaurants like El Rey and Xochitl. It's the culmination of a decades-long journey Jimenez began as a restaurant dishwasher in his native Mexico as a teen.
Address: 2800 D Street, Kensington.
Good Luck Pizza Co.
Good Luck Pizza Co.: Chef Marcie Turney and Valerie Safran's newest addition to 13th Street specializes in thick-crust pies with high hydration and a long fermentation process. It's already gotten a special shoutout for its excellent gluten-free dough, developed by chef George Sabatino.
Address: 105 South 13th Street, Center City.
KPOD
KPOD: Stephen Starr's University City standby gets a "kinda Korean" makeover from his longtime collaborator chef Peter Serpico. New additions include a raw bar replacing the sushi conveyor belt, a new design, and lots of Korean staples like Bibimbap.
Address: 3636 Sansom Street, University City.
Mabu Kitchen>
Mabu Kitchen: French-inspired Southern comfort food is on the menu at this Washington Square West BYOB from chef Ayad Sinawi. Named for a village on Cape Breton Island in Nova Scotia, it offers dinner and weekend brunch.
Address: 1120 Pine Street, Center City.
Mish Mish
Mish Mish: Food writer Alex Tewfik took over the former Noord space to open this Mediterranean restaurant with 32 seats and a bar. Chef Kyle McCormick's menu features dishes like fried Armenian string cheese, and pomegranate-lacquered grilled chicken.
Address: 1046 Tasker Street, South Philadelphia.
Ocho Rios Parrilla
Ocho Rios Parrilla: When you're craving Caribbean standards like jerk chicken or oxtail stew, head to this lively new South Philly spot. Vegetarians have options too — like vegetarian fritters and Jamaican tofu curry.
Address: 1710 East Passyunk Avenue, South Philadelphia.
Olea
Olea: This menu at this seafood-focused Mediterranean in Old City features several pastas, plus large plates like braised rabbit and branzino. It's conveniently located in the former Chloe space across from the Betsy Ross House.
Address: 232 Arch Street, Old City.
Prunella
Prunella: Wood-fired pizza and pasta in an upscale setting is the latest from restaurateur Michael Schulson. The pizzeria features a marble bar and crisp American-style pies.
Address: 112 South 13th Street, Center City.
REX at the Royal
REX at the Royal: Traditional Lowcountry Southeast Atlantic cuisine is now being served inside the historic Royal Theater along South Street, once a central component of Black culture in Philadelphia in the early 20th century. Signature dishes include shrimp and grits, chicken and dumplings, and barbequed beef and beans, alongside an expansive raw bar and favorites from the menu of the original REX 1516 concept. The rejuvenated interior features an expansive dining room, a large turquoise bar, and upper mezzanine, as well as a café, bottle shop and a raised stage that will host live music acts — a nod to the building's rich history.
Address: 1524 South Street, Graduate Hospital.
Sooo Delicious Soul Food Café
Sooo Delicious Soul Food Café: A popular food truck has a new permanent home in Washington Square West. Aminah McDaniel and Angel King turn out soul food favorites like mac and cheese, greens, and wings.
Address: 1112 Locust Street, Center City.
Steak 48
Steak 48: A swanky, spacious new steakhouse has arrived on Broad Street, across from the Kimmel Center. Expect a dress code and $100 per person minimum at the Philadelphia location of this national chain.
Address: 260 South Broad Street, Center City.
Victory Taproom Philadelphia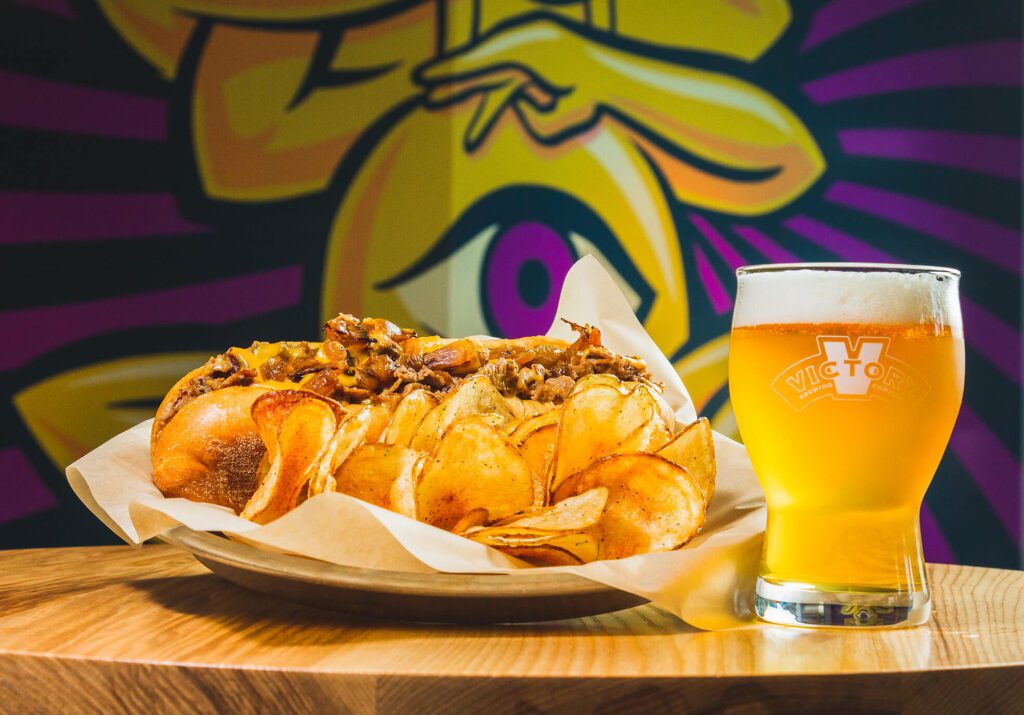 Victory Taproom Philadelphia: Downingtown-based Victory Brewing Company's new, 14,000-square-foot taproom along the Benjamin Franklin Parkway features two indoor bars, an outdoor bar, street level outdoor seating and a rooftop patio that presents gorgeous views of the Museum Mile. The Philadelphia taproom also features a full scratch kitchen serving beer-inspired takes on classic pub fare and Philadelphia favorites, as well as an on-site brewing system that will produce limited edition, site-specific brews.
Address: 1776 Benjamin Franklin Parkway, Parkway Museums District.
Wilder
Wilder: This ambitious new three-level spot from chef-restaurateur Brett Naylor and his wife Nicole Barrick has two bars, an open pizza kitchen, crudo and raw bar, and private dining room. Posh design accents in the former ballroom include chandeliers and leopard-print bar stools. Wilder was selected as Readers' Choice Best Steak in Philadelphia Style Magazine's Best of Style 2022 awards.
Address: 2009 Sansom Street, Rittenhouse.
Carbon Copy
Carbon Copy: Owners Brendon Boudwin and Kyle Wolak are striving to create a true "neighborhood bar" feel for local residents by offering "an unpretentious, accessible and unique dining experience" with Philadelphia-made beer, wine, and snacks. Carbon Copy is Philadelphia's first combined brewery and winery.
Address: 701 S 50th Street, West Philadelphia.
Cover photo: Omakase by Yanaga is a private, intimate dining experience for eight people at a time. Photo by J. Ryan for PHLCVB.