No matter what sport you're watching, you can bet Philadelphia has fans of the game and a bar full of people watching it. Immerse yourself in Philadelphia's famed sports culture by cheering for your favorite team alongside passionate locals at one of these top sports bars in neighborhoods throughout the city.
Xfinity Live!
Can't get a ticket to the game? Be right near the action at Xfinity Live!, the ultimate entertainment center located in the heart of the Philadelphia Sports Complex. Gather with true fans around the huge 24-foot-wide TV screen in the outdoor area or get right in the action watching the 32-foot HD TV inside NBC Sports Arena. You can also opt to dine at one of the many restaurants on site including 1100 Social, PBR Philly, Victory Beer Hall, or the Broad Street Bullies Pub.
Neighborhood: South Philadelphia (Stadium District)
Address: 1100 Pattison Ave.
Live! Casino & Hotel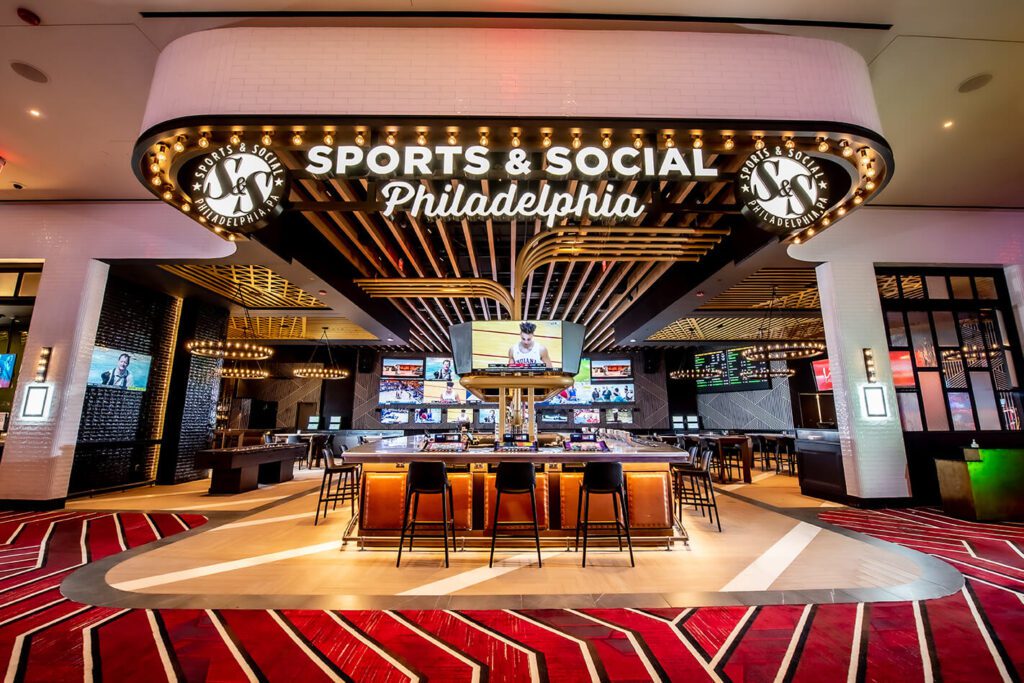 Within walking distance of Xfinity Live!, Citizens Bank Park, the Wells Fargo Center and Lincoln Financial Field is the new Live! Casino & Hotel. This betting house features Sports & Social Philly, a one-of-a-kind sports restaurant, gaming venue and social lounge, with a giant 52-foot LED screen, so you'll never miss a minute of action. Sports & Social Philly is also home to the FanDuel Sportsbook and Lounge, allowing fans to bet on the action as they watch it live on one of the screens nearby.
Neighborhood: South Philadelphia (Stadium District)
Address: 900 Packer Ave.
Chickie's & Pete's
Also near the stadiums is Chickie's & Pete's Crab House and Sports Bar. This favorite has been voted Best Sports Bar in North America by ESPN and it's easy to see why. They've been in business for decades and pleases their sports fans not only with their game day bar service, but their irresistible signature Crabfries®, crinkle cut fries tossed with a special seasoning and served with a creamy sauce.
Neighborhood: South Philadelphia
Address: 1526 Packer Ave.
Garage: Passyunk and Fishtown
The pair of Garage bars are iconic spots for watching a game or playing one of your own. Garage Passyunk in South Philadelphia boasts large flat screen TVs, drink specials, and a local who will tell you why the '93 Phillies should have won it all. At Garage Fishtown you can choose from over 400 beers or when the game really gets going, whiskey and pickle back shots. Discouraged by the outcome of the game? Distract yourself with skeeball, pinball machines, and pool tables, available at both locations.
Neighborhood:
South Philadelphia
Fishtown
Address:
1231 Passyunk Ave.
100 E. Girard. Ave.
Cavanaugh's Rittenhouse
Cavanaugh's Rittenhouse is just steps from Rittenhouse Square and is hopping no matter what game is on their over 20 HD TVs. Invite your friends, family, and even your neighbors as guests can watch games from two levels offering seating for around 190 people. Head a little south to Cavanaugh's Headhouse pub bar and grill, housing seven different rooms for sports, socializing or private parties, located just a few blocks off of South Street on the historic Headhouse Square.
Neighborhood: Rittenhouse Square
Address: 1921 Sansom St.
Brauhaus Schmitz
Looking for a spot with more of a European vibe for Union games? Brauhaus Schmitz has a German pub feel and it really comes alive when a game is on. The menu boasts authentic German fare including potato pancakes, cheese and cured meats sharing plates and schnitzel sandwiches. The beer list offers over 25 drafts on tap and 90 in bottles including some traditional German sips not found anywhere else in the city.
Neighborhood: South Philadelphia
Address: 718 South St.
Iron Hill Brewery & Restaurant
The most awarded brewery east of the Mississippi, Iron Hill Brewery is a Pennsylvania staple. Their Philadelphia location is steps away from the Pennsylvania Convention Center and features their own scratch kitchen and craft brewery. Try their Philly Phavorite IPA to fit in like a local. To really fit in, get choked up talking about Brandon Graham's strip sack in the Super Bowl.
Neighborhood: Center City
Address: 1150 Market St.
Tradesman's
There's nothing better than watching a game with a BBQ and beer pairing. But it's no secret great BBQ can be hard to find in the northeast. Tradesman's serves some of the juiciest brisket, ribs, and pulled pork in Philadelphia. And with ample seating on two levels, you'll have plenty of space to lay out and watch a game after a full meal.
Neighborhood: Center City
Address: 1322 Chestnut St.
BRU Craft & Wurst
Next to Tradesman's is BRÜ Craft & Wurst, which features an enormous selection of over 30 draft beers with a focus on rare German to rotating craft with over 130 bottles. Their food menu includes house-made sausage, Bavarian pretzels, house-smoked trout, pork belly with braised beans and specials for NFL games with sound on the 105 foot projection wall plus eight HD flat-screen TVs above the bar. Don't miss a minute waiting for a bartender — you can purchase a "Haus key" and self-serve yourself from their bier wall.
Neighborhood: Center City
Address: 1318 Chestnut St.
McGillin's Olde Ale House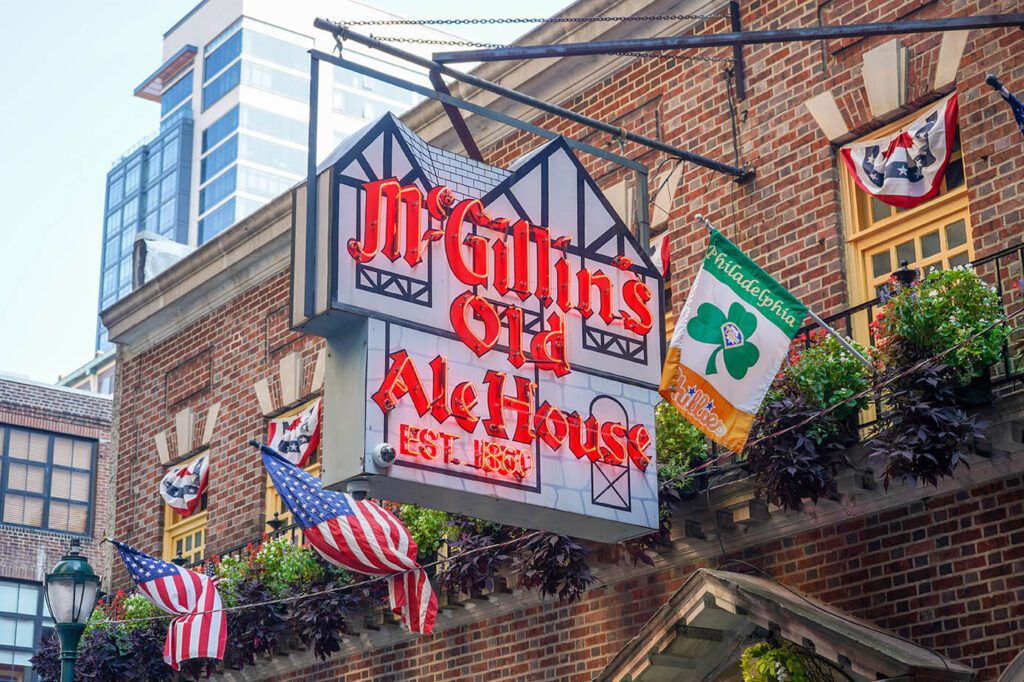 Philadelphia's oldest continuously operating tavern, McGillin's Olde Ale House in Center City, features a roaring fireplace, high beamed ceilings, and a unique collection of innkeepers' licenses from 1860, all displayed above an antique mahogany bar. Visit on gamedays to enjoy food and drink specials as you watch the action on TVs and high-definition projector screens.
Neighborhood: Center City
Address: 1310 Drury St.
Tabu Philadelphia
Tabu Lounge & Sports Bar is the only place in the city where you can pregame an Eagles game with a drag show. A one stop nightlife spot, Tabu highlights fun draft beers and cocktail menu, the infamous tater tot menu, weekly Quizzos and Bingo, and DJ dance parties — all in the heart of Philadelphia's Gayborhood. And if the Phillies make an error or the Sixers blow a lead, dance it off after.
Neighborhood: Gayborhood
Address: 254 S. 12th St.
City Tap House
Enjoy craft brews from Philadelphia breweries and favorites from around the world as well as authentic, brick oven pizza and elevated, American pub fare at City Tap House. The rustic yet comfortable bar's dining atmosphere features reclaimed barn wood and repurposed steel, a 15-foot multi-screen and an open view of the kitchen — to keep you a hungry dog during the game.
Neighborhood: Logan Square
Address: 100 N. 18th St.
P.J. Clarke's
Across from Independence Hall, P.J. Clarke's is a go-to for its large raw bar, happy hour specials, and famous burgers. Their happy hour includes $7 cocktails including an old fashion, white chocolate martini, and rum tum tum, the perfect compliment to watching a Flyers home game.
Neighborhood: Center City
Address: 601 Walnut St.
Bar-Ly Chinatown
Bar-Ly Chinatown Philly is located steps away from the Philadelphia Convention Center and is the only sports bar in Chinatown. With over 60 beers on draft, Bar-Ly is a great location to watch your favorite sports game while enjoying tasty cocktails, juicy burgers, a variety of wings, delicious pizzas, sizzling fajitas, savory steaks, and an underrated sports bar food: pan fried dumplings.
Neighborhood: Chinatown
Address: 101 N. 11th St.
SPiN Philadelphia
Sometimes it's hard to sit still during a close game. Other times, you want to get in on the competitive action. The city's only table tennis-focused bar, SPiN Philadelphia, A Ping Pong Social Club, offers professional Olympic ping pong tables, VIP private ping pong lounge space. Catch a game there, then feel like Bryce Harper slamming the winning serve on your friends.
Neighborhood: Rittenhouse Square
Address: 211 S. 15th St.
Ladder 15
The building that once housed Engine 4 of the Philadelphia Co., now is an upscale bar with premium drink selections and sleek industrial décor. Ladder 15 offers weekday happy hour specials and is open for lunch and dinner daily. On game days, share coconut shrimp, crab quesadillas, or house made guacamole as you cheer on the birds.
Neighborhood: Rittenhouse Square
Address: 1528 Sansom St.
Tír na nÓg
Tír na nÓg Irish Bar & Grill provides a unique Irish experience of a pub with New American cuisine and live sports. On Saturdays and Sundays, enjoy brunch specials as you watch early morning English Premier League action on one of several TVs or a large projection screen.
Neighborhood: Center City
Address: 1600 Arch St.
Craft Hall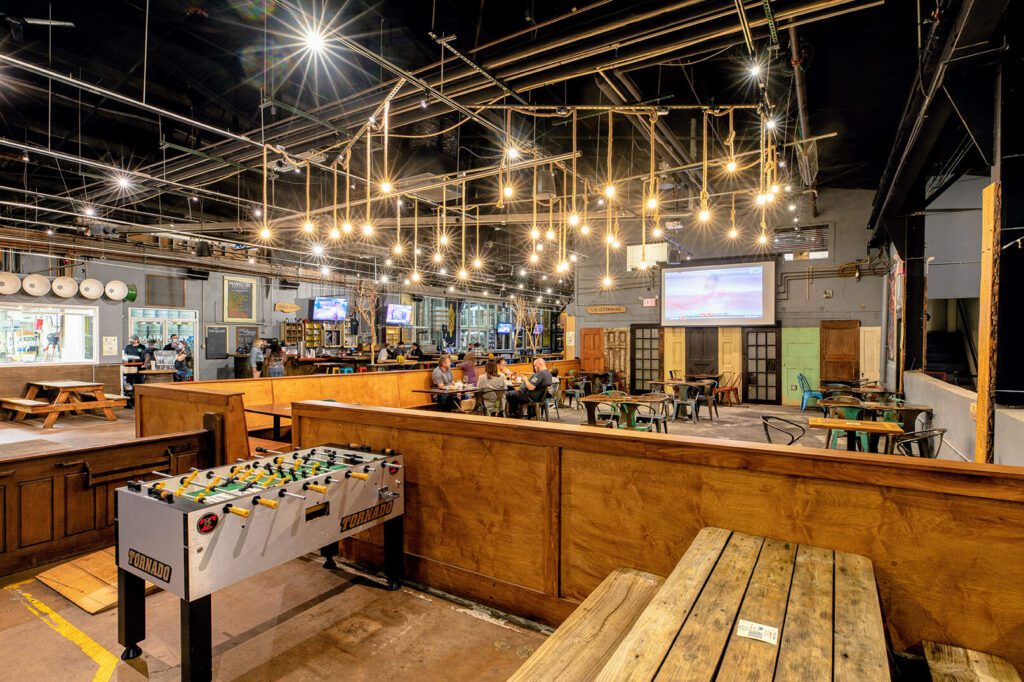 Philadelphia's largest indoor restaurant, and one of the city's most family-friendly dining options, Craft Hall is also a top destination on game days. Adults can enjoy special menu items and beer specials as they watch the action on either a projection screen or TV. Have kids that aren't sports fans? They can play on the pirate ship playground inside.
Neighborhood: Northern Liberties
Address: 901 N Delaware Ave.
Glory Beer Bar & Kitchen
For a smaller, more intimate setting to watch the game, head over to Glory Beer Bar & Kitchen in Old City. Open seven days a week with an extensive list of beer and wine offerings for guests to pick from, this bar is also a great spot to host a large party or event.
Neighborhood: Old City
Address: 126 Chestnut St.
Buffalo Billiards
Buffalo Billiards is the spot where locals come to shoot pool. They have eight pool tables, darts, shuffleboard, and two full bars with craft beers highlighted on draft to enjoy while watching the game. Be confident in your game if you're challenging one of the locals. They don't mess with amateurs.
Neighborhood: Old City
Address: 118 Chestnut St.
CO-OP Restaurant & Bar
West Philadelphia may be home to our academics, but they're just as much fanatics as the next fan. In between University of Pennsylvania and Drexel University, CO-OP offers unbeatable deals whenever any Philly sports team is playing, home and away, which is frequently. Enjoy a line-up of delicious small plates like their one of kind Green Garlic Hushpuppies, served with Tarragon Mayo, then wash it down with a $6 Citywide special.
Neighborhood: West Philadelphia
Address: 20 S. 33rd St.
Mac's Tavern
Housed in a building from 1693, this Old City bar is owned by Rob and Kaitlin McElhenney of It's Always Sunny in Philadelphia fame. But you won't find the same shenanigans here. Instead of rum ham they serve some of the best chicken fingers in the city with house made honey mustard sauce. Catch a birds game every Sunday — just don't end up like the gang after the Super Bowl.
Neighborhood: Old City
Address: 226 Market St.