Pop-up parks, beer gardens, festivals, and concerts all help make Philadelphia a must-visit summer destination in 2021. See below for 20+ activities to seek out this summer in Philadelphia.
Outdoor Activities
Cool off along the Delaware River waterfront
The Delaware River waterfront is one of Philadelphia's top summer destinations thanks to an abundance of seasonal activities, dining experiences and other attractions. Skate riverside in a massive, 12,000-square-foot roller rink, putt your way through a miniature golf course, play arcade games and more at the BlueCross River Rink Summerfest. Lounge in a hammock at the nearby Spruce Street Harbor Park, or head to the park's barges to enjoy local food and beverage options while floating on the river. Check out pop-up events and art installations inside Cherry Street Pier, make a reservation to dine riverside at the pier's Garden pop-up dining space, or just relax on the lawn at the neighboring Race Street Pier — one of Philadelphia's top spots for photos.
Seek out seasonal food, drinks and fun at pop-up parks and beer gardens
A variety of pop-up parks and beer gardens bring green spaces, lots, and streets in Philadelphia to life in the spring, summer and fall seasons. Pennsylvania Horticultural Society's two Pop-Up Gardens — one along South Street and another in Manayunk — transform previously vacant lots into lush landscapes outfitted with plenty of outdoor seating where you can enjoy specialty cocktails, craft beer and seasonal menus from local restaurants. Philadelphia's park-based beer garden, Parks on Tap, can be found at two locations along the Schuylkill River waterfront this season: Fairmount Water Works behind the Philadelphia Museum of Art and Trail's End along the Schuylkill River Trail. Those visiting Center City can enjoy seasonal drinks and food at the new location for Uptown Beer Garden — one of Philadelphia's largest beer gardens — occupying 18,000+ square feet at 1500 JFK Boulevard, just across from LOVE Park.
Admire sweeping views of Independence Mall at a pop-up on Independence Visitor Center's terrace
Presented by Visit Philadelphia, the Terrace on Tap pop-up dining experience at Independence Vistor Center's Liberty View Terrace continues into the summer, allowing visitors to dine and drink while enjoying a panoramic view of America's most historic square mile. The pop-up features kids' activities, a menu of snacks, sandwiches and cocktails from Brûlée Catering, and local beer from area breweries including Workhorse Brewing Company and Wissahickon Brewing Company. The family-friendly pop-up operates on select dates through June 18. Reservations are required and can be made online by clicking here.
Enjoy fountain shows, mini golf, dance lessons, a beer garden and other family-friendly fun at Franklin Square
The 15th season of Franklin Square's Summer Splash begins July 14 and brings plenty of family-friendly experiences to the historic park through August. In addition to the park's signature attractions, which include Center City's only miniature golf course, the Parx Liberty Carousel, and the captivating central fountain (complete with daily performances), visitors will also be able to enjoy the return of Once Upon A Nation Storytelling Benches and the all-new open-air Franklin's View Beer Garden operated by local event group Cescaphe. The beer and cocktail garden will be open Thursday through Saturday each week and will feature games and activities alongside a menu of local beer, cocktails, snacks and more. Other new seasonal experiences include free yoga and dance lessons on Wednesdays, a live DJ on Thursday evenings, and local acoustic acts performing each Friday and Saturday. For more information on Franklin Square's Summer Splash, click here.
Feast on summer snacks at an outdoor pop-up at LOVE Park
A new pop-up outdoor dining space is now open in LOVE Park, just steps away from Robert Indiana's iconic, photo-worthy sculpture. Open through October, The Lawn at Loveluck fills 9,000 square feet of LOVE Park with picnic tables, Adirondack chairs, and family-friendly lawn games, along with plenty of flowers and shade-producing maple trees, providing room for up to 200 guests to relax in the heart of downtown. For food, visitors will enjoy a menu of burgers, fries, and other summer snacks from Chef Marcie Turney's food truck, alongside cocktails, canned beer, wine, soda, seltzer and other refreshing beverages. The pop-up's namesake is that of the forthcoming full-service Loveluck bar and restaurant from Safran Turney Hospitality — the same group behind popular Midtown Village eateries such as Barbuzzo, Lolita, and Bud & Marilyn's — which anticipates opening in the former LOVE Park Welcome Center at the corner of 16th Street and JFK Boulevard in early 2022. To learn more about The Lawn at Loveluck, click here.
Hike the trails of Fairmount Park and discover historic homes along the way
Featuring two waterways and over 10,000 acres of parks and recreation space, Philadelphia presents plenty of opportunities to connect with nature in the summer. Explore the trails and historic homes found throughout the 2,000+ acre Fairmount Park during special events and hikes during the season, including a new Moonlit Walk hiking series that takes hikers through the woods and meadows of the park while learning more about nocturnal wildlife and lunar cycles. Look for "Park Hubs" stationed throughout Fairmount Park this summer that will aid those exploring the vast green space by providing wayfinding signage, portable restrooms and hand-sanitizing stations.
TIP: Consult Fairmount Park's Digital Guide for more trails and historic sites to seek out this summer.
Explore Philadelphia by boat with on-water activities on two rivers
For an interesting perspective and history of the Schuylkill River and surrounding Fairmount Park, sign up for a guided kayak tour led by Hidden River Outfitters. Additional on-water activities await at the Independence Seaport Museum, including the family-friendly Paddle Penn's Landing paddleboat experience in the basin and the more adventurous Kayak Excursions that take participants on a 3-mile guided journey along the Delaware River.
Learn more about Philadelphia's murals with new tours
Mural Arts Philadelphia's popular tour program is back with new walking tours that further establish Philadelphia as the Mural Capital of the World. In addition to the ever-popular Mural Mile Walking Tour in Center City, three new options include: Spring into the Arts, New Bella Vistas and West Philadelphia walking tours, examining breathtaking murals in their respective neighborhoods.
TIP: Join one of Mural Arts Philadelphia's Thursday afternoon Spring into the Arts Mural Walking Tours to enjoy a free beer at Yards Brewing Company following the tour.
Venture to nearby Countryside destinations for fountain shows and historic hikes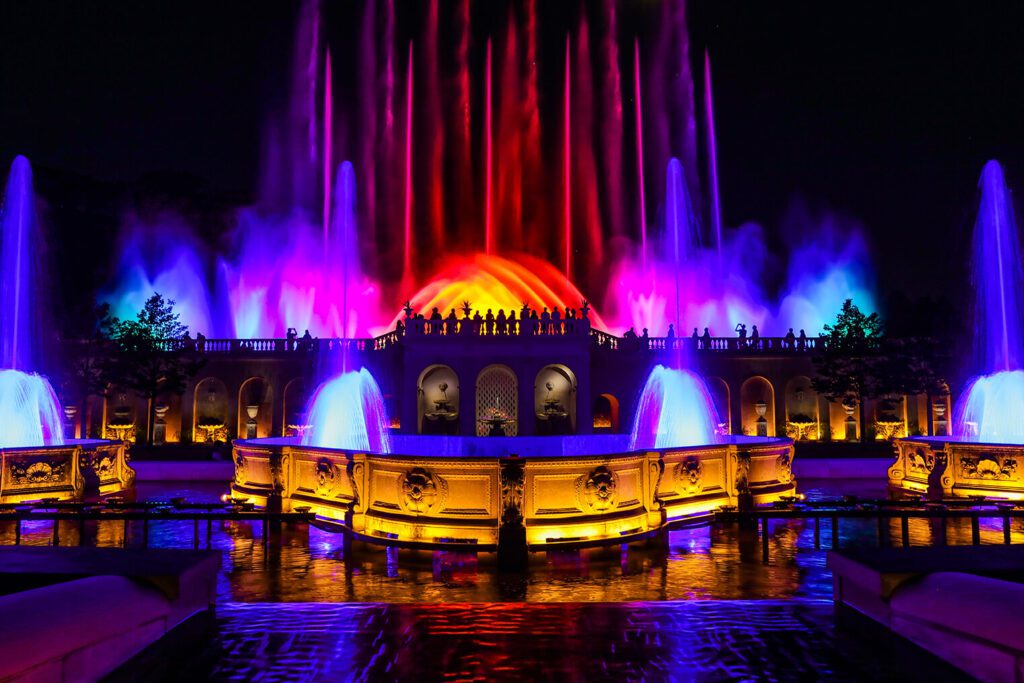 Summer is an excellent season to spend time exploring the wide-open spaces, charming gardens, and historical sites found just a short drive from downtown in Philadelphia's Countryside. At Longwood Gardens in Kennett Square, enjoy dazzling daily fountain shows during the botanical garden's Festival of the Fountains through September 6, including illuminated displays each Thursday, Friday and Saturday evening. In Valley Forge, explore over 20 miles of multi-use trails and dozens of historic structures and memorials found in the 3,500-acre Valley Forge National Historical Park.
TIP: After exploring Valley Forge National Historical Park, enjoy tax-free shopping on clothes and shoes at the nearby King of Prussia Mall or Town Center.
Explore a 65-acre estate along the Delaware River
On June 21, Andalusia Historic House, Gardens and Arboretum will reopen the property's 19th-century Greek Revival house — the ancestral home of the Biddle family — for guided tours. In addition to exploring the "Big House," visitors to the Bucks County estate — one of 37 public gardens, arboreta, and historic landscapes within 30 miles of Philadelphia — will be able to explore the grounds to find beautiful 18th-century gardens and over 800 trees. In addition to limited "Open Saturdays" that allow the public to access the estate on the weekends (remaining dates: September 18, October 23 and November 6), the public can visit Monday-Wednesday through October 27 for self-guided tours, with the option to add guided tours of the "Big House" for just an additional $5 per ticket. To learn more and plan your visit, click here.
Visit Peddler's Village for peaches, block parties, and murder mysteries
Located just a short drive from downtown Philadelphia in Bucks County, the shopping and dining destination of Peddler's Village presents special events and experiences all summer long. Visit weekends in June for a series of summer block parties featuring live entertainment (including Mummers string bands), food trucks, kids' activities, a petting zoo, axe throwing and more, as well as extended hours at local shops. In August, celebrate Peach Month with peach-themed food and drink specials at local restaurants and sidewalk sales from area shops. Each Friday throughout the season, join one of the Village's themed murder mystery walking tours or outdoor theater productions, and look for special Showtime Under the Stars events on weekend evenings all summer long.
Festivals, Events and Concerts
Watch movies under the stars and stripes at the Betsy Ross House
Beginning June 4 and on the first Friday of each month through October, visitors to Philadelphia's historic district can enjoy Movie Nights Under the Stars & Stripes at the Betsy Ross House in Old City. Guests are invited to arrive before the screening to enjoy an after-hours tour of the historic home and can bring their own snacks and drinks (adult beverages are welcome) to enjoy in the courtyard as they watch one of several films shown throughout the season. The galactic lineup of movies includes Attack of the Crab Monsters (June 4), Santa Claus Conquers the Martians (July 2), Alligator People (August 6), and other quirky classics. Tickets are limited (and only $7!) and can be purchased in advance by clicking here.
Listen to live music in the open air of Fairmount Park
Live, in-person concerts return to Philadelphia this summer, with a full line-up of shows filling the stages and seats at the Mann Center for the Performing Arts in Fairmount Park. Highlights include a Tchaikovsky Spectacular (with fireworks) from the Philadelphia Orchestra on July 22, the family-friendly Toy Story in Concert on July 24, and artists such as Jason Mraz, Rise Against, and Wilco and Sleater Kinney. For the Mann Center's full 2021 schedule of events and for tickets, click here.
TIP: More live music can be enjoyed in the open air just across the Delaware River from Philadelphia at the BB&T Pavilion in Camden, New Jersey, whose summer lineup includes Luke Bryan, Jimmy Buffet, and Alanis Morissette.
Connect with Philadelphia's performing arts community in-person and online
Philadelphia's summer calendar is filled with new productions from top performing arts organizations, including a series of in-person concerts and new digital offerings. The Philadelphia Orchestra will continue its all-digital season with performances hosted on their Digital Stage as well as new editions in their Our City, Your Orchestra series of small ensemble performances hosted at Philadelphia businesses and attractions. Opera Philadelphia preludes their 2021-22 season on August 26 with An Evening of Vocal Fireworks: Amici e Rivali, performed live in-person at the Mann Center for the Performing Arts and capped by a brilliant fireworks display, part of the venue's Summer Picnic Series. The opera company's Netflix-like Opera Philadelphia Channel will continue to be supported, with new productions and digital premieres of older pieces available to stream throughout the summer.
TIP: Through August 26, save 20% on Opera Philadelphia's 2021-2022 season when you use code 'PHLCVB'. Click here to learn more.
Cheer on the Union and Phillies as stadiums open up to full capacity
All stadiums in and around Philadelphia have return to full capacity, allowing fans to once again cheer on the Phillies at Citizens Bank Park and the Philadelphia Union at Subaru Park in nearby Chester, Pennsylvania.
Can't make it to a game? Reserve a table (indoors or outside) at one of these local sports bars, including the recently reopened Xfinity Live!.
Close out the season with a two-day music festival on the Benjamin Franklin Parkway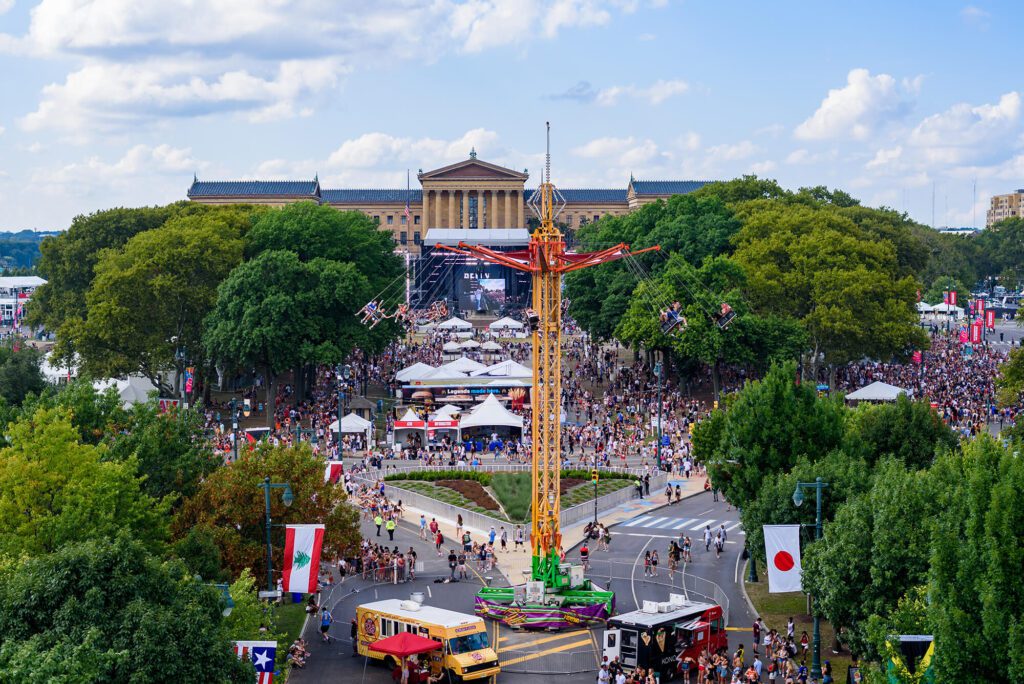 Jay-Z's Made in America music festival will return to Philadelphia in 2021, marking the 10th year the two-day music festival has filled the Benjamin Franklin Parkway with music on Labor Day Weekend. The festival will be held on September 4 and 5 and will feature multiple stages, including a main stage resting against the iconic "Rocky Steps" outside of the Philadelphia Museum of Art. Headlined by Justin Bieber and Lil Baby, the lineup also includes Megan Thee Stallion, Doja Cat, Roddy Ricch, and other artists, with additional acts to be announced soon. Early bird tickets are available now.
Museums and Attractions
Explore new exhibits (and new spaces) at local museums
Cool off this summer by heading inside one of Philadelphia's museums and attractions, most of which have fully reopened. Several all-new experiences await at area museums, including the recently opened Faith and Liberty Discovery Center in Old City and the Neon Museum of Philadelphia in Kensington, as well as the new public spaces and galleries that opened in May as part of the Philadelphia Museum of Art's Core Project. The new season also brings new exhibitions to local museums, including Flags and Founding Documents, 1776-Today at the Museum of the American Revolution and Difficult Journey Home, hosted aboard the historic Cruiser Olympia at the Independence Seaport Museum. Summer is also your last chance to check out some of the city's most popular exhibitions, including Soutine / de Kooning: Conversations in Paint at the Barnes Foundation. For a full list of can't-miss exhibitions in Philadelphia, click here.
TIP: Save on admission to some of Philadelphia's top museums this summer with special joint ticket options. The "Art & America" package available from the Philadelphia Museum of Art and Museum of the American Revolution features a savings of $11. The Art Staycation package features admission to both the Penn Museum and Philadelphia Museum of Art for a savings of $10, with a family four-pack option available that provides approximately $20 in savings. Both ticket packages are available through September 6, are redeemable through September 20, and do not need to be used on the same day.
Travel back in time at the Philadelphia Zoo
The Philadelphia Zoo invites visitors to travel millions of years into the past this summer and come face-to-face with 24 life-size animatronic dinosaurs and other creatures as part of the Big Time: Life in an Endangerous Age exhibit. On view through September 30, 2021, the experience educates guests about the catastrophic events that altered life on Earth, rendering certain species extinct while others adapted, evolved, and survived. Throughout their journey, zoo visitors will encounter some of the Earth's most mighty beasts, including a 3,000-pound Tyrannosaurus Rex and a 98-foot-long Alamosaurus. This summer, guests can visit Friday nights through Labor Day weekend to experience Friday Nights Dinos and Bites, featuring extended zoo hours and dinosaur-themed food and drink options, including a Bedrock Brews beer garden.
Explore Eastern State Penitentiary… at night
Eastern State Penitentiary invites visitors to explore the crumbling cellblocks of America's most historic prison at night this summer during Night Tours: Summer Twilight. Through September 4, the evening tours will allow guests to experience the once-abandoned prison as moonlight shines through the skylights above, all while navigating the grounds and listening to the signature audio tour. In addition to Night Tours, guests will be able to visit The Fair Chance Beer Garden, Eastern State's first-ever pop-up beer garden, which serves craft beer from Triple Bottom Brewing outside on the historic prison's baseball diamond, including a Purpose Pale Ale brewed in collaboration between Eastern State and Triple Bottom.
TIP: Planning ahead for a fall visit? Purchase tickets now for Eastern State Penitentiary's all-new Halloween Nights event from the creators of Terror Behind the Walls, which features 15 attractions spread throughout the cellblocks on select evenings from September 24 through November 13.
Hotels
Book a room at one of Philadelphia's newest hotels
Philadelphia's hotel community continues to grow in 2021, with new hotels now open or set to come online this summer. Newest properties include the Live! Casino and Hotel in South Philadelphia's Stadium District, and the 460-room Element Philadelphia which opened in Center City in May. The Element Philadelphia is the largest of the brand's hotels and includes a range of health and wellness amenities, including a Bikes to Borrow program that helps guests explore the city by bike. The Element shares a building with the soon-to-open W Philadelphia luxury hotel, featuring 295 rooms and suites with expansive views of Philadelphia, a ground-floor 90-seat restaurant, a 7,000 square foot outdoor terrace with a year-round heated pool and bar, spa, and gym. In Washington Square West, the boutique, 12-suite Guild House Hotel is set to open soon in the former home of the New Century Guild at 13th and Locust streets. For more information on Philadelphia's new hotel developments, click here.
For more summer inspiration, be sure to follow the Philadelphia Convention & Visitors Bureau on Instagram, Facebook, Twitter, and TikTok.