Pop-up parks, beer gardens, festivals, and concerts all help make Philadelphia a must-visit summer destination. Here is a list of activities to seek out this summer in Philadelphia.
Outdoor Activities
Cool off along the Delaware River waterfront
The Delaware River waterfront is one of Philadelphia's top summer destinations thanks to an abundance of seasonal activities, dining experiences, and other attractions. Skate riverside in a massive, 12,000-square-foot roller rink, putt your way through a miniature golf course, play arcade games and more at BlueCross RiverRink Summerfest. Lounge in a hammock at the nearby Spruce Street Harbor Park, or head to the park's barges to enjoy local food and beverage options while floating on the river. Check out pop-up events and art installations at Cherry Street Pier, dine riverside at The Garden the pier's pop-up dining space, or just relax on the lawn at neighboring Race Street Pier — one of Philadelphia's top spots for photos. Don't miss Visit Philadelphia's Kickoff-to-Summer Fireworks Show on Saturday, May 28, 2022 on the Great Plaza at Penn's Landing. The free event will include a performance by the 78th Army Band's Latin Ensemble beginning at 8 p.m.
Seek out seasonal food, drinks and fun at pop-up parks and beer gardens
A variety of pop-up parks and beer gardens bring green spaces, lots, and streets in Philadelphia to life in the spring, summer, and fall seasons. Pennsylvania Horticultural Society's two Pop-Up Gardens — one along South Street and another in Manayunk — transform previously vacant lots into lush landscapes outfitted with plenty of outdoor seating where you can enjoy specialty cocktails, craft beer and seasonal menus from local restaurants. Philadelphia's park-based beer garden, Parks on Tap, will have a more stationary location along the Schuylkill River waterfront at Fairmount Water Works until September 2022, and then it will travel Labor Day Weekend through the first weekend in October. Those visiting Center City can enjoy seasonal drinks and food at Uptown Beer Garden — one of Philadelphia's largest beer gardens — occupying 18,000+ square feet at 1500 JFK Boulevard, just across from LOVE Park.
Enjoy the city's largest pop-up urban oasis, The Oval XP
The Oval XP officially opened on June 16, 2022, completely transforming Eakins Oval into a seasonal pop-up outdoor public space along the Benjamin Franklin Parkway. Local residents and visitors alike can enjoy free programming, festival-like experiences, and unique art installations spread throughout eight acres. Guests are surrounded by art, music, and free entertainment and concerts at The Oval XP, which also offers food, drinks, games, and wellness experiences. Families are invited to play mini golf and explore The Imagination Space, which includes immersive installations designed to engage children 12 and younger. New virtual reality domes featuring 360-degree immersive audio and visual experiences including musical performances, wellness programming, and family-friendly learning opportunities will debut at The Oval XP on July 20, 2022. The Oval XP is within walking distance of some of Philadelphia's most unique cultural attractions, including the Philadelphia Museum of Art, The Barnes Foundation, and The Franklin Institute. It is also home to Philadelphia's largest beer garden, the world's largest mobile Ferris wheel, a Summer Sound Stage, a carousel and more. The Oval XP was open on Monday, June 20, 2022 in honor of Juneteenth, and is open Wednesdays through Sundays through August 21, 2022 – extending its seasonal run from six to eleven weeks this summer.
Watch movies under the stars at various locations
Beginning June 3, 2022 and on the first Friday of each month through September, visitors to Philadelphia's historic district can enjoy First Friday Movie Nights Under the Stars & Stripes at the Betsy Ross House in Old City. Guests are invited to arrive before the screening to enjoy an after-hours tour of the historic home and can bring their own snacks and drinks (adult beverages are welcome) to enjoy in the courtyard as they watch one of several films shown throughout the season. Tickets are limited (and only $8!) and can be purchased in advance by clicking here.
After a two-year hiatus due to the COVID-19 pandemic, the Philadelphia Film Society is once again hosting its free, summer movie series, Movies on the Block. The program is designed to bring groundbreaking films to neighborhoods across Philadelphia. Each event includes a free screening of the film, interactive activities, performances, educational demonstrations, giveaways, and more. For the full movie schedule and more information, click here.
Sunset Social in West Philadelphia is also hosting outdoor Movie Nights each Wednesday evening through July 27, 2022 on the lawn of Cira Green. For more opportunities to catch free screenings of blockbuster films while enjoying the fresh air, check out Pictures in the Park at Dilworth Park. Every Friday night starting on July 22, 2022 through August 26, 2022, the popular Center City District park will turn into an outdoor movie theater. Popcorn, candy, and other popular movie snacks will be sold at the Air Grille beer garden. Beer, wine, and cocktails will also be available for purchase for anyone who is 21 and older. Moviegoers are encouraged to bring their own chairs and blankets. Each movie will begin at 8:15 p.m. For a full list of the films and to read more about the outdoor movie series, click here. University City District is partnering with Philadelphia Parks and Recreation and Friends of Clark Park to offer Movies in Clark Park every Friday night in August. Movies begin at sundown. The Philadelphia Orchestra and Philly POPS perform memorable film scores live during Movies at the Mann at The Mann Center, which kicks off on Saturday, July 23, 2022 and runs on select nights through September 29, 2022.
Celebrate the return of Center City District SIPS
<! --- CENTER CITY DISTRICT SIPS --->
For the first time in two years, Center City District SIPS is making its grand return to Philadelphia on June 1, 2022. During the city's favorite happy-hour tradition, dozens of local bars and restaurants throughout Center City offer discounted drinks and food – including $6 cocktails, $5 wine, $4 beer, and half-priced appetizers. SIPS encourages professionals – as well as visitors and residents – to connect after working hours. Center City District SIPS, a 14-week program, will take place every Wednesday evening starting on June 1 and run through August 31, 2022. For more information on SIPS, click here.
View impressive floral designs outdoors at the Philadelphia Flower Show
For the second year in a row, the Philadelphia Flower Show heads outdoors to transform 15 acres of the spacious, 348-acre FDR Park in South Philadelphia from June 11-19, 2022. Last year was the first time the annual show was held outdoors in its nearly 200-year-history. This year's theme is In Full Bloom, exploring the restorative and healing properties of nature and plants. This year, families will get to explore a brand-new area called the "Kids' Cocoon & Play Space," an interactive outdoor experience including a playground area. Guests will be greeted with a vibrant, blooming path in the show's Entry Garden. Food, shade, and live music performances will be available at the show's Food Bazaar. Visitors will also be invited to Learning Gardens which will offer horticultural expertise and gardening inspiration. To learn more about the 2022 Philadelphia Flower Show, click here. To purchase tickets (advanced date and time registration is required), click here.
Enjoy fountain shows, mini golf, dance lessons, a beer garden, and other family-friendly fun at Franklin Square
Franklin Square's Summer Splash brings plenty of family-friendly experiences to the historic park July through August. In addition to the park's signature attractions, which include Center City's only miniature golf course, the Parx Liberty Carousel, and the captivating central fountain (complete with daily performances), visitors will also be able to enjoy the return of Once Upon A Nation Storytelling Benches and the open-air Franklin's View Beer Garden operated by local event group Cescaphe. The beer and cocktail garden will be open Thursday through Saturday each week and will feature games and activities alongside a menu of local beer, cocktails, snacks and more. Other seasonal experiences include free yoga and dance lessons on Wednesdays, a live DJ on Thursday evenings, and local acoustic acts performing each Friday and Saturday. For more information on Franklin Square's Summer Splash, click here.
Hike the trails of Fairmount Park and discover historic homes along the way
Featuring two waterways and over 10,000 acres of parks and recreation space, Philadelphia presents plenty of opportunities to connect with nature in the summer. Explore the trails and historic homes found throughout the 2,000+ acre Fairmount Park during special events and hikes during the season, including a Park After Dark: Moonwalk hiking series that takes hikers through the woods and meadows of the park while learning more about nocturnal wildlife and lunar cycles. Look for "Park Hubs" stationed throughout Fairmount Park this summer that will aid those exploring the vast green space by providing wayfinding signage, portable restrooms and hand-sanitizing stations.
TIP: Consult Fairmount Park's Digital Guide for more trails and historic sites to seek out this summer.
Explore Philadelphia by boat with on-water activities on two rivers
For an interesting perspective and history of the Schuylkill River and surrounding Fairmount Park, sign up for a guided kayak tour led by Hidden River Outfitters. Additional on-water activities await at the Independence Seaport Museum, including the family-friendly Paddle Penn's Landing paddleboat experience in the basin (returning May 28, 2022) and the more adventurous Kayak Excursions that take participants on a 3-mile guided journey along the Delaware River (May through October).
Learn more about Philadelphia's murals with new tours from Mural Arts
Mural Arts Philadelphia's popular tour program is offering seven different neighborhood walking tours, including brand new routes and old favorites that further establish Philadelphia as the Mural Capital of the World. The tours led by knowledgeable guides, reveal interesting details about the mural-making process and the people and communities that inspired these incredible works of art. In addition to the ever-popular Mural Mile Walking Tour in Center City, three new walking tours include: Historic Germantown, Center City West, and South Philadelphia's Endless Mural Pastabilities, examining breathtaking murals in their respective neighborhoods.
A new mobile app is also available from Mural Arts Philadelphia. Using the app, visitors have access to 40 Center City murals right at their fingertips. Text MURAL to 215-608-1866 to receive a link to the Mobile Smartphone Tour. From there, click on the Self-Guided Tour. Then, using your phone's location, a map of Center City will appear showing you the closest murals to you. To learn more about Mural Arts' tour program, new mobile app, or to schedule a tour, click here.
TIP: Join one of Mural Arts Philadelphia's Spring Into the Arts Mural Walking Tours to enjoy a free beer at Yards Brewing Company following the tour.
Experience a magical history tour in Old City
Explore Old City with award-winning magician and Philadelphia native Robert Malissa during The Great Philadelphia Comedy Magic Walk – Philadelphia's first Comedy Magic Walking Tour. The unique tour combines historic and offbeat locations, theatrical presentations (including a card trick sung to a tune from Les Misérables), audience participation, comedy, and mind-bending magic tricks, including one where Malissa seemingly makes a coin penetrate a glass bottle in reference to the adage, "A penny saved is a penny earned," near Ben Franklin's house. Malissa also performs a spirit writing demonstration during the tour. Guests will visit eight locations accompanied by presentations. Each show is different as Malissa adapts to the city's ever-changing panorama. To book a tour, click here.
Venture to nearby Countryside destinations for fountain shows and historic hikes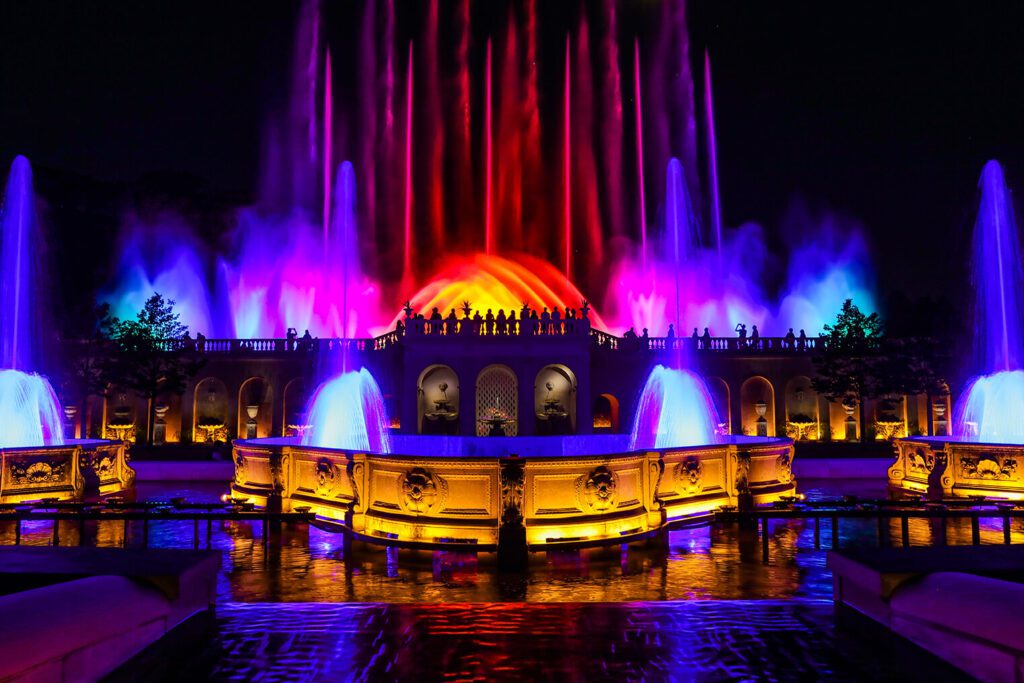 Summer is an excellent season to spend time exploring the wide-open spaces, charming gardens, and historical sites found just a short drive from downtown in Philadelphia's Countryside. At Longwood Gardens in Kennett Square, enjoy dazzling daily fountain shows during the botanical garden's Festival of Fountains through September 25, 2022, including illuminated displays each Thursday, Friday and Saturday evening. In Valley Forge, explore over 20 miles of multi-use trails and dozens of historic structures and memorials found in the 3,500-acre Valley Forge National Historical Park.
TIP: After exploring Valley Forge National Historical Park, enjoy tax-free shopping on clothes and shoes at the nearby King of Prussia Mall or Town Center.
Explore a 65-acre estate along the Delaware River
Visit Andalusia Historic House, Gardens and Arboretum and take a guided tour of the property's 19th-century Greek Revival house — the ancestral home of the Biddle family. In addition to exploring the "Big House," visitors to the Bucks County estate — one of 37 public gardens, arboreta, and historic landscapes within 30 miles of Philadelphia — will be able to explore the grounds to find beautiful 18th-century gardens and over 800 trees. In addition to limited Open Saturdays that allow the public to access the estate on the weekends (remaining dates for Open Saturdays in 2022: May 21, June 4, September 17, October 29 and November 5), the public can visit Monday-Wednesday through November 2, 2022 for self-guided tours, with the option to add guided tours of the "Big House" for just an additional $5 per ticket. To learn more and plan your visit, click here.
Visit Peddler's Village for peaches, block parties, and murder mysteries
Located just a short drive from downtown Philadelphia in Bucks County, the shopping and dining destination of Peddler's Village presents special events and experiences all summer long. Visit weekends in June for a series of summer block parties featuring live entertainment (including Mummers string bands), food trucks, kids' activities, a petting zoo, axe throwing and more, as well as extended hours at local shops. In August, celebrate Peach Month with peach-themed food and drink specials at local restaurants and sidewalk sales from area shops. Each Friday throughout the season, join one of the Village's themed murder mystery walking tours or outdoor theater productions, and look for special Showtime Under the Stars events on weekend evenings all summer long.
Festivals, Events and Concerts
Kick off summer at Margarita Fest at Xfinity Live!
Xfinity Live! is hosting Margarita Fest on May 28, 2022. Get your friends together for a care-free day in South Philadelphia. Sip on margaritas and snack on the best bites food trucks have to offer while listening to live bands and DJs, or get up and sing some karaoke or dance in a silent disco. For tickets, click here.
Feel the Love From Philly on the Parkway
It's a full day of arts, music, and Philadelphian culture on the Ben Franklin Parkway. Love From Philly will celebrate Philadelphia-based musicians and artists with an arts and culture celebration on June 11, 2022. Attendees can enjoy food trucks and a beer garden, while watching live performances at The Oval. This year's free event will also feature a screening of Questlove's Summer of Soul, which won the Oscar for Best Documentary Feature in 2022.
Celebrate freedom at Philadelphia Juneteenth Parade & Festival
Juneteenth, now a federal holiday, is the oldest nationally celebrated commemoration of the ending of slavery in the United States. Celebrate freedom at the largest Juneteenth celebration in the nation produced by Pennsylvania Juneteenth Initiative. This year's Philadelphia Juneteenth Parade & Festival will be held on June 19, 2022.
Sip on seasonal brews at Philadelphia Zoo's Summer Ale Festival
Lions, tigers, and… beers? That's right, Philadelphia Zoo is once again hosting its annual Summer Ale Festival. The event is for the 21 and up crowd and will be held 7-10 p.m. on Saturday, July 16, 2022. Guests will have more than 100 beers to sample and plenty of snacks to pick from an abundance of food trucks, along with live entertainment and fun activities spread throughout the zoo's grounds. General Admission tickets include evening admission to the zoo, a souvenir tasting cup, and unlimited beer sampling. Tickets must be purchased online prior to the event. No tickets will be sold at the gate.
Eat, drink, and shop during summer festivals and block parties
For a fun night out, head to the Northern Liberties Night Market (presented by 2nd Street Festival) from 5:00 – 10:00 p.m. on May 26, 2022. The outdoor food festival will feature dozens of food trucks, food vendors and sidewalk cafes, as well as music, games, and street performers. After a two-year hiatus due to the COVID-19 pandemic, 2nd Street Festival in Northern Liberties returns on August 7, 2022. Now one of the largest annual street festivals in Philadelphia, 2nd Street Festival spans several blocks and draws up to 40,000 people. Enjoy food, drinks, shopping, and live music and entertainment. For more information, click here.
Old City Eats is also back for summer 2022. Presented by Old City District, dozens of local restaurants and bars take part in the happy hour promotion, offering food and drink specials, including half-price appetizers. Old City Eats kicks off with the Old City Eats Block Party at 2nd and Market streets on Thursday, May 26, 2022 and runs every Thursday evening through August.
Celebrate summer with Latino Philadelphia at the 18th Annual Sugar Cane Festival hosted by Asociación Puertorriqueños en Marcha (APM). The Sugar Cane Festival will fill three blocks centered at 6th Street and Germantown Avenue on Saturday, June 11, 2022. The event is free and will include music, food, and a children's area where families can enjoy face painting, balloon animals, and carnival games. The festival will also feature information and presentations by community businesses and organizations.
Another option on Saturday, June 11, 2022 is the West Park Arts Fest. Enjoy live music, dance performances, line dancing, and more from 1:00 – 6:00 p.m. in West Fairmount Park. Families will also find plenty to do with activities presented by Mural Arts Philadelphia, Please Touch Museum, Shofuso, The Franklin Institute, and more. Vendors will also be set up for the event.
Celebrate three centuries of the Welsh in Philadelphia during Philadelphia Welsh Week hosted by the North American Festival of Wales. From August 27 through September 4, 2022, get a taste of Welsh food, film, family fun, and entertainment, while learning more about Welsh history. Several bars and restaurants throughout the city will also be serving Welsh dishes and cocktails in honor of the festival. For a full list of events and activities, click here.
Attend the Adult Swim Festival in Fishtown
The Adult Swim Festival will be taking over Philadelphia's Fishtown neighborhood August 5-7, 2022. This is the first time the party has ever been held on the East Coast. The three-day festival will celebrate all things Adult Swim through music, comedy, and more. More than 15 shows will be held across four of the neighborhood's venues: The Fillmore Philadelphia, Fillmore Campus, Punch Line Philly, and Brooklyn Bowl Philadelphia. There will also be a block party jam-packed with games, food trucks, beer gardens, watch parties, exclusive premieres, giveaways, and more. Tickets are on sale now.
Celebrate 95 years of The Rittenhouse Square Fine Art Show
The Rittenhouse Square Fine Art Show (RSFAS) is celebrating 95 years in Philadelphia's Rittenhouse Square, a park setting in one of the city's most culturally-rich neighborhoods. The signature event is the oldest outdoor fine art show in the country and one of the nation's best, original-only fine art shows. This year, 143 artists from across the U.S. and Canada will return to Rittenhouse Square for the show June 3-5, 2022. To learn more, click here.
Listen to live music in the open air at The Mann Center in Fairmount Park
Live, in-person concerts return to Philadelphia this summer, with a full line-up of shows filling the stages and seats at The Mann Center for the Performing Arts in Fairmount Park. Highlights include a Tchaikovsky Spectacular (with fireworks) from the Philadelphia Orchestra on July 21, 2022, the family-friendly Encanto: The Sing-Along Film Concert (August 16, 2022), and artists such as 5 Seconds of Summer (July 6, 2022), Josh Groban (July 12, 2022), and Third Eye Blind (July 15, 2022). The Philadelphia Orchestra will also entertain audiences at the Mann with Harry Potter and the Sorcerer's Stone In Concert (July 23, 2022) as part of the Mann's Summer Picnic Series. During The Mann's Summer Picnic Night, concert goers are allowed to bring in their own picnic to the venue to enjoy before and/or during the show. Pre-made picnic baskets catered by Di Bruno Bros. will also be available to purchase during select performances. Don't miss out on al fresco dining by Crescendo on select nights/concerts. The menu includes a variety of seasonal fare, cocktails, beer, and wine. Other dining options at The Mann include several bars and kiosks spread throughout the venue. The Mann Center is also home to the annual Roots Picnic (June 4-5, 2022), a weekend of music and performances handpicked by Philadelphia natives: The Roots. For the Mann Center's full summer 2022 schedule of events and for tickets, click here.
TIP: More live music can be enjoyed in the open air just across the Delaware River from Philadelphia at the Freedom Mortgage Pavilion in Camden, New Jersey, whose summer lineup includes Tim McGraw, Miranda Lambert, Train, Machine Gun Kelly, Keith Urban, Imagine Dragons, and more.
Connect with Philadelphia's performing arts community in-person and online
Philadelphia's summer calendar is filled with new productions from top performing arts organizations, including a series of in-person concerts and new digital offerings. The Philadelphia Orchestra will continue its 2021-2022 season with live concerts and performances hosted on their Digital Stage as well as new editions in their Our City, Your Orchestra series of small ensemble performances hosted at Philadelphia businesses and attractions. Opera Philadelphia is also finishing its 2021-2022 season strong with live performances of Rigoletto and Resonant Philly. The opera company's Netflix-like Opera Philadelphia Channel will also continue to be supported, with new productions and digital premieres of older pieces available to stream throughout the summer.
Witness the first acrobatic performance on ice at the Wells Fargo Center
For a show unlike any other, Cirque du Soleil presents CRYSTAL (June 24-26, 2022) – the first acrobatic performance on ice at Wells Fargo Center in Philadelphia this summer. The one-of-a-kind performance blends circus art and the world of ice skating. Get ready to watch world-class ice skaters and acrobats challenge the laws of gravity with never-before-seen acrobatics in this breakthrough ice experience. To purchase tickets to CRYSTAL, click here.
Cheer on the Union and Phillies
It's no secret Philadelphia is known for its passion for its sports teams. Join in the fun and cheer on the Phillies at Citizens Bank Park and the Philadelphia Union at Subaru Park in nearby Chester, Pennsylvania.
Can't make it to a game? Reserve a table (indoors or outside) at one of these local sports bars, including Xfinity Live! which is just steps away from Citizens Bank Park.
Close out the season with a two-day music festival on the Benjamin Franklin Parkway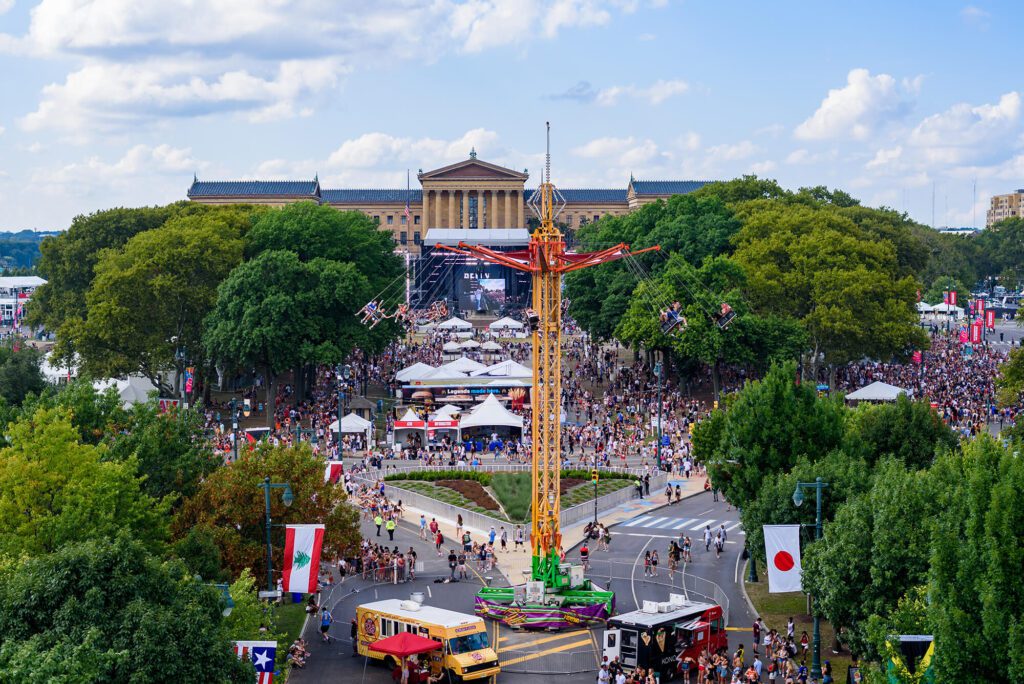 Jay-Z's Made in America music festival will return to Philadelphia September 3-4, 2022. The annual two-day music festival has filled the Benjamin Franklin Parkway with music every Labor Day Weekend since 2012, with the exception of 2020 when the festival was canceled due to the COVID-19 pandemic. The festival will feature multiple stages, including a main stage resting against the iconic "Rocky Steps" outside of the Philadelphia Museum of Art. Tyler, the Creator and Bad Bunny are set to headline the event. Other artists set to perform during the festival include Lil Uzi Vert, Jazmine Sullivan, Burna Boy, Kodak Black, Pusha-T, and more. Tickets are available now.
Museums and Attractions
Explore new exhibits (and new spaces) at local museums
Cool off this summer by heading inside one of Philadelphia's museums and attractions. Several all-new experiences await at area museums, including the recently opened Museum of Illusions Philadelphia in Old City, as well as the public spaces and galleries that opened as part of the Philadelphia Museum of Art's Core Project. The new season also brings new exhibitions to local museums, including Gatecrashers: The Rise of the Self-Taught Artist in America on view May 28 – September 5, 2022 at the Brandywine River Museum of Art, Johnny Irizarry La Brega: Art for Reimagining the World on view through August 15, 2022 and This Is My Home on view June 3 – October 30, 2022 at the National Liberty Museum.
Summer is also your last chance to check out some of the city's most popular exhibitions, including Extreme Deep: Mission to the Abyss on view through July 24, 2022 at the Academy of Natural Sciences, Women in Motion: 150 Years of Women's Artistic Networks at PAFA also on view through July 24, 2022 at the Pennsylvania Academy of the Fine Arts (PAFA) and Sean Scully: The Shape of Ideas on view at the Philadelphia Museum of Art through July 31, 2022. For a full list of can't-miss exhibitions in Philadelphia, click here.
Visit the Adventure Aquarium in Camden, New Jersey
Explore the Adventure Aquarium – home to more than 15,000 aquatic animals – in Camden, New Jersey. The Aquarium is continuing to celebrate its 30th birthday with a Summer Shell-A-Bration honoring turtles through various activities and experiences through June 26, 2022. Guests are encouraged to make their reservations in advance online. Don't miss out on the Aquarium's new "underwater" virtual reality experience featuring the first virtual reality pods in New Jersey. Guests are invited to climb up and sit inside one of six pods which will offer a life-like "under the sea" experience featuring sharks, whales, squids, and mermaids.
Gather your friends for a Pirate Rum Challenge
New for 2022, Independence Seaport Museum is offering an after-hours program for those who are 21 years old and older called the Pirate Rum Challenge. Explore the museum's Patriots & Pirates exhibit, while working your way through seven different stations – each one posing a unique challenge. Participants will be rewarded with a complimentary cocktail. The Pirate Rum Challenge will be held every Thursday, Friday, and Saturday night from 6-9 p.m. through September 3, 2022. To purchase tickets for the Pirate Rum Challenge, click here.
Explore Eastern State Penitentiary… at night
Eastern State Penitentiary invites visitors to explore the crumbling cellblocks of America's most historic prison at night this summer during Night Tours: Summer Twilight. Through September 4, 2022, the evening tours will allow guests to experience the once-abandoned prison as moonlight shines through the skylights above, all while navigating the grounds and listening to the signature audio tour. In addition to Night Tours, guests will be able to visit The Fair Chance Beer Garden, Eastern State's first-ever pop-up beer garden, which serves craft beer from Triple Bottom Brewing outside on the historic prison's baseball diamond, including a Purpose Pale Ale brewed in collaboration between Eastern State and Triple Bottom.
TIP: Planning ahead for a fall visit? Carve out time for Eastern State Penitentiary's all-new Halloween Nights event from the creators of Terror Behind the Walls, which features 15 attractions spread throughout the cellblocks on select evenings throughout the fall, September 23 through November 12, 2022.
For more summer inspiration, be sure to follow the Philadelphia Convention & Visitors Bureau on Instagram, Facebook, Twitter, and TikTok.