Do you like to stay active when visiting a new city? You're in luck — Philadelphia is a city built for runners. And joggers, walkers, sprinters and amblers of all shapes and sizes. It doesn't matter if you prefer slow jogs to 4- minute miles, blacktop or soft ground, the sounds of a bustling city or to bird song, Philadelphia has a running trail for you.
"You can retrace the footsteps of the Founding Fathers, take in the skyline from numerous easily accessible vantage points or listen to the sounds of your own footsteps along the trails in one of our beautiful urban parks like the Wissahickon or Pennypack," said Liz Pagonis of Philadelphia Runner, a locally-owned company with three locations in the city.
"There are over 50 organized running clubs to meet up with and even more races that embrace and celebrate running in Philadelphia like the Philadelphia Distance Run, Philly Run Fest, Philadelphia Marathon, and the largest 10-mile road race in the country that runs right through the heart of the city – the Broad Street Run."
Find the trail, group, or tour that's best for you and your running style with the help of the recommendations below.
You like to run alone
Pagonis of Philadelphia Runner recommends these five routes: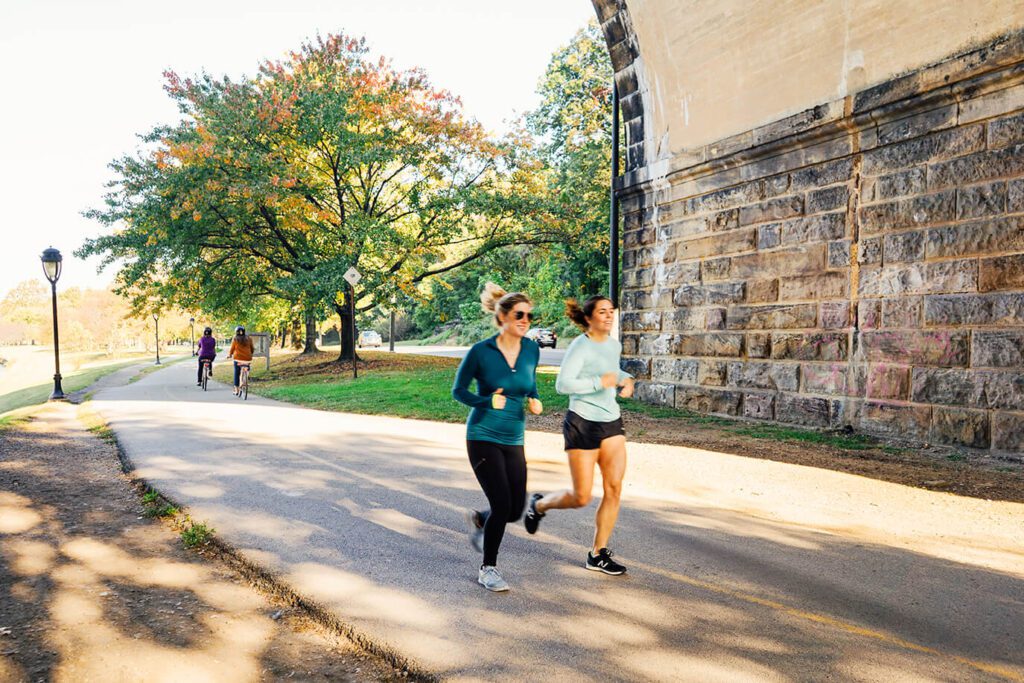 You like to run with a group
Philadelphia is home to an incredibly active and welcoming running community, with many running clubs based in each of the city's various neighborhoods. Most of the 50+ running clubs host weekly or monthly runs that are open to all faces and all paces, with no charge or advance reservation required. There are also special interest running groups, including those who enjoy a beer or two after all the exertion.
"Philly has running paths along two waterfronts, multiple parks with running trails and clubs that run in all of these locations," said Seth Weiss, head of Philly Runners. "Wherever you're staying in the city, whatever type of running surface you prefer and whether you'd like to run alone or with a club, Philly has something to offer you."
To find a club that matches your interests, running style, and pace, consult this list from Philadelphia Runner or this list from Philadelphia Magazine.
You like to tour the city while you run
Local tour company See Philly Run combines Philadelphia's abundance of historical sites and its many running routes to create an all-in-one experience for those looking to keep active while learning about the founding of the nation, the city's Mural Arts program, or even if you want to recreate scenes from Rocky.
See Philly Run even offers custom experiences for attendees visiting Philadelphia for a meeting or convention, proving to be an excellent way for attendees to network, all while getting a workout and learning more about the city.
You like to run competitively
Philadelphia is also home to a number of annual running events and competitions, which are perfect to plan a trip around if you enjoy participating in (or spectating) alongside others from around the state, nation, and world.