Traveling to Philadelphia solo for a meeting, conference, or trade show? Going to a restaurant by yourself definitely has its advantages. You can order whatever you want, truly savor your meal, and scope out the scene around you. Some of the best bets for solo diners in Philadelphia are restaurants with bars. Try to hit these spots early in the evening to increase your chances of getting a prime seat.
This sophisticated corner bar and restaurant off Rittenhouse Square checks all the boxes for a satisfying solo night out: well-made cocktails, freshly shucked oysters, quality snacks, and heartier dishes from burgers to pasta. Note: The bar and restaurant have separate entrances, but they share a menu. 135 S 18th Street.
When the family behind one of Philadelphia's most iconic food brands opened their first restaurant in 2019, they did it right upstairs from their flagship gourmet grocery store. This stylish but laid-back spot offers a range of light Italian fare from pizzas to top-notch cheese boards, plus cocktails and wine to pair them with. It's also an excellent place to pick up a gift for the food lovers in your life. Check the website for hours. 1730 Chestnut Street, 2nd Floor.
Stroll past Independence Hall and the Liberty Bell to this Philadelphia classic in historic Old City. Restaurateur Ellen Yin opened this New American spot back in 1997, and the comfortable bar is still one of the best fine-dining spots in town. 306 Market Street.
One advantage of being a solo diner at Jean Georges' sleek lounge in the Four Seasons Philadelphia – awarded a AAA Five Diamond Hotel Designation – is that you'll have a better chance of scoring a spot at the bar. From there you can take in the jaw-dropping, panoramic views of the city from the 60th floor of the Comcast Technology Center.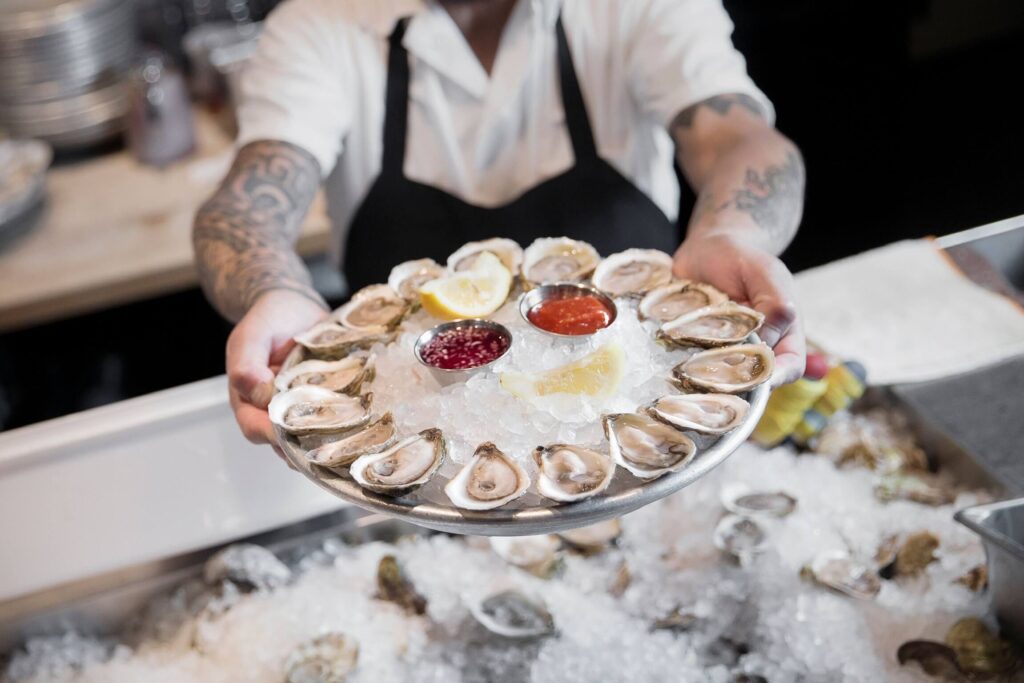 The history behind this lively seafood spot dates back to 1947, but a recent renovation keeps it fresh. Take advantage of the daily happy hour in the bar area featuring oysters and drink specials. 1516 Sansom Street.
If people watching is your thing, head to this always-busy French bistro on Rittenhouse Square, where the best tables are on the sidewalk along 18th Street facing the park. In colder months, post up at the bar for breakfast, lunch or dinner. 227 S 18th Street.
Perusing Philadelphia's iconic market by yourself means you can fully take in the whirlwind of activity without distraction. And you can focus on the challenging but rewarding task of assembling your ideal meal from countless stellar merchants. Choose from favorites like Pennsylvania Dutch classics, Tommy Dinic's roast pork sandwich, and Italian cookies from Termini Brothers Bakery. 51 N 12th Street.
Top Chef star Jen Carroll and co-executive chef Billy Riddle opened their bright and airy modern Mediterranean restaurant in the Warwick Hotel in 2018. The spacious 23-seat, granite-topped bar at the center is a lovely spot for snacking on stuffed grape leaves and Shabazi fries. 220 S 17th Street.
If you're in the mood for a neighborhood spot with solid French fare and a friendly vibe, head to this Queen Village stalwart. The sexy upstairs bar, Le Caveau, is nationally recognized for its impeccable wine list. 614 S 7th Street.
Pennsylvania Convention Center visitors are fortunate to have all of Chinatown's bounty within a few blocks—and it's all worth exploring. Just across the street at 11th and Arch, Tom's is super convenient and a destination for some of the best soup dumplings and scallion pancakes in town. 59 N 11th Street.
With three popular bars in Center City (including fried-chicken-centric Bar Poulet), owners of this beloved local mini chain have the wine-cheese-beer thing down pat. The Washington Square West original at 11th and Spruce Streets is closest to the Convention Center, and its sidewalk seating is great for solo diners looking for light bites. Multiple locations.
Ranked as one of Thrillist's 33 Best Vegetarian and Vegan Restaurants in America, Vedge continues to exceed expectations for plant-based dishes. Rich Jacoby's and Kate Landau's vegetable mecca attracts vegan diners from all over, so it can be hard to get a reservation. But the bar in the elegant townhouse in Washington Square West is first-come, first-served and offers the same menu that draws raves from omnivores too. 1221 Locust Street.
A longtime Philadelphia go-to, this Rittenhouse restaurant features an excellent seafood-focused menu from James Beard Award-winning chef Greg Vernick. Solo diners will do well either at the kitchen counter in the back or the bar in the front. 2301 Walnut Street.
Cover photo: JG SkyHigh. Photo courtesy of Four Seasons Hotel Philadelphia at Comcast Center.