Named the second-best beer city by USA Today's 10Best, Philadelphia continues to have a robust craft beer scene. Not only do breweries make revolutionary-style ales and new innovative beers, they also serve as community spaces for residents and visitors to gather.
Philadelphia has a rich brewing history that dates back to the 17th century. William Penn, the city's founder, left detailed instructions for constructing a brewhouse at his estate in Pennsbury, Bucks County. The city was rapidly growing a national reputation for its suds, with Philadelphia beer drawing favorable comparisons to the time-honored ales of England. By 1793, Philly made more beer than any other city nationwide. Below is a sampling of the many modern Philadelphia breweries operating within city limits.
Yards Brewing
Neighborhood: Northern Liberties
Address: 500 Spring Garden St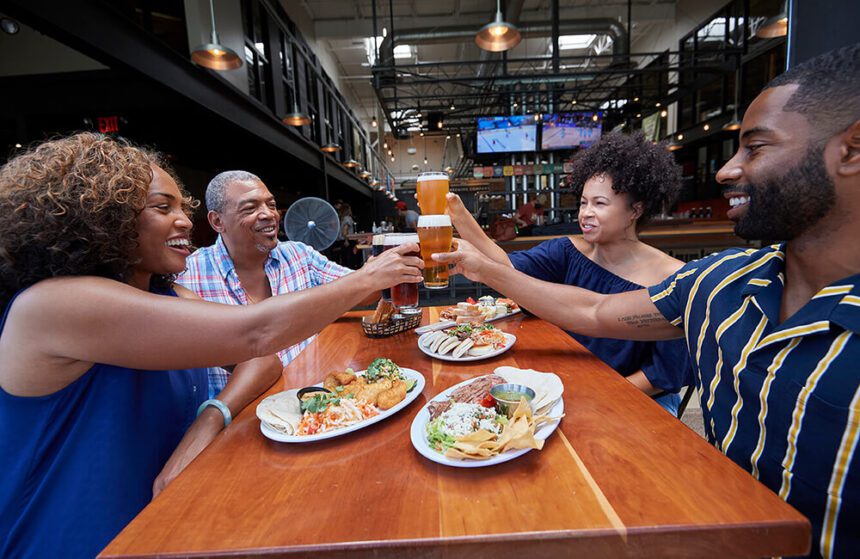 Started in a Manayunk garage by Tom Kehoe in 1994, Yards Brewing – "Philadelphia's Brewery" – now brews in a facility in the bustling Northern Liberties neighborhood. Their beer-friendly menu pairs well with their approachable ales and lagers, especially their historically-accurate Ales of the Revolution – a series of beers made using original colonial recipes from our Founding Fathers. Yards features signature ales on draft, plus a rotating selection of seasonal and limited releases.
Taproom Experience: The space has a German beer hall feel, anchored by a funky main bar constructed from repurposed wooden bowling lanes. Towering steel brew tanks remind you this is Philly's Brewery, where communal tables and high-definition TVs make for the perfect Eagles game-day environment.
Love City Brewing
Neighborhood: Center City
Address: 1023 Hamilton St
The husband-wife team of Kevin and Melissa Walter opened Love City Brewing with a simple premise: to brew good beer for good people. They nestled their dream in a former manufacturing plant that used to make tools and parts for the old Reading Railroad. Their signature beer, Love City Lager, is an easy sipper brewed for everybody – and Eraserhood is a hazy juice IPA named after Philly's Callowhill Industrial Historic District.
Taproom Experience: A frequent stop for thirsty bicyclists, restaurant workers, and neighborhood artists, Love City fosters inclusion and unity in a sleek-looking industrial-style brewhouse. The Citywide Special is a must: a can of Love City Lager and a shot of well whiskey. There is no on-site kitchen but you can grab something to eat at the rotating food trucks that come through the tap room. Love City also now offers a beer garden that seats about 100 people in a relaxing outdoor space at 10th and Hamilton streets, across the street from the taproom.
Triple Bottom
Neighborhood: Center City
Address: 915 Spring Garden St
Beer. People. Planet. That's the triple bottom line at Triple Bottom. They became the first Pennsylvania brewery to become a Certified B Corporation in 2021, less than two years after opening their doors. That means they uphold the highest verified standards of social and environmental performance, transparency, and accountability. They also produce delicious beers like Good Attitude, a juicy pale ale.
Taproom Experience:  Be greeted with kindness from the moment you walk through the doors of this neighborhood hangout. Inside, pastel colors and cozy drapes allow visitors to sip the day away. And to eat, their menu serves twists on bar food staples, like the cheesesteak patsy sandwich. 
Source Urban Brewing
Neighborhood: Northern Liberties
Address: 1101 Frankford Ave
The inspiration for Source Urban Brewing, a Fishtown brewery, began in Colts Neck, New Jersey, in a 125-year-old dairy barn. Their "farm-to-glass" ales and lagers trekked across the bridge into an abandoned taproom on Frankford Avenue, right next to the "Welcome to Fishtown" mural. They source ingredients from local farmers in sync with the local harvests.
Taproom Experience: Exposed brick and subway tiles provide the backdrop for this sprawling U-shaped bar. Urban farmhouse is the vibe, complete with a scratch kitchen: truffle fries, "grazing boards," and a killer Frankford Fried Chicken sandwich are drool-worthy.
Brewery ARS
South Philadelphia
Address: 1927 Passyunk Ave
Fishtown
Address: 2223 Frankford Ave
Since 2016, twin brothers Sean and Andy Arsenault have been making crushable hop-forward ales and Belgian-style saisons in a brick garage on West Passyunk Ave. Part of the charm of Brewery ARS is the imaginative cartoon sketches that adorn their beer labels. They donate money toward Parkinson's Disease through the sale of Wayne's Pale Ale.
Taproom Experience: It's the spot for people watching when those garage doors swing open and the smells of nearby Philip's Steaks waft across West Passyunk Avenue. Inside, Brewery ARS has the feel of a place ready to inspire creativity. The Fishtown taproom exudes both beauty and coziness, while also boasting high performance and efficiency as an all-electric establishment. Bathed in natural light, it features restored lumber and architectural accents sourced from Philadelphia homes and businesses, complemented by various cheeky design elements.
Second District
Neighborhood: South Philadelphia
Address: 1939 S Bancroft St
Opened in 2017 and located in an old saw-and-tool sharpening shop, Second District is a Newbold brewpub named after the City Council district where the brewery sits. Their cross-pollination of humble and weird ingredients – think: Morello cherry puree, Matcha green tea, Mexican chocolate, Ethiopian coffee beans, fermented grape skins – has Philadelphia's biggest beer geeks lining up.
Taproom Experience: Hipsters saddle up next to union laborers at the craft beer version of Cheers. Bancroft Beer – the "people's beer" – headlines a creative tap list and pairs well with anything coming off their vegan-friendly grill. Try the Smash Burger or Impossible Smash Burger. Second District's quirky array of antique mirrors is South Philly feng shui.
Crime & Punishment
Neighborhood: Fairmount
Address:  2711 W Girard Ave
Named after a Fyodor Dostoevsky novel – and littered with tongue-in-cheek odes to Mother Russia – Crime & Punishment is a seven-barrel operation, which put Brewerytown back on the beer map when it opened in 2015. Beer nerds flock here for hazy IPAs like their signature Space Race, but they also knock classic styles out of the universe.
Taproom Experience: The tiny brewhouse, located next to a revitalized church, only has 50 seats and people tend to linger while enjoying a First Friday art show or craft bazaar. Ownership remains committed to showcasing one of Philadelphia's most diverse neighborhoods.
Human Robot
Neighborhood: Fishtown
Address: 1710 N 5th St
Human Robot's catchy name has a meaning: human refers to classic-style beers, robot leaning toward experimental like raspberry sours and French IPAs.  The brewery itself is rooted in a historic old carriage house and horse stable, one with rustic charm and plenty of hero's tales.
Taproom Experience: The brewery is a bit off the beaten path in the Fishtown neighborhood. Grab an outside table and stare at modern-day Picassos while sipping a Czech Pale Lager and tearing into a hoagie from co-tenant Poe's Sandwich Joint.
Attic Brewing
Neighborhood: Germantown
Address: 137 Berkley St
What started as a homebrewing project in an attic apartment, Attic Brewing has since evolved into a full craft brewing operation based in Philadelphia's Germantown neighborhood. Serving as a hub for one of Philadelphia's most historic, diverse and culturally-rich communities, portions of profits are donated to support neighborhood initiatives and organizations. Sustainable efforts include no plasticware and the use of re-purposed materials throughout the taproom, with spent grain donated to local gardens, farms and bakeries. An ever-changing tap list includes IPAs, brown, pale and Belgian ales, stouts and more.
Taproom Experience: The spacious, family-friendly taproom features a back bar that dates back to the 19th century and a front bar created using salvaged goods from old Philadelphia businesses and homes. Visitors can choose to sit indoors or outside as they enjoy the varieties of beer and cider on tap, with food available at neighboring Deke's Roadhouse Bar-B-Que or one of any number of food trucks that pop-up on weekends throughout the year.
Wissahickon Brewing
Neighborhood: East Falls
Address: 3705 W School House Ln
A family-run operation since 2017, with origins in a Father's Day homebrewing kit, Wissahickon Brewing pays homage to the Lenape Indians who originally inhabited the banks of the Schuylkill River. The East Falls neighborhood is rich in folklore and inspired the names behind Wigwam IPA and Black Bear IPA.
Taproom Experience: Hikers are welcome after trekking the trails at Wissahickon Valley Park. This is a judgment-free zone for cargo pants and prime knits. Their comfy outdoor spaces – beer garden in the summer, heated patio in the winter – make it equipped for year-round hijinks, including an inside space resembling a cozy ski lodge.
Urban Village
Neighborhood: Northern Liberties
Address: 1001 N 2nd St
It's only fitting one of the newer breweries in Philadelphia sits in the shadow of the old Schmidt's Brewery, a city institution that shuttered in 1987. Urban Village is a "tank-to-table" restaurant and brewpub known for brick-fired pizzas and hoppy brews. They sell roughly 1,500 pints per week in the hip Northern Liberties neighborhood.
Taproom Experience: An outside illustration explaining various phases of the brewing process beckons guests inside to explore a thoughtful menu. Foodies will go crazy for the pizza pies – cold-fermented for three days – and beer lovers will want to sample Rye Bread, an IPA with caraway seed and rye malt. Groove to vinyl records spun by local DJs, with live jazz, funk and blues artists performing on select evenings each week.
Evil Genius' The Lab
Neighborhood: Fishtown
Address: 1727 Front Street
Evil Genius' The Lab is a retro 1990s-themed brewery that opened in 2017 in an old rail-car factory under SEPTA's Market-Frankford "El" elevated train line on Front Street. "The Lab" focuses on pop culture references and features menus wrapped in VHS-tape cases and an old school Sega Genesis.
Taproom Experience: Think of your best friend's basement, complete with old-school board games and a grunge soundtrack. Jean shorts and flannels are optional. Drinking funny-named beers is required: #Adulting, Stacy's Mom, There's No Crying In Baseball, for example.
Bar Hygge
Neighborhood: Fairmount
Address: 1720 Fairmount Ave
A serene neighborhood brewery, Brewery Techne set up shop in 2015, inside Bar Hygge in the Francisville section of Fairmount. "Hygge" applies their namesake coziness and conviviality to the brewery, with a well-rounded draft list that runs the gamut from fruit-forward sours and funky saisons to over-the-top barleywines.
Taproom Experience: Scandinavian ambiance sets the mood at this eatery and brewery. Walk in and hang a sharp left to a Victorian-era lounge area filled with fuzzy couches and wing-back chairs. Order a Lemon Meringue IPA and pair it with one of their "Hygge Boards," a selection of customizable shared snacks.
Dock Street
Fishtown: 1229 N. Front Street
South Philadelphia: 2118 Washington Ave
The first post-Prohibition craft brewery to open in Philadelphia — Dock Street's original brick-and-mortar opened in Logan Square, in 1989 —  where owner Rosemarie Certo has long been a pioneer. Today, the brewery has since expanded to two locations Dock Street South in South Philadelphia, and the newly opened Dock Street Fishtown.
Taproom Experience: Anchored in the vibrant Fishtown neighborhood, Dock Street Fishtown features eight freshly brewed draught beers on tap, four tap lines dedicated to draught wine and cider, and refreshing craft cocktails. The cozy and intimate taproom was designed to mimic the brand's nautical roots, with sailors, surfers, water deities lining the walls and taking your worries beyond the sea. Dock Street South shares a similar aesthetic while ample outdoor seating.
Manayunk Brewing
Neighborhood: Manayunk
Address: 4120 Main St
Founded in 1996, Manayunk Brewing is an expansive riverfront hotspot on Main Street in Manayunk, that has earned a stellar reputation for doing a wide array of beer styles including more than 600 varieties. An industrial scale for weighing wool – the building was originally a textile mill – stands guard at the door for thirsty patrons.
Taproom Experience: Enjoy the convivial cheer and boisterous atmosphere 'Yunkers (Manayunk residents) have been enjoying for 25 years at this indoor and outdoor taproom. Al fresco dining on the patio offers the best views of the Schuylkill River.
Chestnut Hill Brewing Company
Neighborhood: Chestnut Hill
Address: 8221 Germantown Ave
Husband and wife owners, Nick and Lindsey founded Chestnut Hill Brewing Company in 2016 with a shared passion for craft beer that pairs well with wood-fired pizza. Located in Philadelphia's Garden District, this small neighborhood brewing operation features anywhere from eight to ten beer options that are brewed on-site with a five-barrel system, available to enjoy on-site or to-go in four packs, crowlers or growlers.
Taproom Experience: Small-batch beer, wood-fired Neapolitan pizza, and vegan-friendly pub fare is the name of the game at this intimate taproom with indoor and outdoor seating that is connected to the Market at the Fareway public market (think: mini-Reading Terminal Market).
Philadelphia Brewing Company
Neighborhood: Fishtown
Address: 2440 Frankford Ave
This Kensington landmark has been churning out easy-drinking craft brews since 2007 out of the old Weisbrod and Hess Oriental Brewing Company building. No frills here – look for the white Kenzinger truck and there's probably something going on in the courtyard (live music, food festival, dog show). 
Taproom Experience: The warehouse-style brick building is reminiscent of an old-school brewery, like a smaller version of Yuengling's Pottsville facility. Live music is a point of pride on their outdoor loading dock, including fun jazz bands on Friday nights. Grab cans of "Harvest From the Hood," their seasonal wet-hopped ale made with urban hops from around the city.
Mainstay Independent
Neighborhood: Northern Liberties
Address: 901 N Delaware Ave
Focusing on brewing classic and new world styles, Mainstay Independent was the first tenant in Craft Hall, one of Philadelphia's top family-friendly restaurant options. Their proximity to the water (overlooking the Delaware River) feeds the nautical theme, hence beer names like Cleat Hitch and Harness Bend. Head brewer Brian O'Reilly is well-known in the industry with 10 Great American Beer Festival medals to his name.
Taproom Experience: Fun and games reside inside Craft Hall, including Skee-Ball, foosball, shuffleboard, Nintendo, and a wide selection of board games. Think of it like a Chuck E. Cheese for adults except with the smell of smoked meats coming off a 700-pound smoker tickling your senses instead of day-old pizza.
Fermentery Form
Neighborhood: Fishtown
Address: 1700 Palethorp St
Look for the green light on a back alley in West Kensington to find Fermentery Form, home to some of the best Belgian-style mixed fermentation beers in the country. If it's on, they are open and ready to serve. They don't brew anything on-site, instead they create wort (unfermented beer) at neighboring breweries and trek it back to their 1,400-square-foot facility where those magical microbes are blended and aged.
Taproom Experience: The overall feel is more speakeasy than brewery. Urban farmhouse vibes, with plenty of odes to Belgium like church pews, crooked staves, and green bottles. The star of the show is a towering pyramid of wooden casks filled with beers in various stages of the aging process. That solera brewing method, or fractional blending, guides all recipes.
Cartesian Brewing
Neighborhood: South Philadelphia
Address: 1326 E Passyunk Ave
A newcomer to Philadelphia's brewing scene, Cartesian Brewing opened their South Philadelphia brewery and taproom in 2021. It sits just a stone's throw from iconic cheesesteak spots Pat's and Geno's. They pride themselves on sourcing local ingredients and infusing them in their beer to create a unique, true-to-Philadelphia brew. The ever-changing tap list features multiple styles of IPAs alongside a rotation of saisons, Belgian ales, and malty amber ales.
Taproom Experience: Beer is the primary focus inside of this no frills garage. Admire local art or play board games as you sip at the bar or one of their many tables. For food, Cartesian partners with local restaurants and food trucks for pop-up events. Visitors can also consider ordering take-out or delivery from one of the many eateries in the neighborhood.
Victory Brewing Company
Neighborhood: Center City
Address: 1776 Benjamin Franklin Pkwy
Victory Brewing Company has since grown to become the second-largest "craft brand family" in the state of Pennsylvania. They have multiple breweries and taprooms located throughout the Countryside of Philadelphia. Their flagship brewery operates out of a former Pepperidge Farm manufacturing complex in Downingtown, Pennsylvania. They are known for popular year-round brews such as HopDevil IPA, Prima Pils German pilsner, and the boozy-yet-tasty Golden Monkey Belgian-style Tripel.
Taproom Experience: In 2021, Victory opened a Philadelphia taproom — their first location in the city — along the Benjamin Franklin Parkway. The bi-level, 14,000-square-foot space features three total bars pouring exclusive brews, street level outdoor seating and a rooftop patio. Victory's brews can also be found at the Victory Beer Hall in South Philadelphia, one of the five areas found within popular sports bar Xfinity Live!.
Iron Hill Brewery
Neighborhood: Center City
Address: 1150 Market St
With more than 20 locations on the East Coast, Iron Hill started as a hyper-local brewery in nearby Delaware. Their flagship Philadelphia brewpub is located across the street from the Pennsylvania Convention Center and serves all their premium drafts.
Taproom Experience: Iron Hill's promise of "Tap to Table" influences the food menu. Everything can be paired with their award-winning scratch brews, including beer-infused dishes like the "Brewben." They are the most decorated brewery East of the Mississippi River as evidenced by medals in 21 straight Great American Beer Festivals from 1997 through 2018.
Looking for a delicious bite to go with your beer? Explore Philadelphia's culinary scene from light snacks to chef-driven restaurants on our Food and Drink page.